Period tracking apps are an incredibly convenient way for people who get a period to be able to do exactly what these apps are called — track their periods. Whether these apps are used to predict and prepare for the timing of menstruation, predict ovulation, plan for a potential pregnancy, or to be used simply as a tool to track potential period symptoms, period tracking apps have been widely adopted and used by people who menstruate.
Since the Supreme Court's recent overturning of the landmark Roe v. Wade case, removing abortion from constitutional protection and empowering each state to enact its own abortion laws, people who menstruate are being encouraged to delete their period tracking apps immediately. Keep reading if you're confused about why you should delete your period tracking app right now and what you should use instead.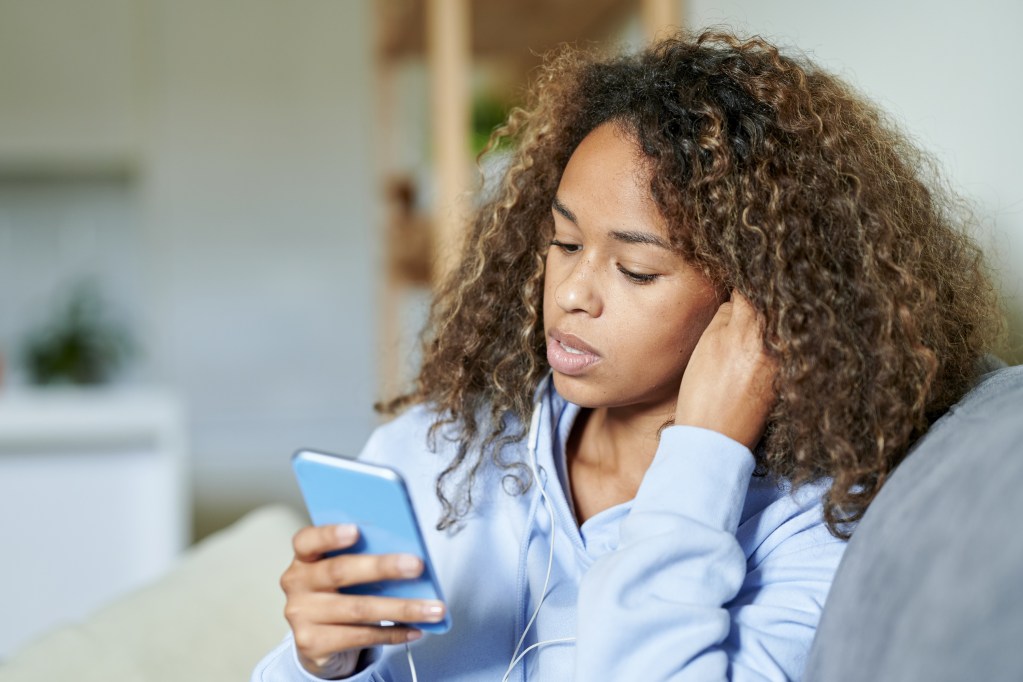 What are the potential issues with period tracking apps?
As a result of the Supreme Court overturning Roe v. Wade and many states already criminalizing abortion, people are being encouraged to delete their period tracking apps so that there is no way for the government to know if there's a chance they may be pregnant (and in turn accessing any form of illegal abortion.) Author Jessica Khoury recently went viral for simply tweeting, "Delete your period tracking apps today."
Delete your period tracking apps today.

— Jessica Khoury (@jkbibliophile) June 24, 2022
Privacy experts are understandably concerned about the potential breach of data collected by many of these apps now that abortion has been criminalized in many states. "We're very concerned in a lot of advocacy spaces about what happens when private corporations or the government can gain access to deeply sensitive data about people's lives and activities," Lydia X. Z. Brown, a policy counsel with the Privacy and Data Project at the Center for Democracy and Technology told NPR. "Especially when that data could put people in vulnerable and marginalized communities at risk for actual harm."
Many are concerned that information stored in period tracker apps like Flo could be used as evidence if a person was to be prosecuted for obtaining an abortion in a state where it has now been criminalized. "I do think that we are facing a future in which the data collected by period-tracking apps could be used either as a dragnet to identify women who may have had an abortion or as evidence that a woman has had an abortion in a future in which seeking out or having an abortion is criminalized, which is something anti-abortion advocates have been eager to do," Eva Galperin, director of cybersecurity at the Electronic Frontier Foundation, told TechCrunch.
How to delete your period tracking app
While people are being encouraged to delete their apps, it seems it's not quite as simple as that. For apps like Flo, you need to request that your data be deleted as simply deleting the app won't remove the information you have provided in the past.
an important note on this: DELETING THE APP DOES NOT DELETE THE DATA — you must request for your data to be wiped

I successfully had mine wiped from Flo last month. details in thread below https://t.co/0lhZ12Fl6P

— ❀ sarah ❀ (@dabeanqueenn) June 24, 2022
European-based period tracking app Clue released a statement addressing Americans' fears about these apps after the Supreme Court vote. "Given the increasing criminalization of abortion in the U.S., we understand that many of our American users are worried that their tracked data could be used against them by U.S. prosecutors. It is important to understand that European law protects our community's sensitive health data," Newsweek reports. Flo also addressed the controversy surrounding the privacy concerns stating that they will soon be releasing an 'anonymous mode' to help their users maintain privacy and anonymity.
You deserve the right to protect your data. pic.twitter.com/uA5HLHItCY

— Flo Period Tracker (@flotracker) June 24, 2022
The Electronic Frontier Foundation released a video giving people some important tips on how to keep yourself safe online, including compartmentalizing, knowing when to leave your phone at home, how to turn off Ad ID, and more.
These are all great ways people can help ensure they keep themselves and their information secure and private.
What are the options?
If you are understandably leery about using period tracking apps but still want to be able to track your cycle, whether to predict ovulation or simply know when you will be getting your period, there are other ways you can track your cycle without exposing your private information online.
While there are some apps that claim they won't sell your information, "any app that is collecting sensitive information about your health or your body should be given an additional level of scrutiny," Evan Greer, director of the digital rights advocacy group Fight for the Future, told NPR.
Use pen and paper: For many, simply using a notebook, printed calendar, or day planner to track their period may become the most secure form of period tracking.
Use a spreadsheet: Others may choose to create a basic spreadsheet, as long as that spreadsheet doesn't get backed up to a cloud server.
Use an ovulation predictor test: For those who are using period tracking apps to predict ovulation in the hopes of getting pregnant, there are many over-the-counter ovulation predictor tests and strips that can be bought as an alternative.
Download a chart: There are also many charts you can download online to manually track your cycle for any purpose you may have.
Obviously, the decision of whether or not to delete your period predictor app may depend on where you live, but for those who live in a state that has outlawed abortion, you may feel safer protecting your privacy by deleting your period tracking app and requesting that all your personal information be wiped as well. Sadly at this point, the safest alternative seems to be using a good old pen and paper and tracking your period manually.
Editors' Recommendations