Being a parent-to-be is an exhilarating feeling. Looking forward to the birth of your little one — wondering if you'll be bringing a little girl or boy into the world — is something like no other. Thanks to modern Western medicine, waiting to learn your child's gender until birth is no longer an issue, and many parents celebrate finding that out by throwing a gender-reveal party.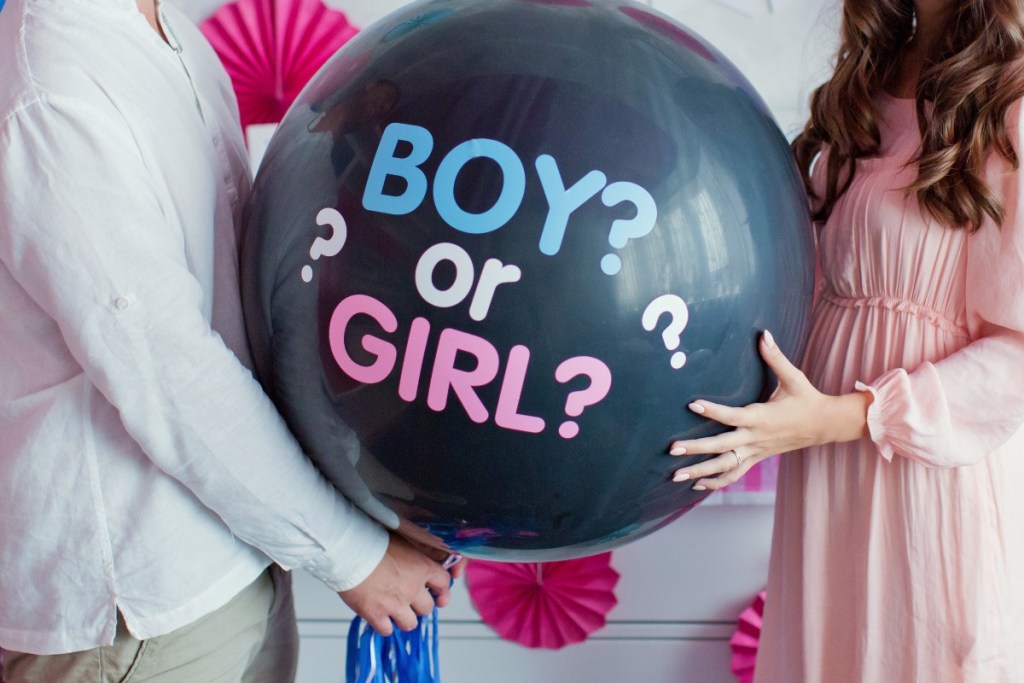 Gender reveal ideas that inspire
If you're a mom- or dad-to-be, a party host, or are just looking for some unique and fun gender-reveal party ideas, we have a few ones we'd like to share to make yours even more magical. But before we delve too deeply into those galactic themes and boldly colored cake suggestions, we have a few tips to share to help your party go off without a hitch.
Get creative with your food and/or drinks that are being served. Simple additions to the meal, such as fun-colored, or theme-based flavored beverages, help tie the overall theme together.
Designate guests, or party helpers, as your photographers. Select a few folks to walk around, snapping photos or filming special moments (like the big reveal!) so that you can enjoy your party without the added pressure to document it.
Create an original hashtag for the event. If you'd like to coordinate a collection of attendee's photos, consider coming up with an original and festive hashtag, such as a mashup of your last name and the words baby, bundle, and so on. You can then ask your guests to use that hashtag when posting photos on social media. This allows you to quickly locate their tagged photos and save them to create photo albums, both printed and digital. These albums make great gifts for grandparents!
Choose one person as your trusted confidant. This person will know the sex of your baby and will be responsible for handling the big reveal. Your confidant must be someone who can keep a secret and be willing to take care of getting the appropriate gender color makes its way into the vessel you've chosen to reveal your baby's gender.
Don't forget to include your little ones! Fun T-shirts, outfits, balloons, or help with the reveal allow the big brother(s) or sister(s) to feel included in your celebration. This can help them feel connected to you and the addition of a new little one into the household.
Include your guests with a gender poll. When your guests arrive, have a table placed nearby, outfitted with the makings of a gender poll. It could be as simple as blue and pink-colored tokens with two clear bowls, where guests will place their predictions on the baby's gender. Get creative with the polling station, helping it fit into the party theme. This adds a fun element to your shindig, setting the tone for lighthearted fun right away.
In addition to the polling station, you may want to add an additional bowl (or box, crate, whatever works with your theme) that will collect name suggestions for your bundle of joy. This is a fun and interactive component that helps your guests feel welcomed into "the village."
It's your party and you'll theme if you want to
Having a theme for your gender-reveal party is a common practice among soon-to-be parents across the board. These themes are often based on the parents' hobbies, interests, favorite movies, books, or TV series and usually involve a reveal centered around that theme. While choosing a theme is not required, they are a fun way to incorporate additional liveliness into your celebration. Themes can also help spur ideas on other aspects of the party such as food, drinks, the style in which the gender is revealed, and decor. Below are our top five favorite themes.
However, if these themes don't speak to you, no worries! You're free to decide to take some of our tips, ideas, and suggestions and apply them to your party and make it your own.
Unique gender reveal ideas
In a galaxy far, far away
Star Wars has been part of popular culture since A New Hope hit theaters over 40 years ago. With the release of the saga's new show, The Mandalorian, and newer movies in recent years, folks are discovering (or rediscovering) their love for all things Star Wars. Using that love of The Force and Lucasfilm, parents can introduce their baby's genders in very "Jedi" fashion. Utilizing Star Wars in a way, such as "Are we having a Luke or Leia?" is a great opportunity for fans to celebrate their pregnancy while also showing off their nerdy sides.
Additionally, using specially made pink or blue-lit lightsabers to reveal your baby's gender is a unique way to usher in your little one.
Country roads, take me home
Farm animals, tractors, hunting, and rustic decor go together well for parents looking to embrace their love of country life. Incorporating an array of elements such as "Doe or buck?" signs, adding camouflage to the traditional pink and blue decor, or installing an ignition smoke bomb to a tractor to reveal your precious cargo's gender are creative ways to bring your theme full circle. You may even be able to integrate the farm-like theme into your gender-reveal extravaganza with an authentic venue.
A few other fun gender reveal party ideas:
Colored silly string: This is a great idea for all guests to participate in, not just the parents.
Confetti/party cannons: These are filled with colored glitter, either pink or blue, and are usually popped open by the parents in front of their guests.
Pinata filled with colored confetti: Like the fun at a birthday party, one of the parents hits the pinata and it explodes with pink or blue confetti to reveal the gender of the baby.
Balloon-popping: This idea is versatile and can be used in many ways. If your significant other is a hunter, consider having them shoot an arrow into a prefilled balloon that's affixed to a wooden board or block. When it reaches the balloon and pops, the colored substance inside is expelled and reveals the gender. You could also do this with darts or any other pointed projectile, just please be careful!
If you're expecting a bundle of joy and would like to share their gender with your closest friends and family, we hope you will mull over our suggestions on unique gender reveal ideas. These gender reveal party ideas are merely entryways into your imagination, so feel free to expand upon them and make them truly your own.
Editors' Recommendations