The great thing about homeschooling is it can look like whatever you want it to, and that means being able to ditch the heavy books and endless printouts. The best thing about fall is the weather makes getting outside for activities so much more enjoyable for both parents and kids.
Combine the gorgeous autumn weather with engaging activities to create a bit of homeschool heaven. Let's check out seven fun fall homeschool activities that you and the kiddos will love doing.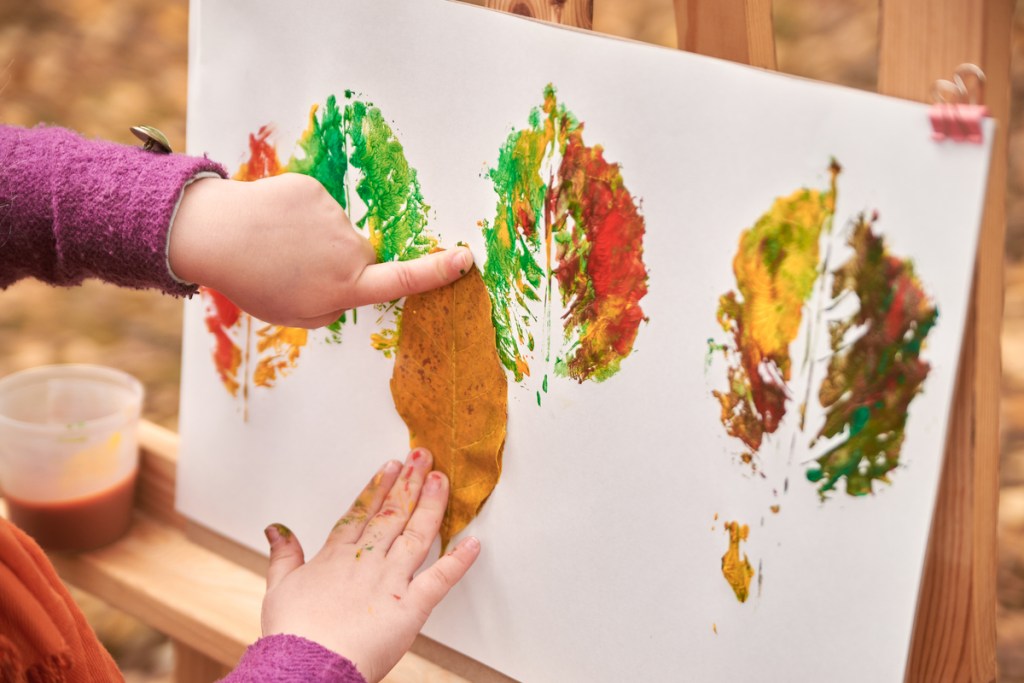 Use nature's surroundings
Leafy good times
Looking at the stunning brown, red, yellow, and orange colors of the leaves brings out a bit of wonder in all of us. Kids will have a leafy good time doing a few different art projects with fallen treasures.
Make a leaf print
What you'll need
A plate
Preferred colors of paint
Various leaves of different sizes/kinds
Blank paper (any color)
Have your child paint the leaves or dip them into paint poured onto a plate. Let the excess paint drop off and then gently press the leaf on the blank paper. Use the leaves as the start of an art project to add on to, or as art all on its own.
Leaf rubbings
What you'll need
Chalk/crayons
Leaves of various sizes
Thin paper
Have your kids find some of their favorite leaves from the yard. On a flat surface, have them put the paper over the leaf and do a gentle rubbing across the paper with chalk or crayons. Use a variety of colors on the leaves so the kiddos see the differences in lines and textures.
Pick up pinecones
What you'll need
Pinecones
Various paints
Paintbrushes
Optional: glitter
Pinecones are another outdoor prize that are perfect to use for school projects. Have your children find pinecones of different sizes around the yard. The kiddos should paint them all the same color, different colors, add glitter, throw some stickers on, or add googly eyes – whatever they want, as long as they have a blast creating their works of art. Put them in a little basket and set it on the porch for a unique, personalized seasonal touch to your home.
Fall photoshoot
What you'll need
Camera (or phone)
Kid's imagination
Yes, everyone loves a fall photoshoot — but let the kids do this one! If you have a polaroid or other camera and feel fine letting the kids use that instead of a phone, then go ahead.
But let the kids pick the place, the theme, and the poses. Go to a park or your own backyard and let the little ones be the boss of this photoshoot.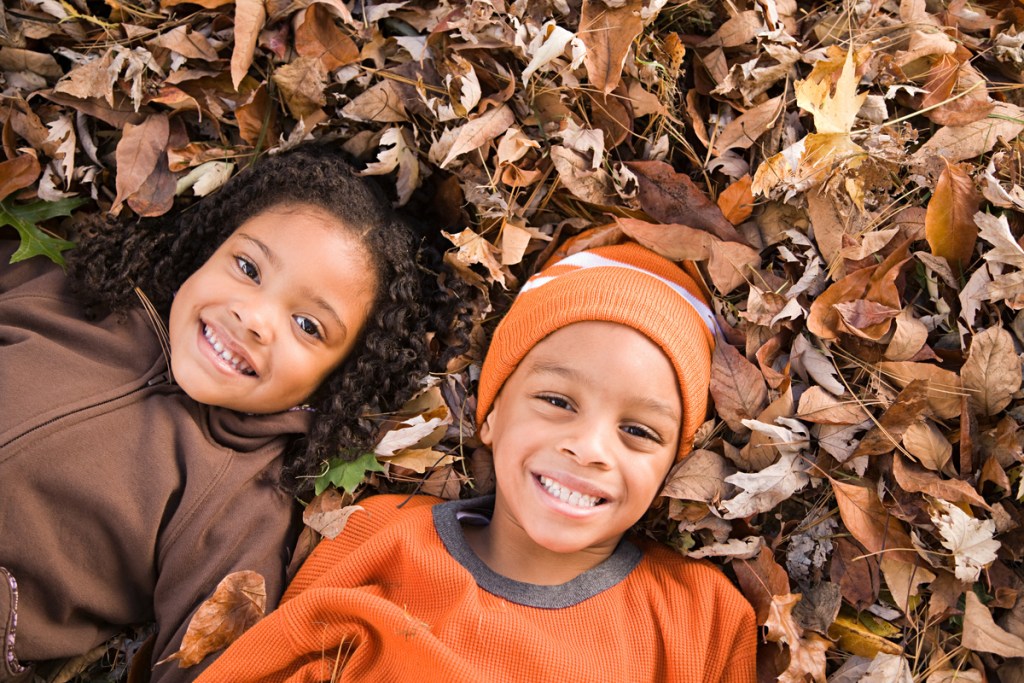 Get them moving around outside
Apple orchard/pumpkin patch
What you'll need
Cute fall outfits
Patience
We know — these two get brought up on every autumn list. But there is something beautiful about watching your kids have fun at an apple orchard and crawl through a pumpkin patch. You'll also snap some of the best pictures to cherish, and the scenery couldn't be more gorgeous.
Some orchards even have a small petting zoo, so you get that whole adorable experience. It's so cute and the kids just light up. Be sure to grab yourself some delicious snacks on the way out.
Parks for days
What you'll need
Full tank of gas
Bag with drinks/snacks/wipes
Play clothes
We love parks in the fall. The kids learn to play nicely with each other, share with other kids, and the fresh air gets them ready for bedtime. They are strengthening their minds as well as their bodies.
Look up all the parks by you and see how many you can visit over the weeks before it gets too cold out. Incorporate some of the other activities for homeschooling into your park adventures and tie it all together.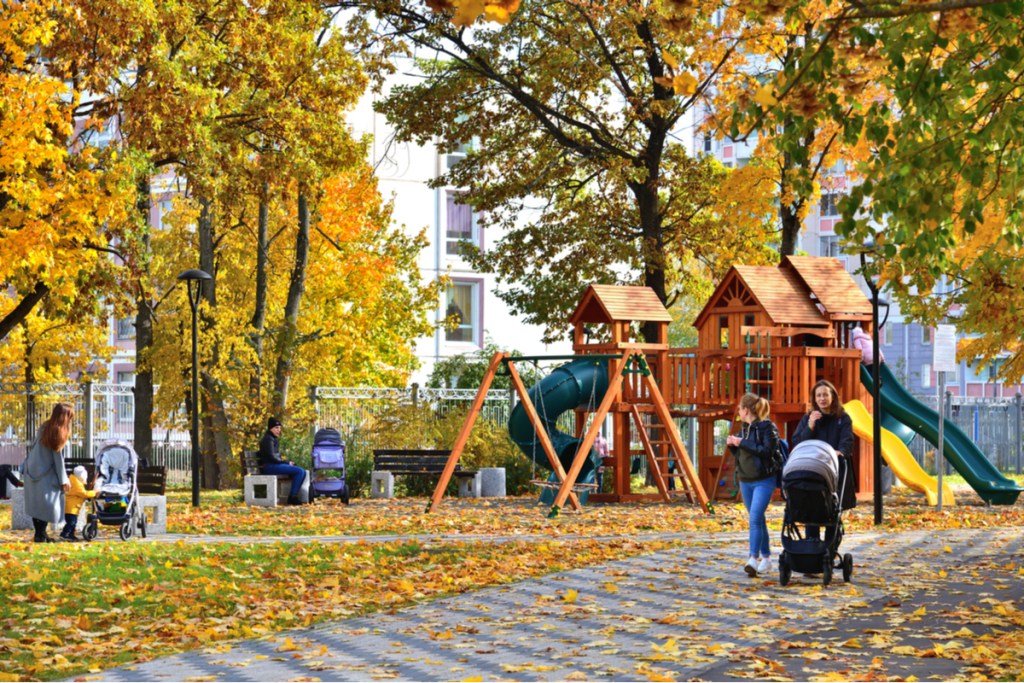 Make the outside extra educational
Find it: Fall edition
What you'll need
List of items to find
Bucket or basket (if you want kids to collect items)
Scavenger hunts are the best fun. Hide things around your yard or a park. Or you could take a stroll first and see what they have to look for. A few leaves of different colors and acorns would be perfect to have to find.
Give your kids a bucket, their list, and have them find fall-related items. Scavenger hunts make the kids move around, use up energy, and create a little healthy competition with who gets done first.
See the stars
What you'll need
Telescope
A clear sky
Astrology book
A really fun science-themed activity is to check out the stars. The weather will be cooler, so being outside won't be such a sweaty affair. Sometimes the library will have a stargazing night, so check with your local branch.
Have the kids look up their birth sign and see if they find their constellation in the sky. Find which ones will be visible at that time of year and have the kids look up the origins and tell you about them.
We think that fall is the best season, especially when it comes to homeschooling. Get your kids out in the beautiful weather and embrace nature together. These 7 easy, affordable, and low-stress activities are a great way to get some schooling done and strengthen that bond with your kids. Homeschooling should be enjoyable for everyone, and even more so during the fall.
Editors' Recommendations