Playing with farm toys does more than just keep toddlers entertained. Toys with farm animals and their sounds help young children develop their sensory and language skills. animal toys for toddlers are also great for getting those little fingers working and developing their fine motor skills.
Farm toys stimulate imaginative play as well, making farm animal toys a fun and educational addition to the playroom. If your toddler was excited by a recent visit to a farm, then bringing some barnyard toys into the mix is a must.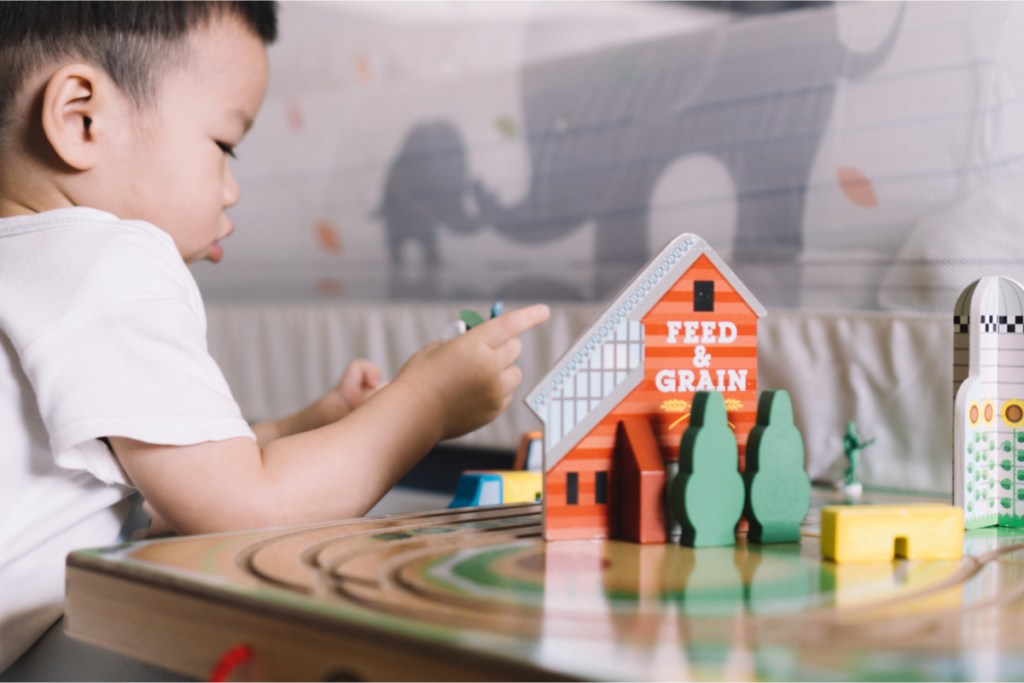 Tips for picking farm animal toys for toddlers
Remember, toddlers still put toys in their mouths. So, when purchasing toys for toddlers, it's important to make sure they are non-toxic and do not have any small pieces. Small pieces are a choking hazard for toddlers. Now, before we join Old MacDonald, let's take a look at the best farm animal toys under $25 for toddlers worth mooing about.
Turn the bathtub or the baby pool into Old MacDonald's farm with this adorable bucket of farm animal buddies. The set includes 12 chubby farm animals ideal for little hands. Since the tub toys do not contain any holes, they will not get molding. Air or towel dry before storing in the convenient bucket. Toddlers can have hours of fun in and out of the water with the classic set of farm animals that includes a horse, goat, cow, donkey, horse, dog, and more. These farm toys do sink which just adds to the bath time excitement especially when bubbles are involved. Boley's Farm Animal Bath Toys Bucket is for toddlers ages two and up.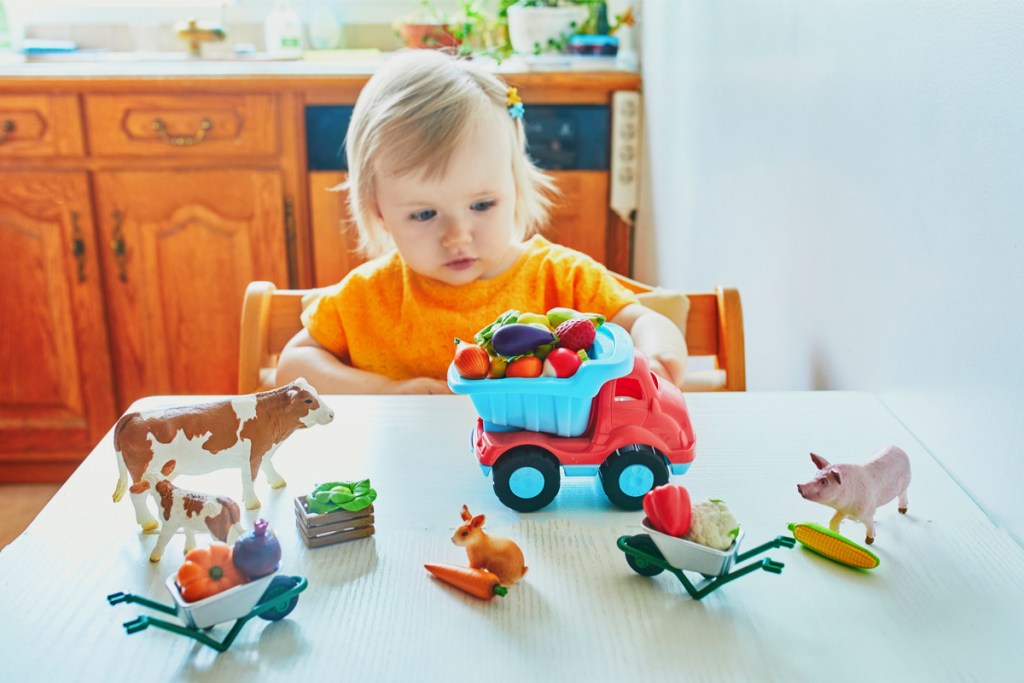 Who's ready for a hayride? Toddlers will be with this cute tractor that sings "Old MacDonald" when it moo-ves. The tractor features a seat for each of the four animals as well as the farmer because he needs to drive. When toddlers push down on the animal, the animal makes a sound. Three AAA batteries are included so toddlers can get busy with the hayride right away. The tractor and its accompanying animals and farmer are easy for toddlers to handle. TOMY's John Deere Animal Sounds Hayride is designed for toddlers 18-months of age and up.
Wooden peg puzzles are earmarked for toddlers. The large pieces with the wooden peg are a perfect pick for developing fine motor and problem-solving skills. This Melissa & Doug Farm Animal Puzzle includes sensory sounds that help toddlers learn animal sounds. Batteries are not included. Melissa & Doug's farm animal puzzle is designed for toddlers ages two and up. Its durable design can easily be passed down to younger siblings when your toddler outgrows the puzzle.
Curious toddlers will get a kick out of this four-pack of chunky wooden farm animal puzzles. The pack includes a barn, pig, cow, and sheep puzzle. All the pieces and boards fit neatly into a traveling bag. Large pieces are ideal for small hands. The puzzles are non-toxic and are made from eco-friendly materials for toddlers one and up.
Toddlers can have hours of fun and really ignite their imagination with this hands-on Farm Animal Felt Story Board Set from Watinc. The 3.5-foot flannel board can be easily hung on the wall or used on the floor. It includes farm-themed pieces toddlers can use to set up their own farm scene. All the pieces are a great fit for small hands. This educational toy grows with toddlers and transitions nicely into the preschool years.
For something a little softer, cuddle up to this plush barnyard. Complete with a barn and four cozy farm animals, toddlers can play with the sheep, cow, rooster, and horse before settling down for a nap. When the play day is done, the animals store in their barn. A toddler-sized handle is convenient for little farmers on the move.
Toddlers will definitely learn their animal sounds with this farm-on-the-go by Animal House. These cute barnyard animals make sounds when squeezed. Each animal also has its name printed on it. All four farm buddies pop into their house for a nap and travel well.
Really get those little hands working with this fun and developmentally appropriate farm animal toy. Toddlers can play with the 16-piece farm animal set as is or lace the chunky wooden blocks to make different arrangements. The painted wooden blocks are non-toxic.
Get your toddlers into Legos early with this inviting farm animal set. With 11-pieces, toddlers can have their own barnyard fun. The large pieces are designed for small hands and help stimulate imaginative play.
Farm animal toys can't be beat
Why should Old MacDonald have all the excitement? Farm animal toys are a great fit for toddlers. They help develop sensory and language skills while inspiring the imagination. From puzzles to bath toys to stuffed buddies, toddlers can have hours of fun with these 10 adorable, hands-on, and budget-friendly farm animal toys. All these toys are something to oink about because they're under $25 and a perfect fit to get curious little hands moo-ving.
Editors' Recommendations