A cooped-up child is a parent's worst nightmare. That's why you want to be prepared for the winter with plenty of ideas for indoor exercise for kids.
Exercise for kids is incredibly important for their physical development and for keeping their minds sharp. To avoid relying on screen time, you'll need fresh ideas to keep your kids from whining about being bored. These eight ideas will help you and your kids from going loopy while stuck inside this winter and with getting energy out even without going outside.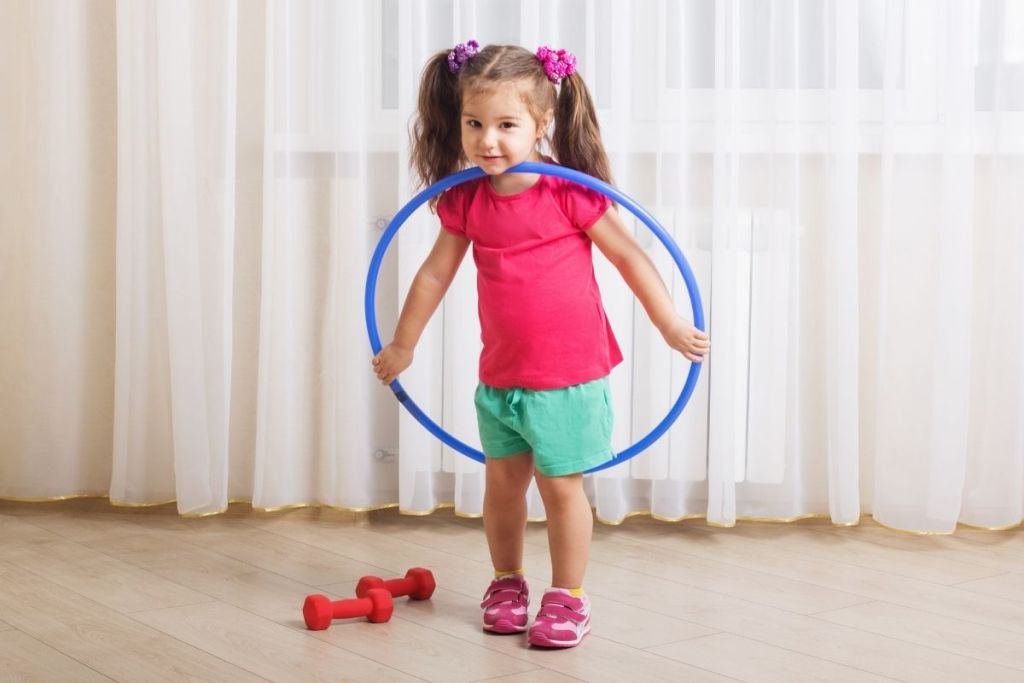 Why is exercise important for kids? Is it possible to get enough exercise indoors?
Healthy eating and exercise are building blocks of healthy development for kids. Exercise helps children develop motor skills, muscles, bones, cognitive skills, balance, and so much more.
The CDC recommends children ages 3 to 5 years old be "active throughout the day" and children 6 to 17 years old be active for 60 minutes or more three days per week. The American Academy of Pediatrics has more specific recommendations: three or more active hours per day for toddlers and 60 minutes or more of physical activity most days for elementary, middle school, and high school students.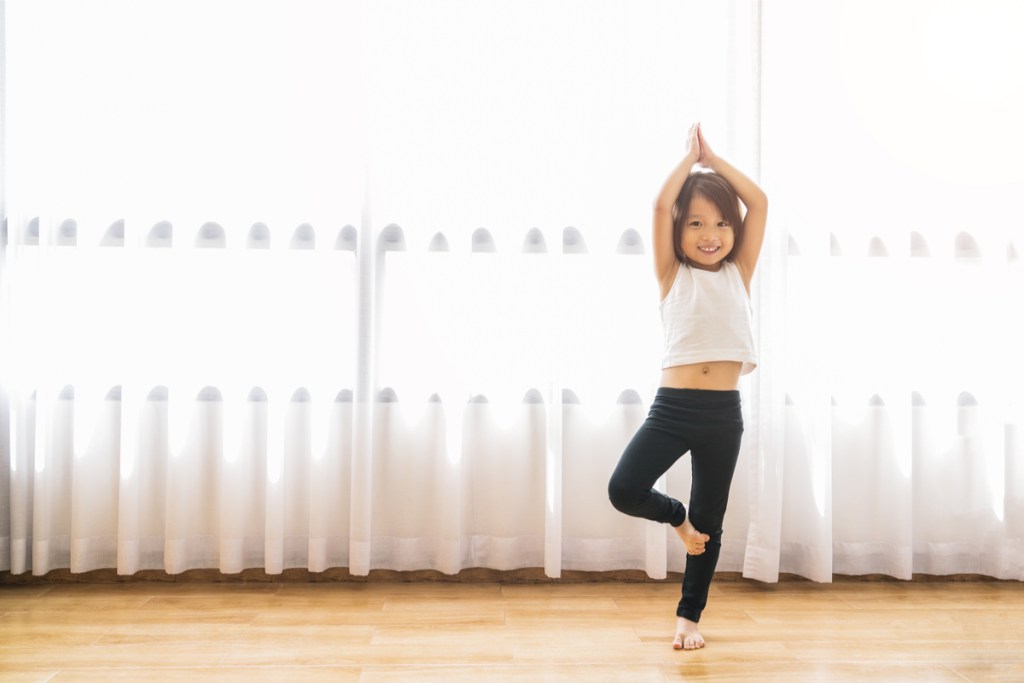 Indoor exercise for kids: Easy ideas to get you started
Yoga
This is a go-to favorite for a reason. You can keep kids in one place without worrying about knocking over furniture while teaching calmness and meditation. You'll build their strength, confidence, and focus all at once. There are many kids' yoga videos on YouTube if you search so you can be hands-off with this, or you can lead them yourself if you have some knowledge of yoga. Either way, join them! You can even make up some moves to just keep moving. No mats or equipment are even necessary if you have a rug or carpet in your home to keep from slipping.
Dance
Have a dance party to shake the sillies out! This can tucker kids out after just a few minutes and they can choose their favorite songs. You can make it more engaging and make it last longer by making it a freeze game where they need to freeze when you pause the music and start dancing again when you press play again.
Follow the leader
Kids or parents can be the leader and make up a move the others need to copy. It can be dances, wiggles, exercises, claps, or anything physical, and you can make it a memory game by building on a routine that you have to add a move to for each turn.
Obstacle course
You can set up hopscotch with painter's tape on the floor, a station where kids have to do jumping jacks, a floor space where they have to slither like a snake, and an endless string of possibilities for a custom at-home obstacle course. This one takes much more prep for a shorter amount of time than the others, but if you're running out of ideas, this one will be very engaging.
Hula hoop
Kids can take this hoop out without you and use it in place anytime. You can buy a basic one for under $10 and you can get one in your child's favorite colors.
Trampoline
While this takes up more floor space and money, an indoor trampoline is a toy that will get a lot of use over several years. A child can get so much energy out with this every day and build strength and balance.
Exercise cards
You can buy or make your own cards that have different exercises on them like flashcards. When your child chooses a card (or you hold one up for them), they must do the activity illustrated or written on the card. Activities could be jumping up and down, running in a circle, hopping on one foot, skipping, or doing a cartwheel. The card should also say how many times to do the activity (or you can tell your child the number). Older kids can go through these cards on their own, especially if they're illustrated cards.
Balloon games
Blow up a balloon and the possibilities are endless. You can tap the balloon to keep it up in the air without letting it touch the ground, you can have a race keeping the balloon between your knees, you can balance the balloon on the back of your hand for as long as you can, you can hit the balloon back and forth to each other for as many times as you can… Just have some extras on hand for if and when it pops!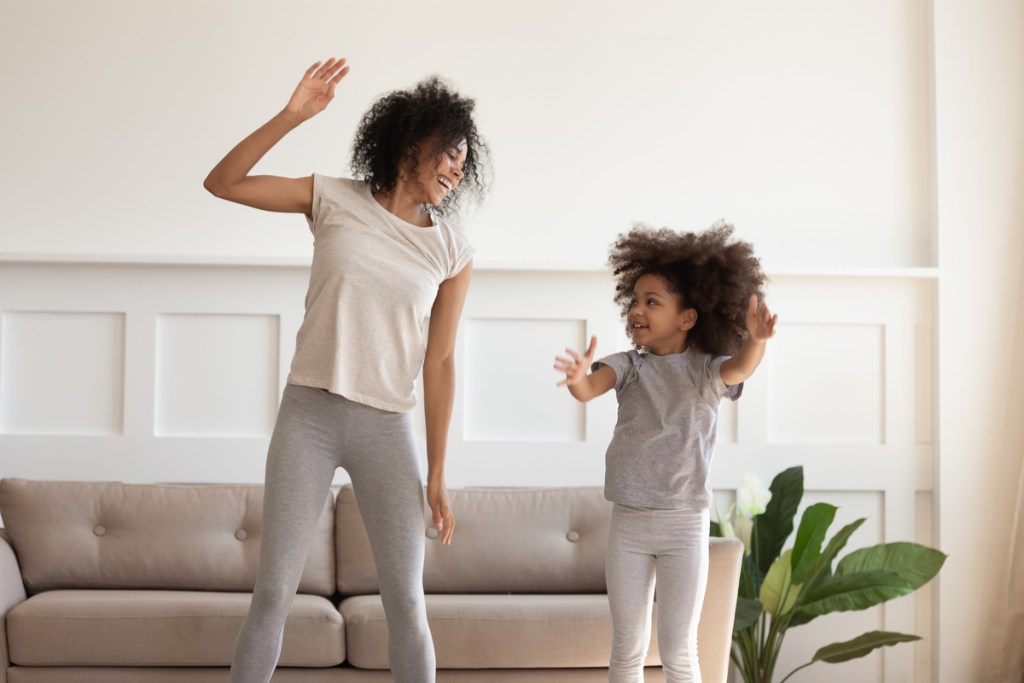 Indoor exercise for kids: Stay creative and keep their attention
You can mix buying some toys and making up games to do at home when coming up with indoor exercise for kids ideas. Just busting out a dance party when you're short on new ideas is always a good idea. Have fun!
Editors' Recommendations