Memorial Day weekend signals the unofficial start of summer in many places, but the federal holiday holds a much deeper meaning, especially for military families. While the practice of honoring soldiers lost in battle dates back to ancient times, Memorial Day in the United States began following the Civil War. First known as Decoration Day, Memorial Day honors all those who have given their lives in the line of duty while serving in the armed forces.
Memorial Day, which officially became a federal holiday in 1971, is observed on the last Monday in May each year. Many families use the extended weekend from work and school for family-friendly outdoor activities. Certainly, Memorial Day parades and barbecues are a lot of fun, but it's also important to teach your children the meaning behind the day. Unlike Veterans Day, which honors all military members serving past and present, Memorial Day honors those whose lives were lost.
Even though it is a somber remembrance, there are kid-centered ways to teach children about the meaning behind Memorial Day.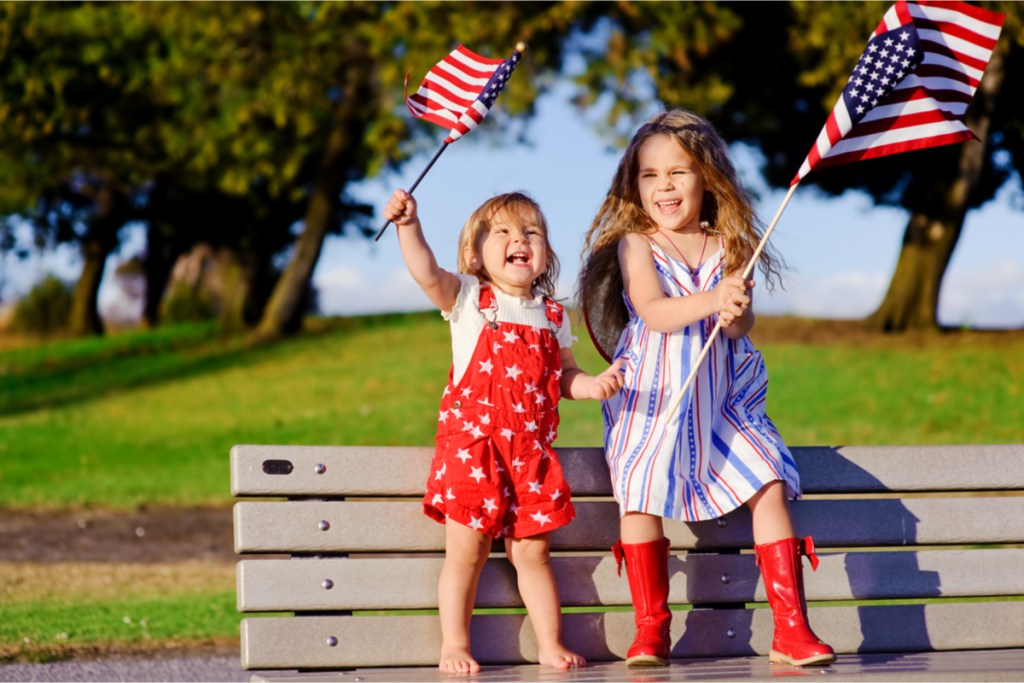 Attend a Memorial Day parade
One of the most straightforward ways to teach your child about the significance of Memorial Day is to attend a Memorial Day parade in your area. Of course, parades are cool with floats, bands, and candy, but a Memorial Day parade will feature the local American Legion, VFW, and other veteran organizations. Teaching your child to stand and clap as vets walk past is a simple gesture reinforcing the contributions members of the military make to our country.
Bring flowers to a memorial
Many local American Legions and VFWs have special wreath-laying ceremonies early in the day on Memorial Day. Attend one as a family, bringing flowers, and have your kids place the flowers by the memorial at the end of the ceremony. If there isn't a ceremony, you can still stop by and place flowers as a remembrance for lives lost.
Thank a veteran for their service
A simple yet meaningful gesture would be to thank a veteran for their service. During Memorial Day weekend, veterans typically collect donations at supermarkets and hand out poppies. Say thank you when heading in or out of the store and explain to your child why you expressed your gratitude.
Make a service member smile
A great way to honor military men and women on Memorial Day is to do something to make a service member's day by sending a card or care package. First, check with your local VFW or American Legion to see if your town has any residents serving. If not, then visit AnySoldier.com to find out how you can send a care package to a member of the armed forces. Always pack enough goodies for the soldier to share with their unit. Suggested care package items include:
Sunblock
Socks
Underwear
Flip-flops
Lip balm
Deck of cards
Crossword or word-find puzzle books
Paperbacks
Stationery
Chips
Nuts
Trail mix
Granola bars
Non-melting candy
Powder
Lotion
Share books about Memorial Day
Since Memorial Day honors armed-forces members who died serving their country, the holiday can be difficult to discuss with children. Sometimes, sharing a children's book on the subject is a wonderful way to introduce the meaning behind Memorial Day. Here are some great books to share with kids about Memorial Day:
Across the nation, Memorial Day weekend has become the unofficial start of summer. While picnics, trips to the beach, and barbecues are super fun, it's important to take some time during the long weekend to discuss with children why we have off from school and work on the last Monday in May. Try one of these ways to teach your kids about Memorial Day this year.
Editors' Recommendations