Splish! Splash! There is just something about kids and puddles. Regardless of age, kids are drawn to them whether they're walking or riding. Why? Puddles are fun, but as parents, the voice of your mom and dad comes rushing back when there's a puddle in the immediate area. You remember those words of wisdom: Don't get wet. You'll get muddy. You will ruin your shoes. The water is dirty. Puddles are yucky. You'll catch a cold.
Sure, all these warnings make sense, except maybe the catching-a-cold part, but when you're the parent, it's important to remember back when puddles were an adventure.
Puddles are exciting for children, and parents should let kids play in them, within reason of course. If you're all dressed up and heading to a party or on the way to school, it's not the time to let your kid go splashing in them. There are times, though, like after a rainstorm or on an evening walk when it's perfectly acceptable to let your kiddos enjoy some puddle jumping. Yes, it's carefree and whimsical, but it also offers kids of all ages some benefits, as well.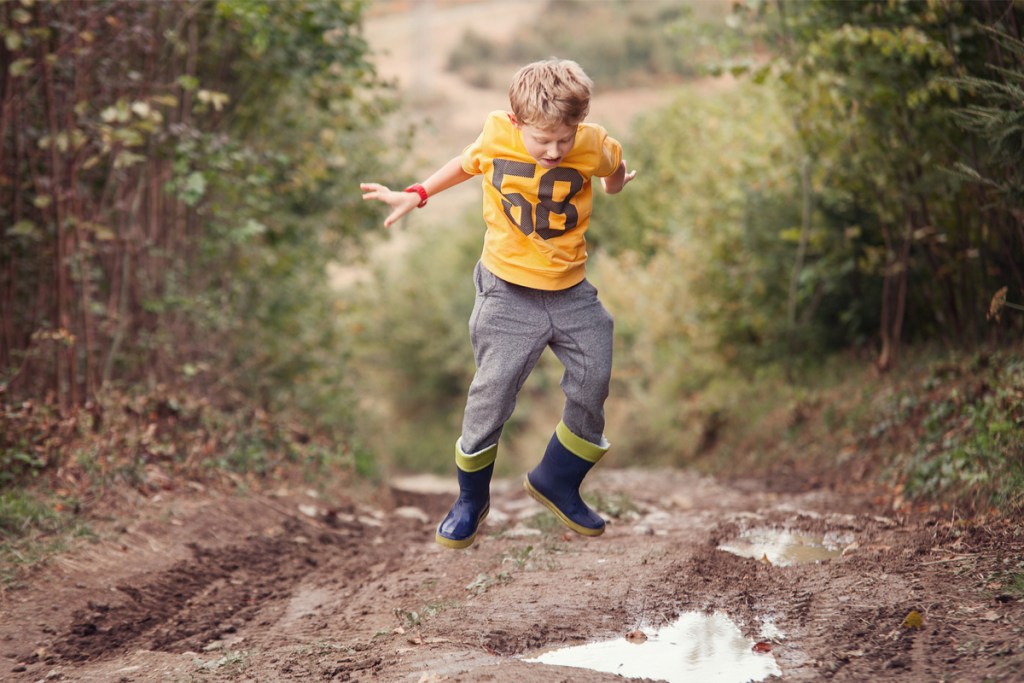 Pull on the wellies
Wellies are short for Wellington boots, which are rain boots. Every kid and grown-up should have a pair of wellies in the closet for those rainy days. Why? When your kids are wearing rain boots, the stress of puddle jumping goes away for parents. What's your biggest worry? Kids will get wet and ruin their shoes. Well, wellies were made for getting wet.
So, when you are heading out and the ground is full of those all-too-tempting puddles, have your child wear his or her rain boots. They can splash or jump, and you will be comforted by the fact their feet will stay dry. Of course, when they jump, they splash. So, if you're heading out for a puddle jumping, have them wear old pants and a raincoat, too.
Jumping games for kids
Turn a rainy day into a fun day by putting on the boots and raincoats, and heading outside. It is perfectly acceptable to let kids play in the rain providing they're dressed appropriately. Puddle jumping is a great game and one that kids will not need a lot of coaxing to participate in. A round of the game "follow the leader" through all the puddles on the sidewalk will be full of giggles and splashes. Parents and caregivers can join in, too. There isn't an age limitation on the satisfaction of jumping over a puddle or riding through one on your bicycle or scooter.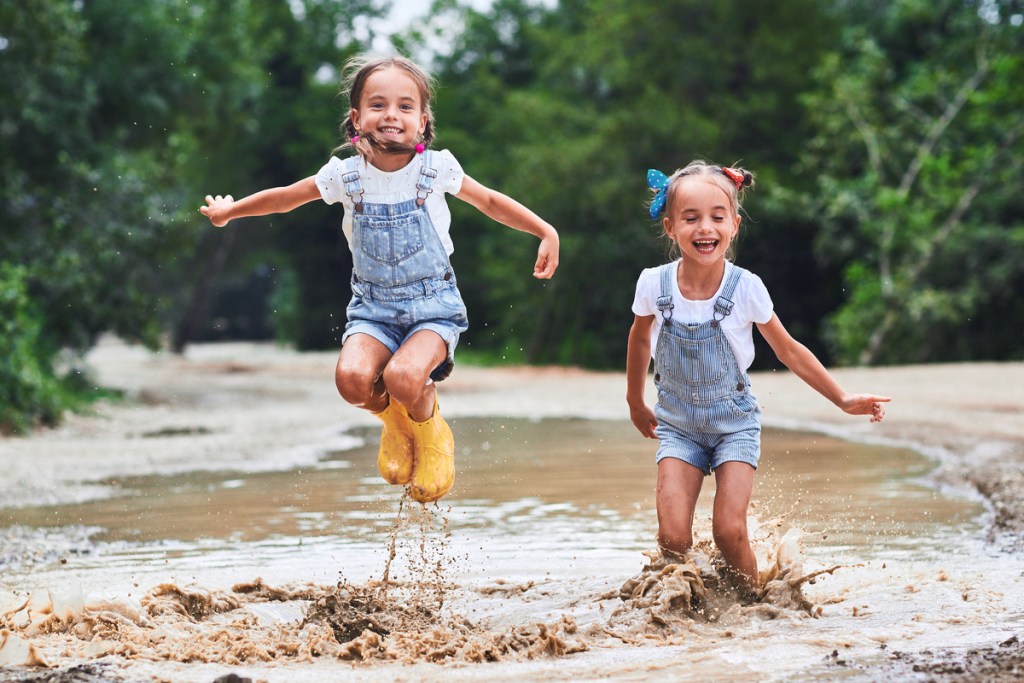 Why puddle jumping is good for kids
Puddles are super inviting for kids because children love water and mud. These mini-lakes are hurdles in the making and are a perfect way to get kids moving. Jumping over puddles is actually an exciting activity that helps to develop the large muscles in the legs. It's also a great way to get kids active and moving. You may enjoy a walk around the neighborhood, but kids don't necessarily share your enthusiasm. Jumping over puddles and splashing around in them is a fun way to get kids to actively participate in a family walk and work those all-important gross motor skills.
The fun doesn't stop there, though. Jumping over a puddle works the brain, too, using measurement, estimation, and spatial-awareness skills.
The wonders of a puddle
Puddle jumping is an engaging form of exercise, and yes, it works gross motor skills, but there are other ways to play with a puddle that are just as cool and inviting. Just like puddles are little hurdles to leap over, they can also be a science experiment for kids. Using a stick, kids can figure out just how deep a puddle is and if they want to jump over it. Little ones can toss rocks into the puddle to see which rocks make the biggest splash, letting them experiment with water displacement. It is also an ideal spot to play with objects to see which ones float or sink.
Large puddles attract not only children but wildlife, too. Kids can get a kick out of watching birds take a bath in one or seeing other neighborhood wildlife stop by and take a drink, and do we need to mention the bugs?
Should you be a puddle parent? Saying yes to puddles doesn't mean kids get carte blanche to dive in whenever they want to, especially if other non-jumpers are standing within the splash zone. When you're heading to school, on an outing, or in the middle of a thunderstorm is not the time to let kids go splashing, but there are opportunities during the year when it should get a green light. If you're running errands on a rainy day and aren't in a major rush, have kids wear their boots and let them have a bit of fun in the puddles on the way home.
Walks, hikes, or rainy days when kids are stuck in the house are great times for some family puddle jumping. A walk home from school is a perfect pick for it, too. Just bring the rain boots to pick up and have your child change shoes before walking home. It's important to make time for a little puddle jumping for everyone.
Editors' Recommendations