Toddlers love routine because it helps them feel more secure about their days and about us, their primary caregivers. Should you consider pushing any sort of daily routine for your toddler, remember that it will allow them to make sense of the world. It will help them understand that their days happen in a certain order and that specific cues lead to a predictable outcome. Every day won't be the same, but here is a rough guideline for your toddler's daily schedule.
7 to 8 a.m.
This time is for your toddler's morning routine. Now's the time to change them out of their overnight diaper (if they're not potty trained), brush their teeth, and feed them breakfast. If they're old enough, supervise as they change out of their pajamas into their day's clothes and place their sleep clothes either in the laundry bin or to the side.
8 to 9:30 a.m.
This chunk of time is great for learning activities, as most toddlers are at their best early in the morning. Time to break out their sensory sandbox, washable hand paints, and water tables. Morning time is also great for more school-like activities such as matching letters to an ABC chart, numbers flashcards, and color-matching exercises.
If your little one is a young toddler (i.e. between 1 to 2 years old), building blocks, coloring pads, and playdough are great choices.
9:30 to 10:30 a.m.
Use this time to get out of the house for a walk or quick outing, and for snacks. This is an opportunity for your toddler to have quiet time in their stroller if they're winding down or to explore plants and rocks on your walk if they're particularly excited about the outdoors.
This is also your time to take a breather or get an errand checked off your list like grabbing a couple of items from the grocery store or getting in your daily physical exercise for the day.
10:30 to 11:30 a.m.
For younger toddlers, mid-to-late morning is optimal naptime. A short hour will suffice, though some toddlers will nap for longer or less. Take this time to prep for lunch or relax before the latter half of the day.
For older toddlers, this is a good time for independent play.
11:30 a.m. to 1 p.m.
Now is lunchtime routine and independent play. After eating and cleaning up, give your toddler a chance to play by themselves. If they use a tablet, give them half an hour to play. Otherwise, offer them books or other quiet activities like sticker pads.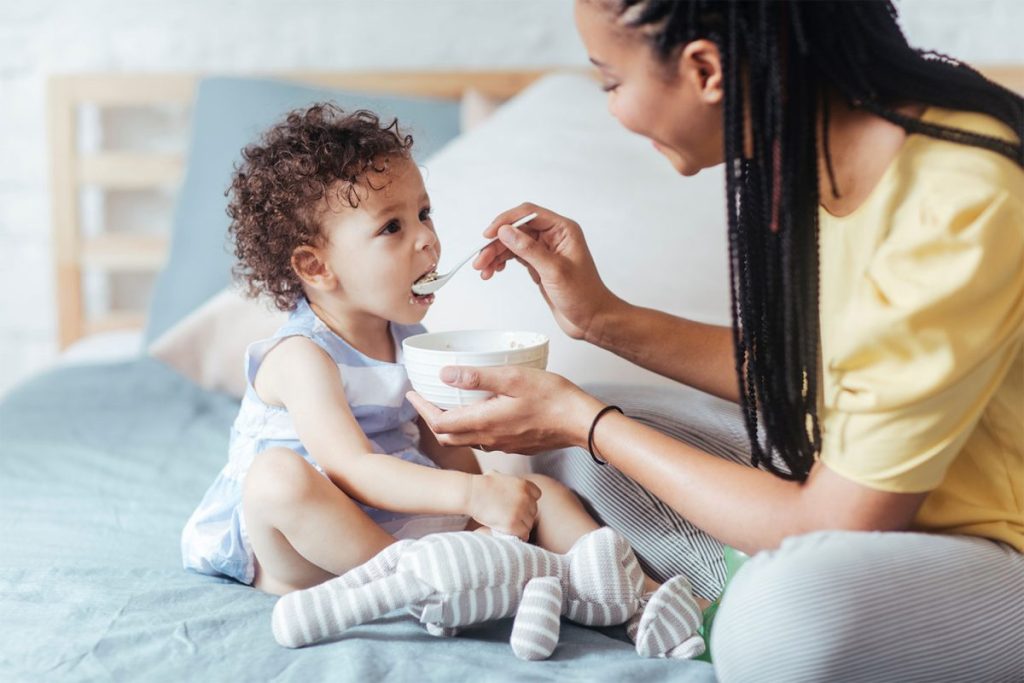 Tidy up any small messes made in the playroom, kitchen, or living room.
1 to 3 p.m.
For older toddlers who didn't get to sleep in the morning, now is their long chunk of nap time. Typically, toddlers will sleep one to two hours in the afternoon. Note that toddlers need about 12 to 14 hours of sleep a day, naps included.
3 to 4 p.m.
After their nap, offer your toddler a snack and a drink. They'll be re-energized after naptime, though not as sprightly as their morning selves. An hour of play time in the afternoon will go by quickly.
4 to 5 p.m.
Get your much-needed fresh air in the afternoon for another walk or outing. During warmer months, this is a good time to walk instead of the late morning. Temperatures are lower, so you can take your time without worrying about the heat.
5 to 6 p.m.
When you get back in the house, have your toddler help you prepare for dinner. If they prefer, they can play on their own again until food is ready. Then it's time to eat!
6 to 7 p.m.
If you are a big household, spend this time with family playing group games or fun activities. Then it's the bedtime routine, so it's back to brushing your toddler's teeth, getting them in and out of the bath or shower, slipping them into their pajamas, reading them their bedtime story, and sending them off to bed.
7:30 p.m.
The day is almost over and you've made it to the end again! Your toddler should be in bed by this time (yay!) and now you can clean up, prepare for the next day, and take some time to relax.
A routine gives toddlers the confidence to face each day bravely and explore their world without worrying about what's going to happen. Their schedule doesn't need to be jam-packed with activities, and it doesn't need to be set in stone, but a rough outline helps immensely. Try a variation of our toddler daily schedule and adjust accordingly to what works best for you.
Editors' Recommendations