Play mats are a must-have item for many babies because they can provide endless fun and stimulation for your little one, not to mention allowing them to play on their own. A play mat gives your child a comfortable spot where they can play on their back or their tummy and practice rolling over. It's also a nice place where baby's classic toys are within easy reach for your mini human.
One benefit a play mat offers is encouragement for your little one to interact with their surroundings. Plus, baby play mats give a fun opportunity for your little one to reach developmental milestones and build the muscles they need to sit up and crawl. If you haven't grabbed one for your tiny tot yet, you'll want to after we tell you all about these fun baby play mats.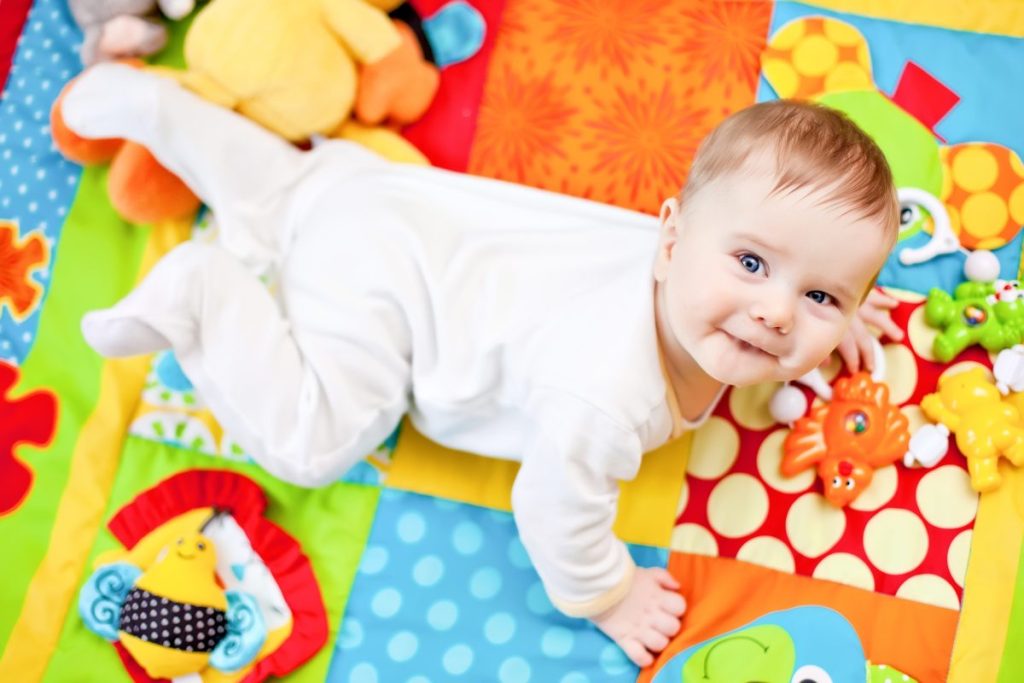 What does a baby play mat have to offer in the ways of useful qualities?
The designs and features vary amongst the endless play mats available for purchase, but most share these characteristics:
Comfortable surface with foam, pillows, and soft fabrics

Different fabrics and textures to encourage tactile interactions and discovery

Bar with dangling toys to encourage baby to roll over, plus reach and grasp objects

Additional fun activities, like mirrors, lights, sounds, and built-in musical instruments

Collapsible bar that holds the dangling toys

Easy setup and ability to go everywhere you and your baby do
At what age should you introduce a baby play mat to your little one?
Start using a baby mat as soon as your newborn is comfortably lying on their back. Your newborn might not interact with it yet, but looking at the colorful, dangling toys is a fun activity during their alert time. Babies get the most from play mats once you introduce tummy time at around 3 months of age. Start with three short daily sessions, limited to 5 minutes at a time, and work your way up to an hour of tummy time a day.
Baby will likely begin rolling over at 4 months old. The dangling toys will encourage your baby to reach and eventually sit up by the time they're 6 months old. Your child will also practice getting up on all fours and rocking back and forth to reach the different toys.
By the time your baby is 9 months old, they could start crawling. Crawling usually signals that your little one has outgrown their play mat, and they might find it boring and go explore the rest of the room. However, that doesn't mean you should completely eliminate the play mat, but don't force your baby to stay on it. Consider upgrading it with new toys and activities, since it's still a good way of developing important motor skills.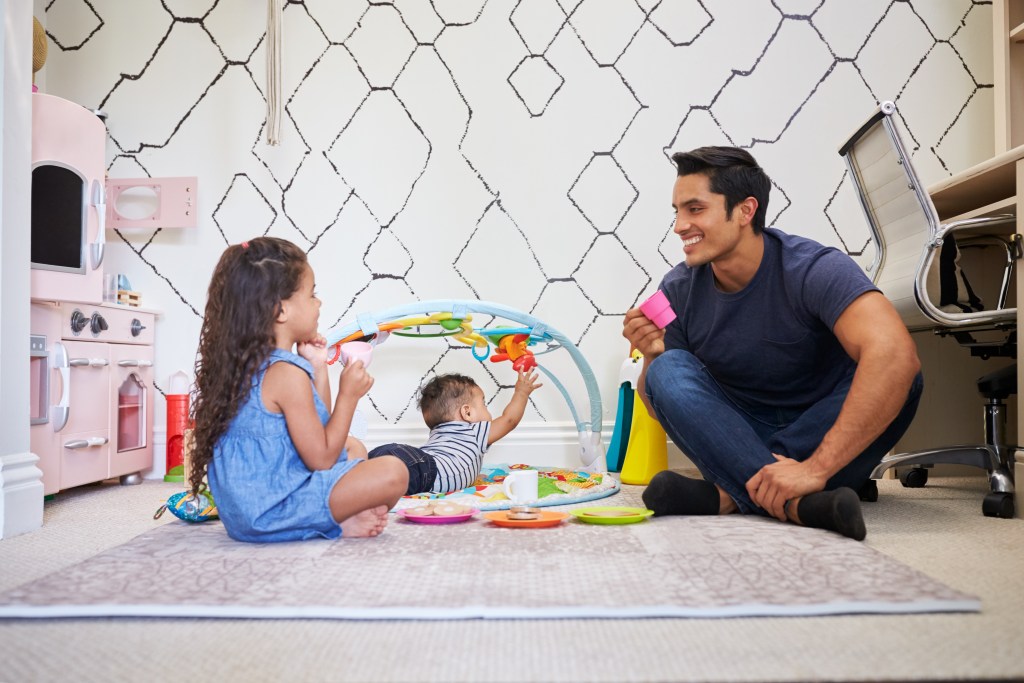 What are the benefits of a baby play mat for physical and cognitive development?
A play mat for baby is a must-have item for several reasons:
Convenience – Play mats are portable, lightweight, and easy to fold. You can set it up at the park or at a friend's house to keep baby busy and happy.
Safe space – The soft texture and supportive foam help your newborn feel safe. Your baby can practice rolling over and sitting up away from hard surfaces.
Freedom of movement – A play mat provides more space than your infant's crib or bassinet. It allows them to kick, roll around, and scoot with more freedom, encouraging exercise. This freedom of movement gives them the independence to make their own choices.
Sense of touch – Baby gyms use fabrics, plastic, soft toys, and different textures to encourage babies to touch and explore. Newborns are curious, and their sense of touch is an important way for them to interact with the world.
Cognitive development – Play mats provide the stimulation they need through bright colors, textures, lights, and sounds. There is always something that will grab their attention and make your child's alert time more stimulating.
Motor skills – Grasping is a major development milestone that your baby should reach between the ages of 3 and 5 months. The dangling toys encourage your baby to reach and grab them.
Hand-eye coordination – It will take a while for your newborn to develop hand-eye coordination. A play mat promotes this coordination because there is always something different to interact with.
Muscle development – Tummy time helps with neck, shoulder, and back muscle development. Your baby needs to develop these muscles before they can roll over, sit up, crawl, and walk. A play mat helps by providing a comfortable space where your baby can stay on their tummy and perform a wide range of movements to interact with the toys.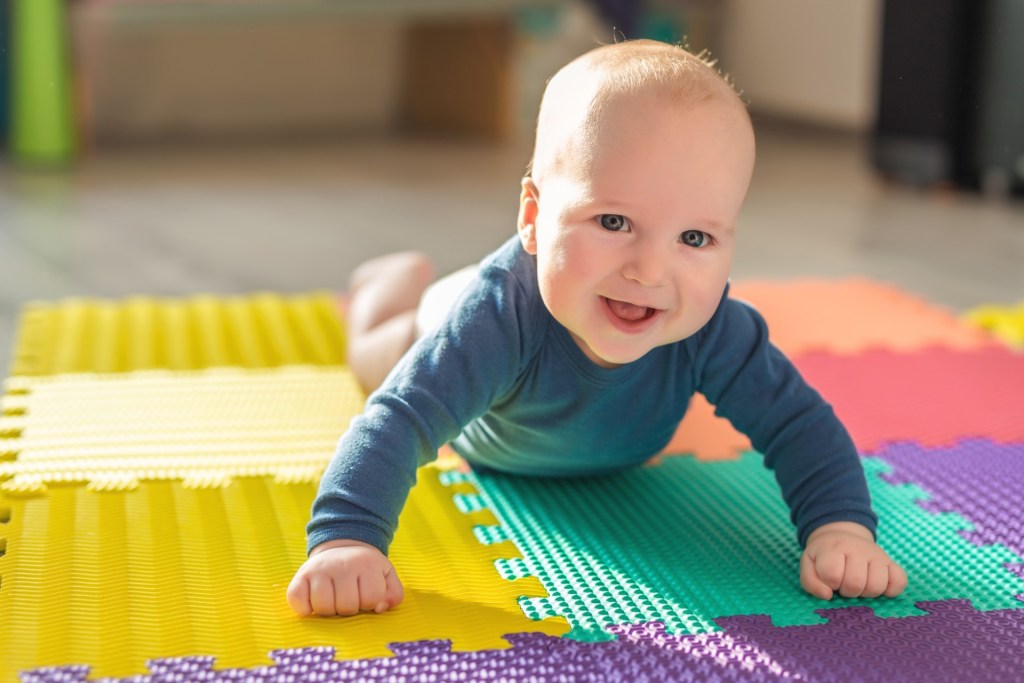 A baby play mat promotes learning and fun
A play mat encourages your baby to explore their surroundings. It will keep them busy with toys, textures, sounds, lights, and more. It's also a fun way of bonding with your baby. Plus, it promotes motor skills and encourages muscle development. Given the wide array of play mats on the market these days, you should have no trouble at all picking out one that matches your little one's personality.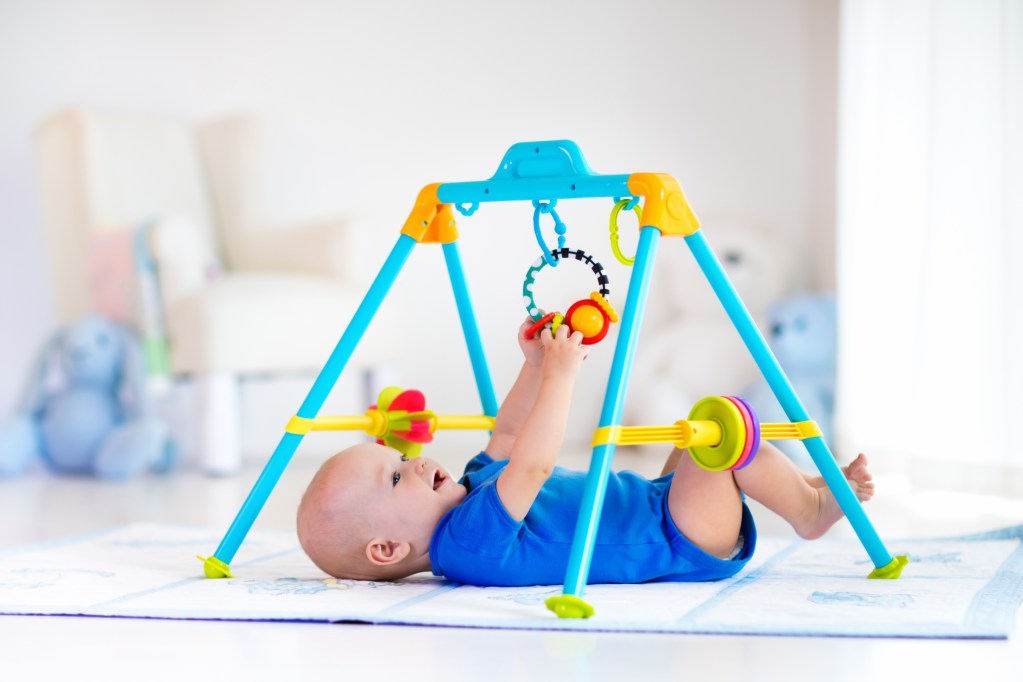 What to look for in a play mat
It can be overwhelming to choose a play mat for your baby, since there seems to be an endless array of options available. First and foremost, you should look for a play mat made of materials that are nontoxic, as well as soft to the touch. You don't want your mat to have any sharp edges or sharp toys that could harm your baby. Something that's easy to clean is also important since your little one will be spending a lot of time playing on it, spitting up on it, and sometimes even having an accidental leak on it!
Comfort is also important as your little one will spend a lot of time on this as they grow, so choosing one that has some padding will be important. Look for bright colors and toys of different textures that will keep your infant engaged and stimulated as they learn to explore. Fortunately, there are so many different options available at a variety of price points that your baby will love whichever mat you choose.
From tummy time to teaching some independence, the benefits of having a baby play mat are endless. They also give the parent a minute of freedom to finish that cup of coffee. So, make sure you get a baby play mat for your tiny tot within the first few months for you both to enjoy the perks.
Editors' Recommendations