Unicorns may be mythical creatures, but these stunningly beautiful one-horned horses have long captured the attention of adults and children. Unicorns are thought to symbolize freedom and innocence, among other things. Seeing a unicorn in a dream means good luck for the dreamer. So, with all the alluring legendary tales and their magical powers, it's not a surprise these fabled beasts are a huge hit with kids, making a unicorn-theme birthday party a perfect pick. If you have a unicorn lover with a special day on the horizon, putting together a unicorn-themed birthday party can be a lot of fun. It's also not as difficult as you think. You won't even need unicorn magic to do it with our ultimate unicorn party decorations and planning ideas.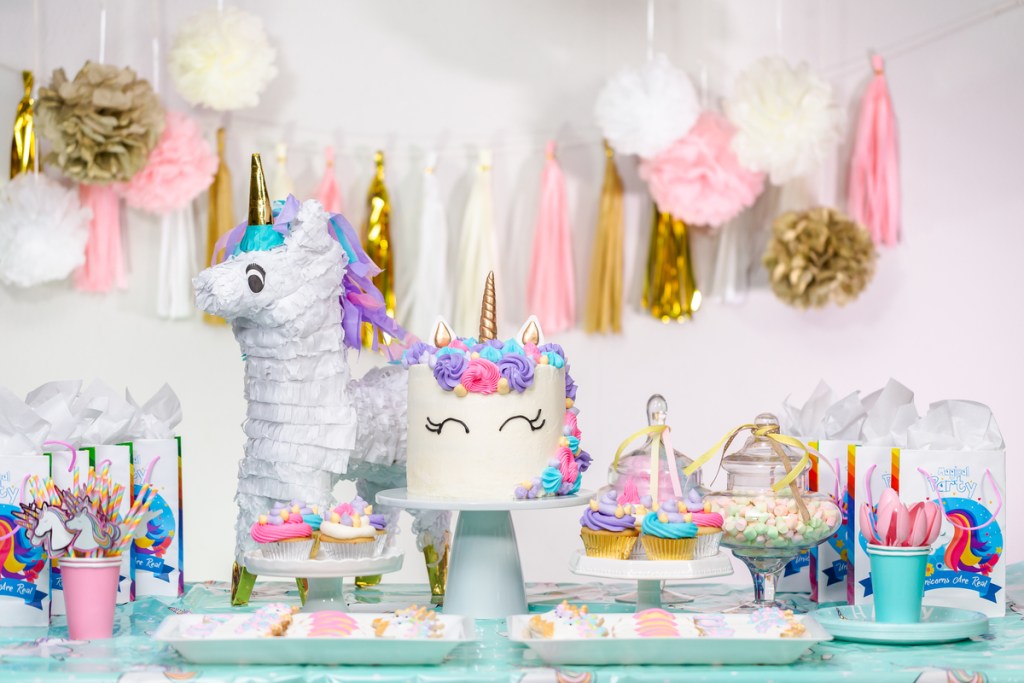 Unicorn party decorations
The tone-setter for any party at home or at a venue is the decorations. Cool decorations turn any room into party central. Unicorns and rainbows go hand in hand. So, glam up a party room, the backyard, or the kitchen with unicorn-inspired decorations and an array of rainbow-colored balloons. Add in unicorn plates, napkins, cups, and a tablecloth, and there's magic in the air.
Pinata time
A pinata is an exciting way to end a birthday party celebration. Hang a unicorn pinata on a tree in the yard where the guests can see it or in a safe spot at a venue. Instead of candy, stuff the pinata with unicorn-themed treasure box toys like key chains and stamps.
Unicorn movie marathon
Once the decorations and pinata are in place, it's time to think about what to do for the unicorn-themed birthday party if you're not holding it in a trampoline park or party place where the entertainment part is built-in. A unicorn movie marathon is a magical way to celebrate especially if the birthday party is a sleepover or there's space to host an outdoor movie. Guests could come dressed in their favorite unicorn pajamas to watch two classic unicorn movies.
The Last Unicorn is from the early 80s, but a classic among unicorn fans. The recommended age for this film is 9 plus. Pair it with A Unicorn Adventure for a magical movie marathon. A Unicorn Adventure is perfect for 8 and up.
Unicorn games
Even if the party's main activity is movies, it's a good bet to have a few unicorn-themed games on hand. An easy way to incorporate games is to take classics like ring toss and add a unicorn twist. Players can toss rings onto unicorn horns. Instead of pin the tail on the donkey, play a round of pin the tail on the unicorn, or switch it up and pin the horn on the unicorn. If the party goers are ages 8 and up, unicorn board games like Unicorns Vs Llamas Monopoly or Unocorns are great options. For tweens and up, play a round of Unstoppable Unicorns.
Unicorn snacks
No unicorn party would be complete without yummy snacks. Try stirring up these colorful treats for your ultimate unicorn theme birthday party.
Unicorn horns
Take your favorite waffle cones and coat the outside with strawberry or vanilla icing.
Roll the iced cones in rainbow sprinkles.
Allow icing to set before eating.
Unicorn juice
Fill large plastic cups about halfway with scoops of raspberry, lemon, lime, or orange sherbet. Keep in the freezer until serving time.
Just before serving time, pour in a third of clear soda, leaving room for the topper.
Top off with whipped cream.
Decorate whipped cream with sprinkles.
Add a reusable unicorn straw and it's ready to serve (the unicorn straw can also serve as a favor).
Unicorn popcorn
Pop popcorn
Line cookie sheet with parchment paper
Lightly spray popcorn with pink food coloring (allow one side to dry before spraying the other).
Melt blue or purple candy melts adding a teaspoon of coconut oil.
Drizzle the melted candy over the popcorn.
Top with sprinkles.
Let dry before putting in bags or bowls
You can also add mini marshmallows or Hershey kisses and mix it in with the unicorn popcorn.
Unicorn cupcakes
If you're pressed for time and not adept at decorating, a quick and easy way to make unicorn cupcakes is to use a boxed mix like Funfetti or Tylina Sweetshop Tie-Dye Cake Mix. Just follow the package directions and top off the cupcakes with brightly colored icing and rainbow sprinkles. For an added touch, bake the cupcakes in unicorn cupcake wrappers.
Not everyone likes to bake or feels like they're creative in the kitchen. A local bakery or cupcake shop would be able to whip up unicorn cupcakes, cookies, or cake for the party too. Ordering is a time-saver.
Favors
Of course, a party isn't complete without favors. Unicorn cookies make a yummy take-home party treat. Personalized unicorn party cups to go with the unicorn straw guests used to drink their unicorn juice is another option and it's a favor guests can use at home too.
A unicorn-themed party is a magical way to celebrate a birthday. Unicorns have fascinated people for ages, so it's not difficult to find inspiration for a unicorn birthday party. With these ultimate unicorn party tips in mind, you can create some magic of your own and be a "unicorn in a field of horses" with a birthday theme that taps into the mystical world of this one-horned creature.
Editors' Recommendations