Parents sure do sacrifice a lot for their children, especially around holidays like Valentine's Day — all because they love their kids. If you ask us, moms and dads are just as deserving of a Valentine's Day treat, especially from their kids.
Some kids might get help from Grandma or Grandpa when it comes to buying gifts, while others might make something special in art class. If you're still in need of some inspiration for adorable, homemade Valentine's Day gifts for parents, you're in the right place. These five DIY gifts for parents are kid-friendly, oh-so-cute, and chock-full of love. OK, kids — this one's up to you!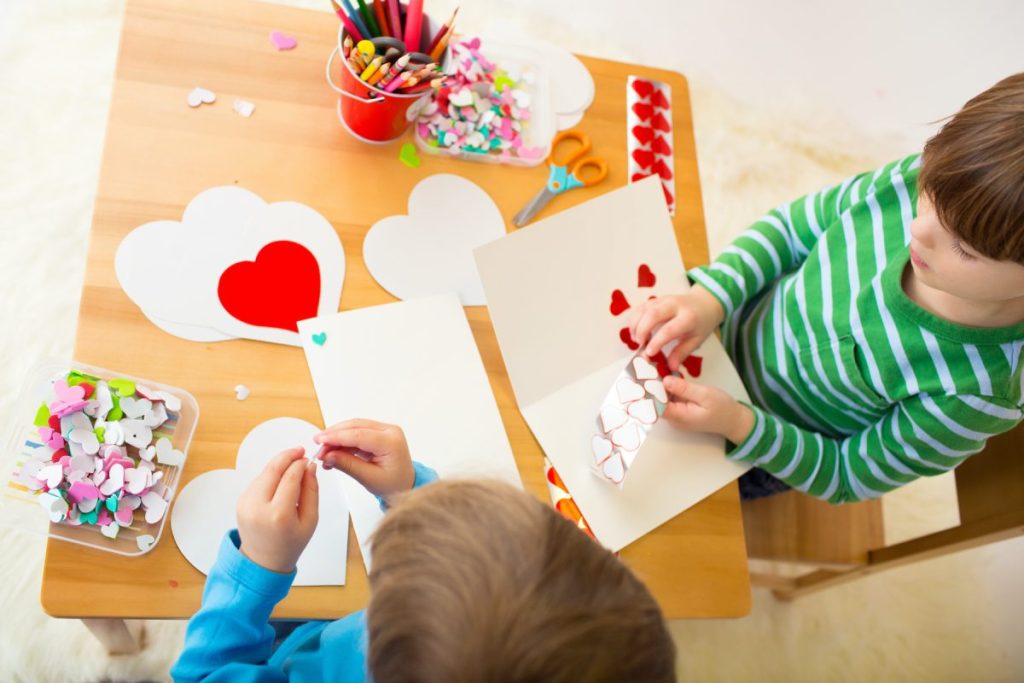 Decorate a special place for parents
Do your parents like to read? Do they eat breakfast together? If there's a place where they tend to spend time with one another, take half an hour or so to surprise them with a romantic makeover of their favorite spot.
Decorating with fairy lights is a fun way to brighten the room, though you may already have Christmas lights somewhere in your house. Put on their favorite music, clean up around the space, and make sure they don't have any chores to worry about during or after their date. Some special decor, like handmade paper hearts tied together on strings, is sure to make your parents smile. There are hundreds of ways you can use (and even make!) paper hearts, but do be sure to ask for help when using scissors or the internet if you're younger.
Make your parents a handmade card — with a poem inside!
The stereotype is actually true: Moms love when their kids make them anything, especially cards. You can decorate it in any way you like — whatever inspires you most and helps express your message of love and appreciation.
There's no better way to express this than in a letter, or even a poem, to your parents. For centuries, poetry has been used as a means of confessing and exploring love of all kinds, even with our parents. What does your heart want to say? And no, it doesn't have to rhyme.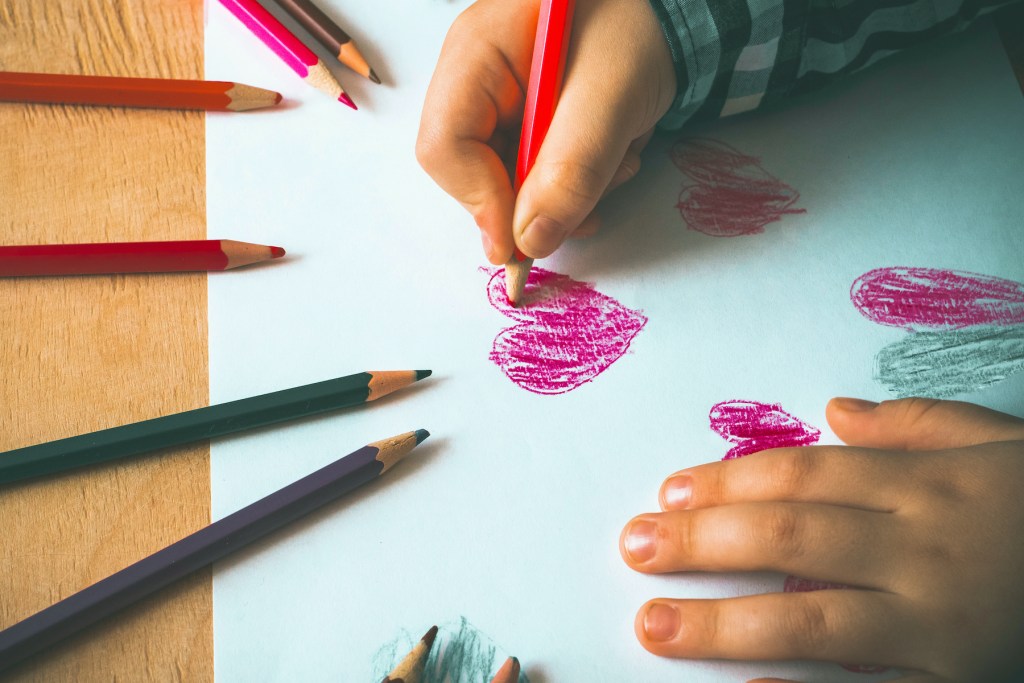 Make your own photo wall to take V-Day photos
You can build your own studio right at home with just a few tools: Paint (and something to hold it in), a cardboard tube from a paper towel roll, an old bedsheet or lots of paper, and some kind of light source. Even a cell phone can create amazing lighting when used the right way — as long as you don't need the phone to take the pictures, of course!
Decorate your backdrop material, whether it be sheets of fabric or paper, by using the cardboard roll as a stamp. Housing A Forest better explains how to bend the circular shape into a heart, but it should be easy enough for little hands to do, as well.
Now it's time for photos! Make sure to take lots of test shots or to have a mirror handy — it'll likely take a few shots before you find one you all can agree on! Setting up the photos together is all part of the fun, especially if the little ones agree to clean up after the photo shoot, too (hint, hint).
Use your hands as art
Handprint art is a favorite among moms, especially those with young children, since they show how you grow up over time. Because you'll be using your hands, though, you might need another pair of hands to help you out, no matter which project you pick.
You can never go wrong with paper crafts, whether you create a card or a whole masterpiece. Give the Thanksgiving hand-turkey a run for his money with a beautiful handprint tree of love. For parents who appreciate home decor, a handprint sun catcher will be just the thing. Just be careful working around glass!
Treat your folks to a day of relaxation
This one might require a little help from someone you trust (other than your parents, of course). Having a family member lend a hand will be especially helpful because they might know what exactly your parents like to do to relax.
For Mom who's been on her feet all day, a pedicure might do the trick! If Dad's been stressed, perhaps a temple massage? Lotions, scrubs, makeup, and shoulder rubs are just a few of the nearly endless relaxing responsibilities. Ask around, gather what you need, and spend some time together to relax. What could be better?
Whether you use your hands, your creativity, or your phone — have fun! We hope some of these suggestions sparked an idea or two — whether or not they're on this page. This is the time to get creative in DIY gift-giving, because who loves that more than parents? Absolutely no one, that's who.
Editors' Recommendations