Valentine's Day B.C. (before children) may have involved rose deliveries, dinner reservations, and flirtatious lingerie try-ons. But, fast-forward to present time, and the Hallmark holiday probably looks at least a teeny bit different for you and your plus-one. Sure, you can keep the romance alive and hire a babysitter for the evening (recommend 10/10), but you can also include your little Cupid-cuties in parts of your February 14 plans. Make it a special day for everyone — and be each other's Valentines (you can have more than one, after all!). Ready to celebrate with the little loves in your life? We're sharing five cute Valentine's Day ideas for couples with kids — and how you can get the whole family involved.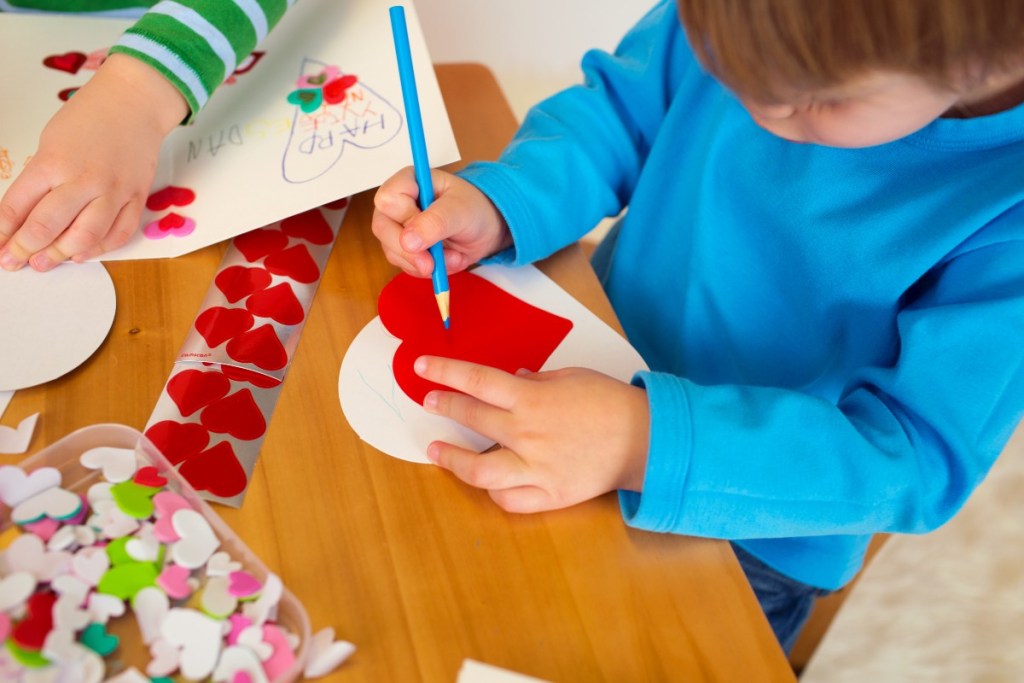 Get crafty together
Whether you scour Pinterest for an original craft idea or buy a ready-to-go kit at the store, you do not have to be a pro artist to make something special with your children. They don't care if you are adept with a glue gun, they just want to spend quality time with you. Make special Valentine's cards or presents for each other and have a little gift-exchange event. You can even decorate V-Day mailboxes for each family member as your go-to activity. Bonus — that means you can play the part of Cupid and surprise everyone with special "deliveries" throughout the day.
Prepare a pancake breakfast
If you are planning on having a special date-night dinner with your other half, reserve breakfast as the family date-day meal. Set the scene by creating a sweet spread with lots of special morning treats: Pancakes shaped into hearts, cinnamon rolls, strawberries, yogurt parfaits, and bacon bouquets if you so please. Serve orange juice in champagne flutes (plastic if you want to play it safe, glass if you live on the wild side!), plus coffee for the grown-ups and cocoa for the kiddos. Toast to your love and family fun; the happy day is just getting started. Cheers to that!
Have a matching moment
Nothing will make your parental heart go pitter-patter like a matching moment. Get yourself, your partner, and the kiddos gussied up for bedtime in matching pink, red, and heart-embellished fam jams. (Of course, you can choose to do this on the evening of Feb. 14 or the night before — depending on your specific plans).
Valentine's Day is all about feeling the love, and there is no better way to embrace this than with a family cuddle-time session. Get a few new Valentine's Day books, read together, play board games, and then top it off with a family movie night. Somehow, all of these activities are even more enjoyable when you're in lovebug-worthy patterned PJs. Want to take this coordination a step further? Consider doing mommy-and-me pink manicures for anyone willing to participate! Whatever you decide, be sure to capture the cuteness on camera — this is a memory in the making.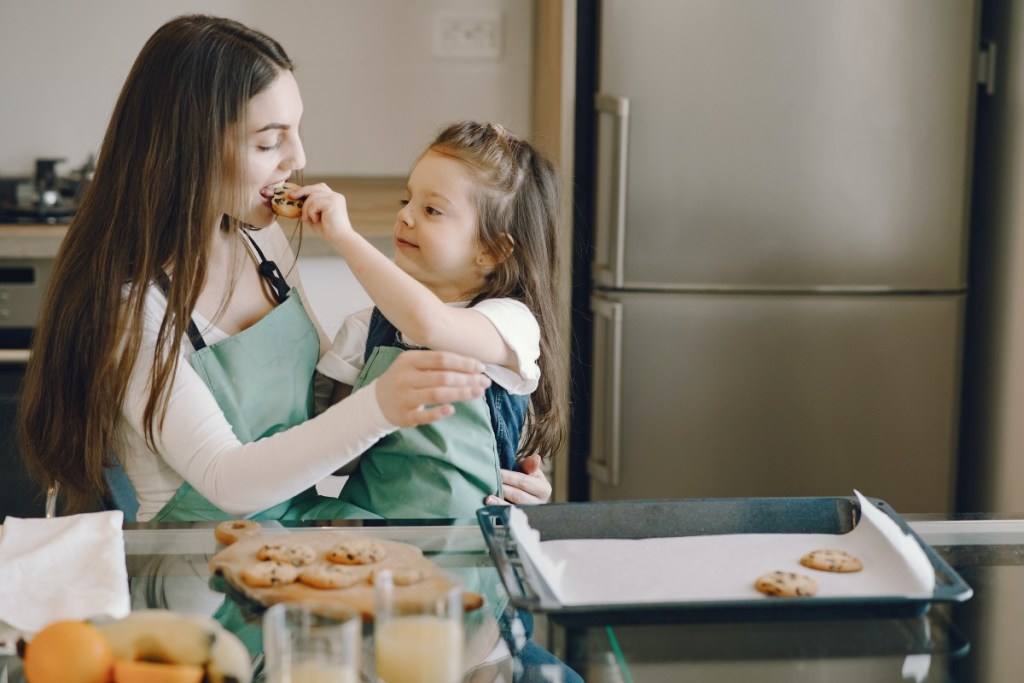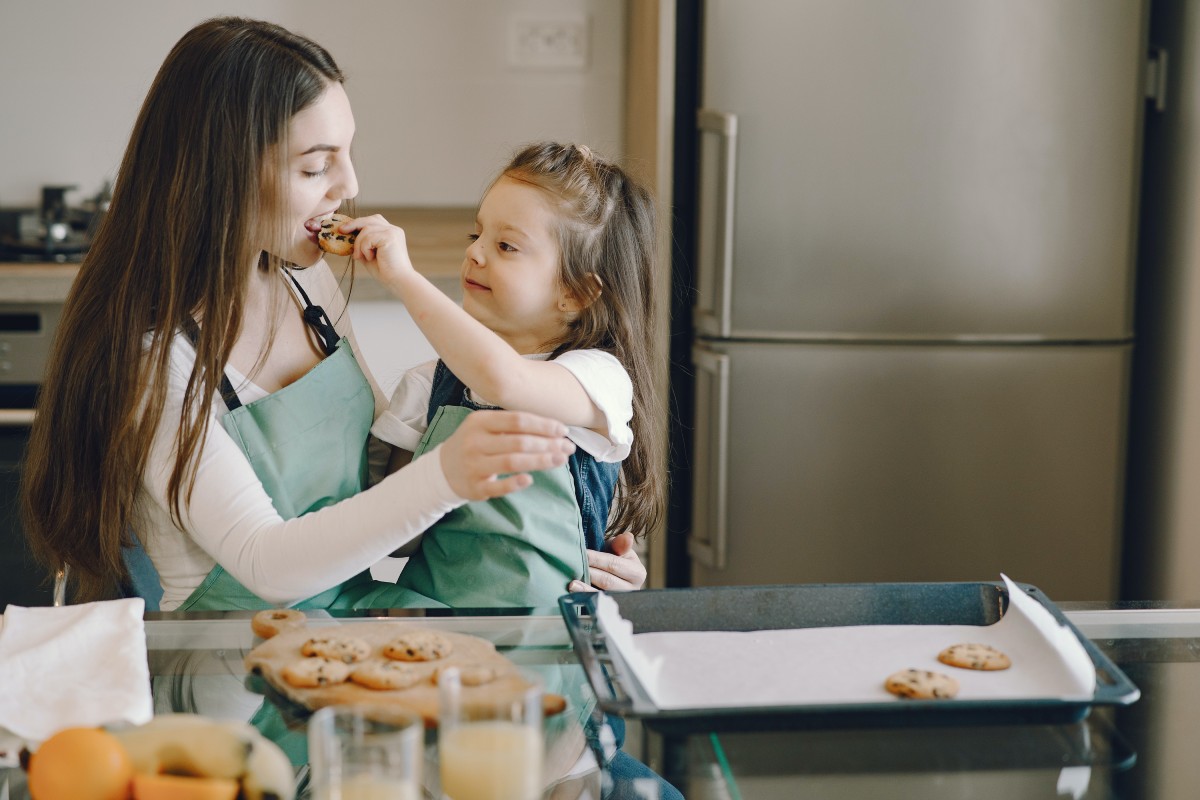 Bake your heart out
As the expression goes: The fastest way to a man's heart is through his stomach. But you know what? We are going to go ahead and say that this truth also applies to kids and women and, well, all human beings. Nothing makes you feel the warm and fuzzies like fresh-out-of-the-oven batch of chocolate chip cookies. And every ooey-gooey bite tastes even better when you have spent precious time making them with your mini chefs. Bake up all the goodies — you can even deliver care packages to extended family members. Frost cakes, shape brownies, and sprinkle powdered sugar. It will be messy, but it will be worth it.
Plan an outing
The best family dates are ones that get your kids outside and active, and make everyone smile, laugh, and play together. A simple way to accomplish this goal? Go for a group bike ride, enjoy a nature hike, plan a picnic, or scout out a brand-new playground. Make s'mores at your fire pit, play family football, or organize a scavenger hunt (you can even hide hearts!). Yes, it's the middle of winter, and it may be cold where you live, but you can end your outdoor adventure with a cozy cup of hot chocolate and the warm satisfaction that accompanies time well spent with the ones you love most.
How do you celebrate Valentine's Day when you have kids? You just make the most of every moment together. It's true that it's no longer about you and your significant other — and the occasion may not include the romance and spontaneous passion it once did. But, somehow, it is even better. Now, you have a whole gang of loves to shower with attention and affection. What's more, your crew of sweethearts can't wait to make this day special for you, too. Who needs decadent chocolates and fancy flowers when you have got scribbled cards and homemade presents? Welcome to Valentine's Day with children. Enjoy!
Editors' Recommendations