When you think of Easter baskets from your childhood, they probably include chocolate rabbits and eggs along with jelly beans and more chocolate. Today, parents may envision slightly different Easter baskets for their kids. Sweet treats are of course yummy and something kids enjoy, but parents usually want to keep the sugar overload to a minimum. So what can you put in an Easter basket that's not candy? Thankfully, there are lots of fun and unique ideas for Easter baskets that kids will absolutely adore. So, if you know you don't want an Easter basket overflowing with sweets, here are eight hopping ideas for kids and teens too.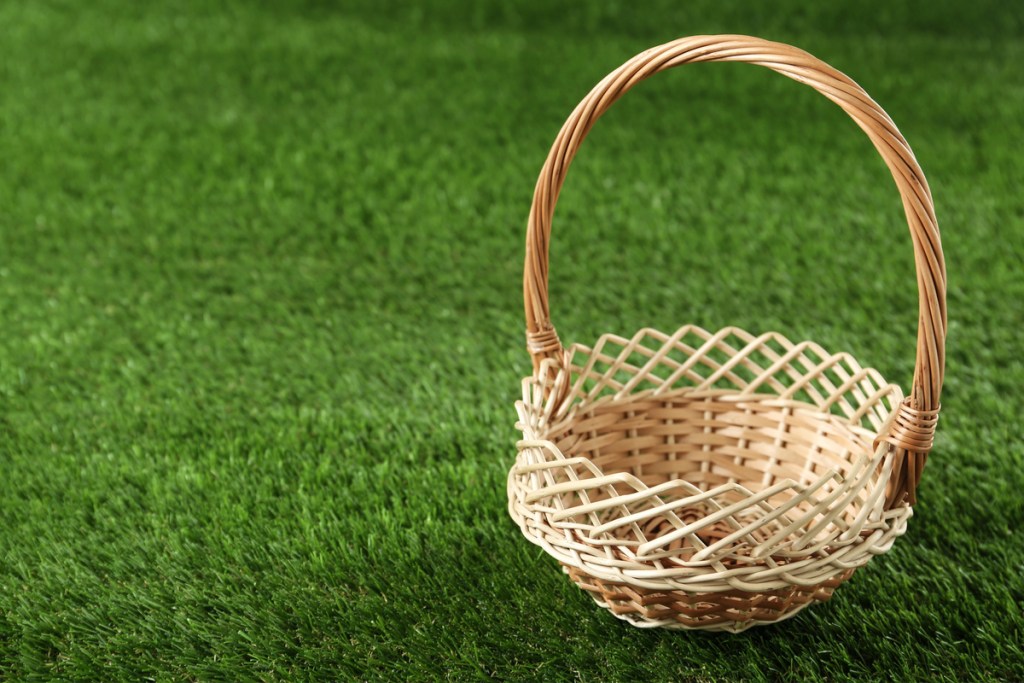 A book basket
Getting kids to power down from their iPads and smartphones is a daily battle. Encourage kids to read by stocking an Easter basket full of books and magazines you'll know they'll like. A book-themed Easter basket can be customized for all reading levels and ages. For kids who are already avid readers, an Easter basket packed with books in the genre they enjoy diving into is a perfect pick.
A cooking basket
If your kiddo enjoys helping in the kitchen and shows a real interest in cooking and baking, put together an Easter basket stocked with utensils they can safely use in the kitchen. Cooking and baking utensils for kids are designed for smaller hands and don't have sharp edges. Center the basket's design around a cookbook geared toward kids.
A puzzle basket
For kids that love solving puzzles and brain teasers, make up an Easter basket dedicated to puzzlers. Jigsaw puzzles, a Rubix Cube, brainteasers, crossword puzzle books, word finds, or other STEM puzzles are the Easter basket gifts that keep on giving all year long.
An arts-and-crafts basket
Does your kiddo love to color, paint, make playdough creations, and spend hours cutting and pasting? Then an arts-and-crafts-themed Easter basket is a definite do. Fill the basket with small ready-to-make crafts, Play-Doh, a set of new markers, crayons, a watercolor paint set, paintbrushes, and an Easter coloring book. A future crafter will also get a lot of enjoyment from a paint-by-number set or even a rug hook set.
An outdoor fun basket
Easter means spring and it usually signals warmer and longer days. Welcome spring with an outdoor fun basket overflowing with things the kids can play with outside like bubbles, sidewalk chalk, a kite, frisbee, balls, and a new pail and shovel because those beach days are coming soon.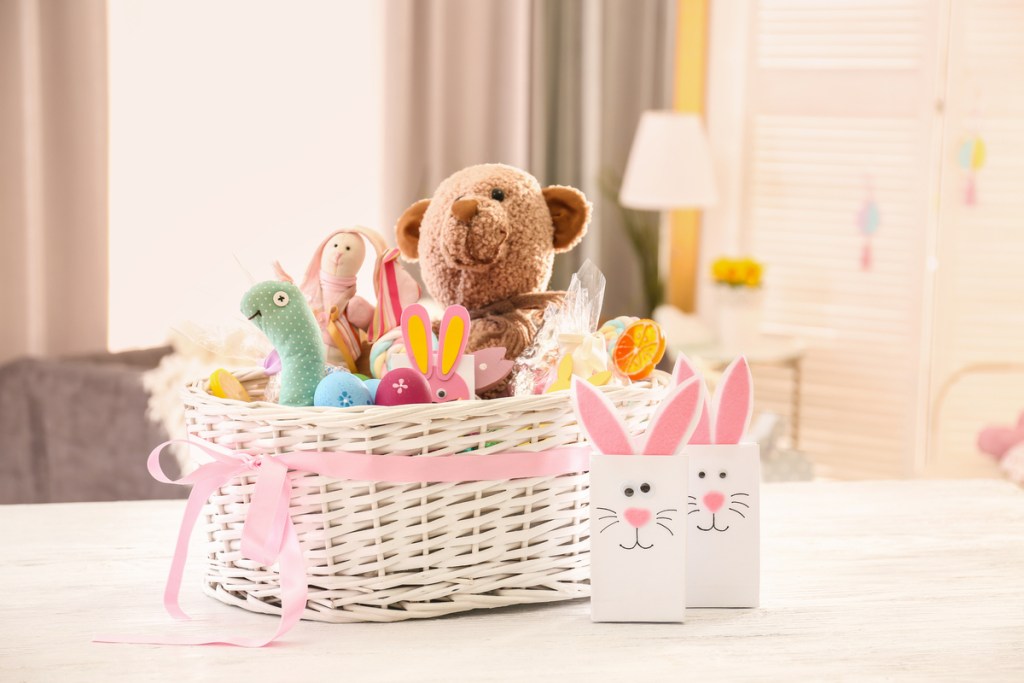 A toy basket
Easter baskets filled with smaller toys and perhaps a stuffed bunny are super exciting for younger kids. Avoid the impulse though to pack a basket with little toys from the dollar store kids are only going to play with on Easter Sunday. Instead, choose toys that will go the distance. If your little one enjoys cars and trains, put some new ones in the Easter basket with a small truck and a book about trains. For Lego lovers, choose age-appropriate sets they can put together and play with.
A gift card basket
Teens still enjoy getting an Easter basket too, even though they'll tell you they're too old. A basket of gift cards for your teen to Starbucks, Dunkin' Donuts, Chick-fil-A, Doordash, AMC Movies, and any other local hot spots teens favorite may actually get a smile. If your teen is already driving, be sure to include a gas card.
Easter basket for tweens and teens
Tweens and teens are challenging when it comes to buying gifts. A welcome basket for tweens and teens speaks to their interests. For fashionistas, makeup, bows, nail polish, sunglasses, and headbands make a stylish basket. Gamers will enjoy a basket sporting a new controller, batteries, a STEAM gift card, and a personalized water bottle. For hockey players, a water bottle, stick tape, a mouthpiece, skate socks, and clear tape are always a hit. If your teen is about to get his or her driver's license, put together a car-themed Easter basket with cool sunglasses, a key chain, air freshener, phone charger, ice scraper, and a holder for insurance and registration cards.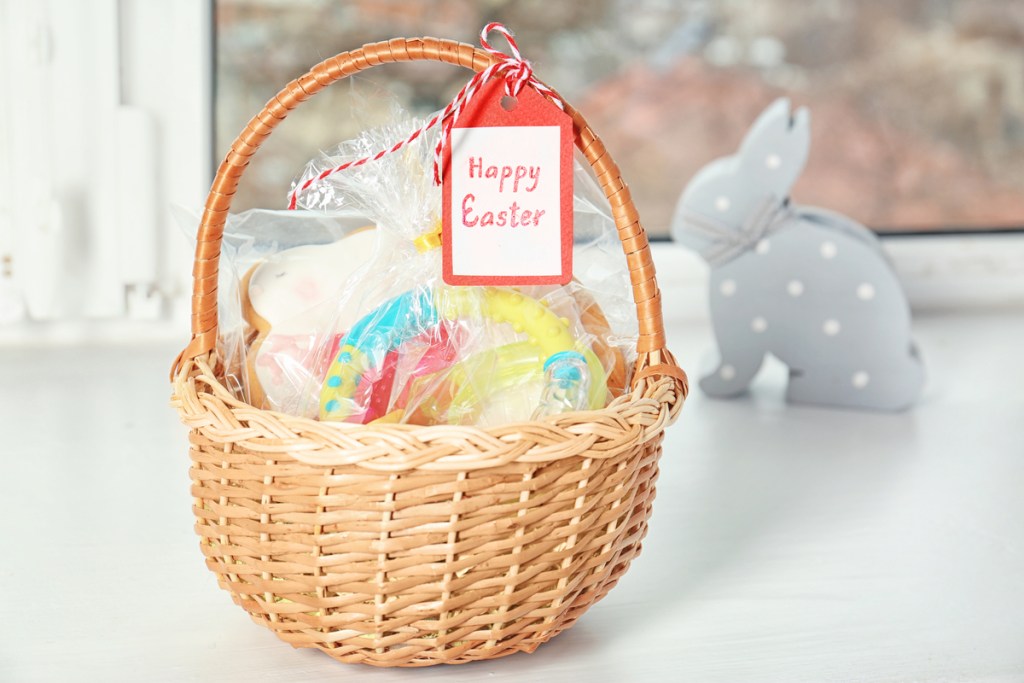 Other non-candy Easter basket themes
Dinosaurs
Magic tricks
Pokemon cards
Gardening
Camping/hiking
Bath fun
Easter is such a fun holiday, but like Halloween and Christmas, it comes with a lot of candy and sweet treats. Many parents aren't on board with kids having an overload of chocolate bunnies and eggs as well as jelly beans and sugary peeps. Instead of candy, choose a theme in your child's interest area and fill the basket with related items. But an Easter basket isn't a Christmas tree, so think small and useful. You don't want to fill the basket with stuff that's only going to collect dust around the house or be thrown away in a few weeks. Try and pick things your kids will use past spring break.
Editors' Recommendations