Bedtime can sometimes be a harried and stressful time, especially with small children thrown into the mix. Parents often must field frequent questions, desires for three-course meals, a terrible thirst, or other attempts to stay the need for sleep. If your little one is just starting out in their school-age journey, they likely enjoy storytime and books, and they request them at bedtime. While this can be a wonderful bonding experience between kids and parents, schedules and other responsibilities sometimes prevent that from happening.
With our world ever-changing and moving more and more into the digital age, some parents are utilizing podcasts at bedtime to listen and snuggle with their children while hearing stories of imaginary worlds and epic adventures. Not only are podcasts great listening options for parents, but more and more kids are finding child-friendly stations to enjoy.
For young listeners, parents want to vet their sources before introducing them to new outlets, and that's where we step in. We have found seven awesome podcasts your kindergarteners will fall in love with — and just maybe their parents will, too.
Be Calm on Ahway Island Podcast
This podcast promotes a calm and peaceful environment for littles when they are settling down after a long day. Be Calm opens each episode with a brief and guided meditation, as well as a positive "affirmation"-type message. Because the stories featured on Be Calm are soothing and relaxing, it's an excellent choice for bedtime, naptime, or any time a quiet story is needed.
Stories Podcast: A Bedtime Show for Kids of All Ages
From traditional and age-old stories to more recent children's classics, Stories has just what your little ones are looking for in their next favorite bedtime story. What makes Stories Podcast special is that each story is rated G for general audiences, making it great for families with children of different age ranges.
The Alien Adventures of Finn Caspian: Science Fiction for Kids
For your miniature scientist and ever-questioning space aficionado, we bring parents Finn Caspian and his most excellent adventures (see what we did there?). Finn's travels take himself and his gaggle of friends to uncharted planets and solar systems. Each 15- to 20-minute episode takes listeners on another trip to the far reaches of any given galaxy.
Honeybee Kids – Bedtime Stories
Inspired by beloved Disney classic films, children's gaming platforms like Minecraft, and comic-book heroes and heroines, Mrs. Honeybee creates and spins yarns for children's listening pleasure, taking them to imagination-filled heights, creating new journeys and adventures for some of your kiddo's favorite characters and storylines.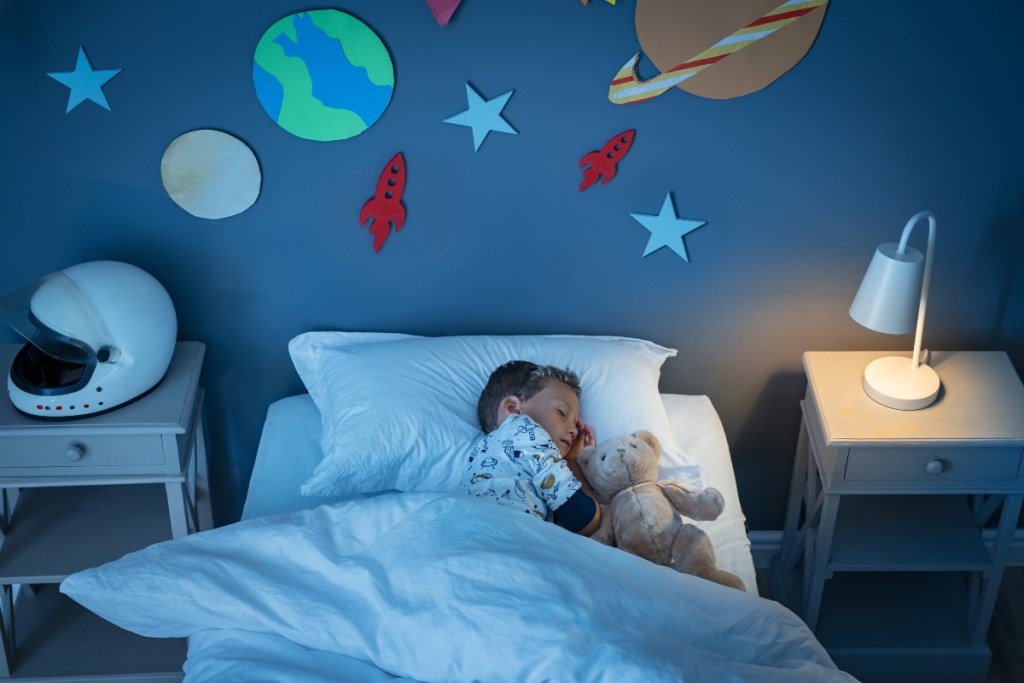 Little Stories for Tiny People
Featuring specially written and read children's stories that are released twice per month, Little Stories for Tiny People tells tales of wonder and imagination to young children at toddler age through early elementary school. This long-standing podcast is a high-ranking favorite among listeners — adults and children alike.
Story Pirates
The award-winning podcast Story Pirates tells originally written stories submitted from listeners the globe over, making it even more special and engaging to kids. This podcast features input from teachers, entertainers, and authors from all across the globe, with over 15 years of experience in the wonderful world of kids — making it one of the top children's podcasts across all platforms.
What If World
What would happen if children's Lincoln Logs, LEGOs, Barbies, or other favorite toys came to life? What would the world look, feel, smell, or taste like? For those inquisitive kiddos who love to ask their parents the question of "why," we bring you one of the most renowned podcasts to reach listeners' ears. These imagination-filled episodes are backed by renowned publications such as The New York Post, The Washington Post, and The New York Times.
If these podcasts don't catch the attention of your littles, or you're looking for something a little different for trips in the car, quiet time, or simply want to encourage growing knowledge in your kiddos, we have a few specialty podcasts for you to try:
Noodle Loaf: A music-appreciation and education podcasts designed specifically for children
Brain's On! A science-focused option for the budding scientist in your brood
The Past and the Curious: A fun and engaging spin on history loved by kids and teachers alike
From swashbuckling tales of pirates to quiet-as-a-mouse mysteries, our list of the best bedtime podcasts for kids is sure to please any little listener no matter what kind of stories they like. Podcasts simplify the evening routine, allowing parents to snuggle in and listen along with their children, making the bedtime story experience that much more special and involved.
Editors' Recommendations