Looking for a fun way to cool off during the summer months? If you're not exactly ready to drop the cash on an above-ground or in-ground pool, treat the family to an inflatable pool. We've rounded up the top three best inflatable pools that you can order online and have delivered straight to your door, no trip to the big-box store required. And, because they're all inflatable, setup is as simple as running an electric pump until your pool is inflated and then filling it with water. You'll be ready to swim in a few hours.
Whether you need an inflatable pool for smaller kids, one for the entire family, or one that'll last through multiple summers of use, here are our top picks for the best inflatable pools for kids and their families.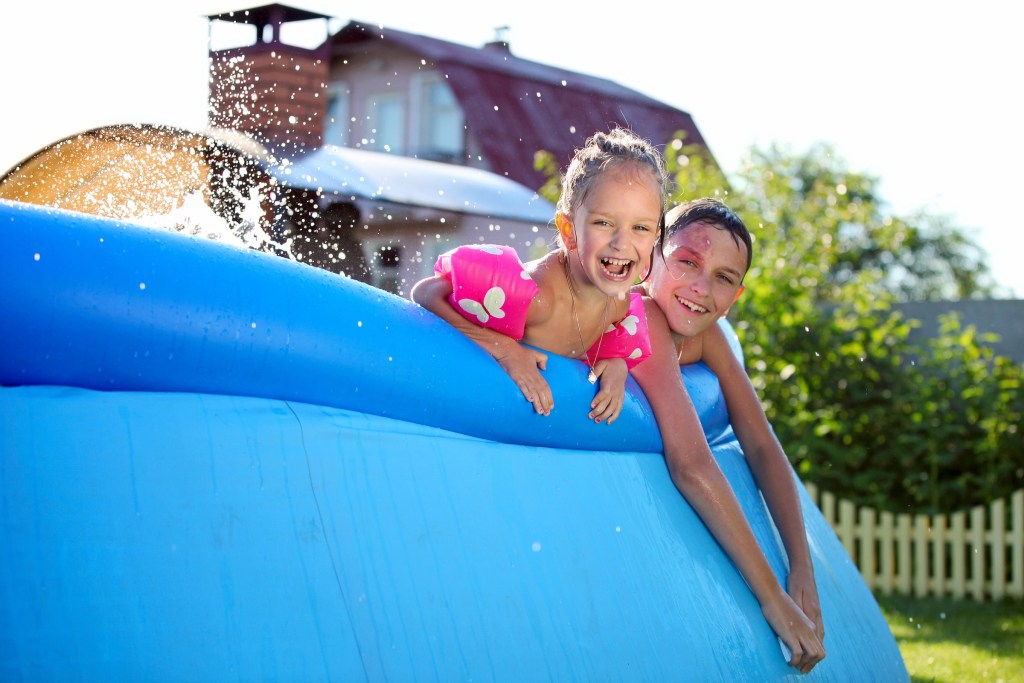 Good: Sable Inflatable 92 x 56 x 20 Pool
This rectangular, Sable inflatable pool measures 92 inches by 56 inches and is 20 inches deep, so it's suitable for most children with adult supervision. It can fit two adults and three kids at one time, making it a great choice for most families. You can't argue with the price, either. At under $70, it's an affordable way to keep the kids entertained all summer long.
One nice feature? The heavy-duty PVC material will stand up to wear and tear, but beyond this, the upper PVC ring is made from a white material that's designed to stay cool under the sun, so you can lounge against the pool's side without worrying about painful burns.
What we love:
Inflates in under five minutes
Suitable for kids 3 and up
BPA-free
Better: Homech Family Inflatable Swimming Pool
This slightly more expensive but still under-$100 option gives you a little bit more for your money, earning it our "better" rating. The rectangular, inflatable Homech pool is 118 inches by 72 inches, so it's a good deal longer and wider, and 2 inches deeper than the option from Sable. Suitable for even bigger families, it's estimated to hold two adults and up to five children comfortably.
The overall design is similar to that of the Sable pool in that it has that white PVC upper ring to protect your arms from burns, and it inflates in under five minutes, so you're ready to swim in a snap.
What we love:
Comes with repair patches for easy repair

Made with three separate air chambers, so if you poke a hole in one, you're not out of business
Suitable for kids 3 and up
Best: Summer Waves 10ft x 30in Quick Set Inflatable Above Ground Pool
But if it's the best of the best that you want, you can't go wrong with this inflatable circular pool from Summer Waves. Eight feet in diameter and nearly 3 feet deep, it's significantly deeper than the other pools on this list, making it a good pick for families who want a pool that's more enjoyable for the older kids and adults, but also safe for younger kids (with adult supervision, of course).
Even though it's inflatable, this pool still boasts features similar to what you might find with a traditional above-ground pool, such as a pool filter pump and chlorinator — meaning cleaner pool water with less time spent cleaning the pool.
Even with all these features, the Summer Waves inflatable pool is only just above $100.
What we love:
Inflates in 10 minutes

Made from a triple-layer durable PVC and polyester mesh material

Easy to keep clean
Beat the heat with an inflatable pool
Get out of the AC this year and into the pool. There's no reason to pay for a pricey pool installation or pay for the kids to visit the local waterpark — not when you can purchase an inflatable pool that does the job just as well, for a fraction of the cost. A quick, easy, and affordable way to make summer a little more fun, all of the inflatable pools on our list are well-reviewed and ready to go with just 10 minutes of setup or less. So, what are you waiting for? The pool is calling.
Editors' Recommendations