Weeknight dinners can be tough to get on the table especially when your kids are involved in multiple after school activities and sports. It's what makes takeout so attractive. Takeout isn't the healthiest, however, and it does tend to take a bite out of the family budget. The solution is simple and quick meals like tacos, but tacos can get boring when you eat them every week.
This is why busy parents are always on the lookout for fast dinners that can be made at home. Next time you're wondering what's quick to whip up for a weeknight dinner, think easy chicken fajitas. Like tacos, chicken fajitas don't require a lot of preparation or cook time. You can use a chicken fajita kit to cut the prep time or use a simple recipe. Chicken fajitas are also hands-on, just like tacos. Kids can fill their tortillas with their favorite toppings. Chicken fajitas are a win-win for weeknight dinners and we've got your go-to preparation guide.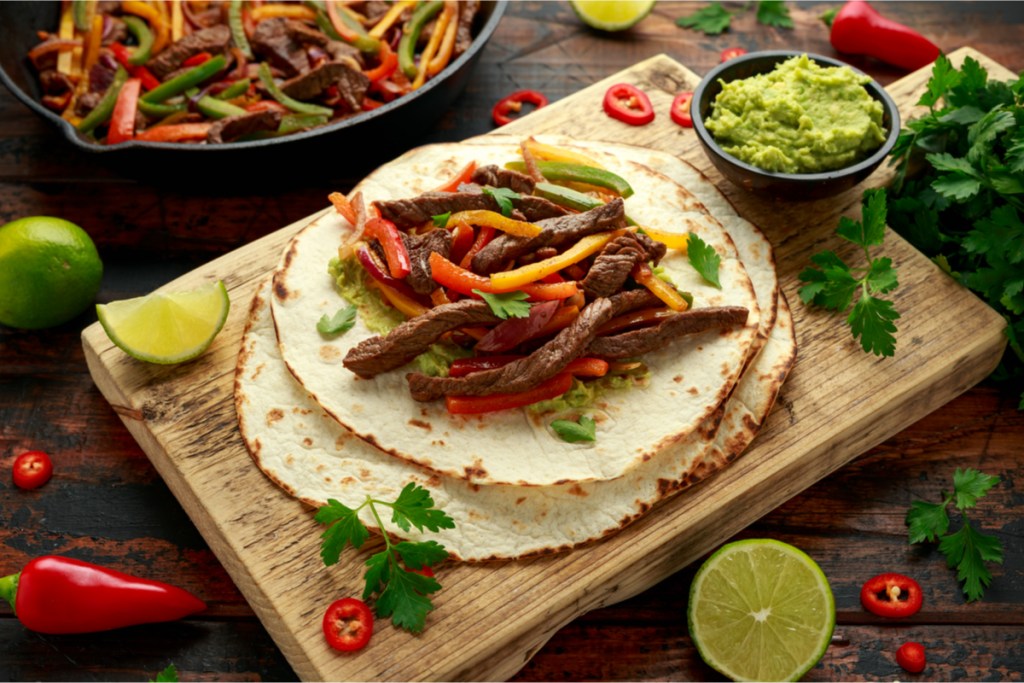 How to make fajitas?
Fajitas are traditionally made using skirt steak as opposed to the ground beef used for tacos. Chicken is a popular protein for fajitas too. Shrimp can be used as well. If you're looking for a vegetarian version, black beans with crumbled tofu is a tasty alternative. To make fajitas, the protein is typically cooked first in a pan with olive oil and is followed by onions, peppers, and seasoning. Inspired Taste has a yummy and quick fajita recipe offering variations depending on the type of protein you're using.
What do you need to add to a fajita kit?
If you're scrapped for time, a fajita kit is a quick and simple way to get fajitas on the table. A fajita kit usually comes with flour tortillas, a seasoning packet, and a fajita sauce. All you need to add is the protein, bell peppers, onions, and of course the toppings.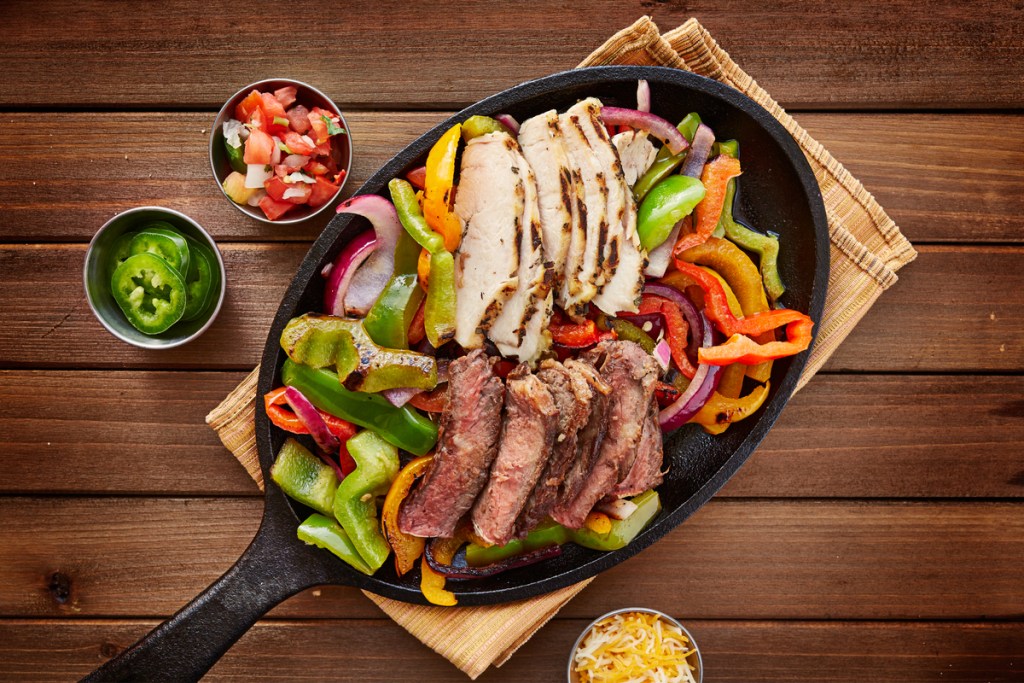 What toppings go on fajitas?
The fajita dish itself already has chicken or another protein with peppers, and onions. Like with tacos, fajita toppings are icing on the cake. Fajita topping ideas include salsa, guacamole, avocado, sour cream, shredded cheese, shredded lettuce, chopped tomatoes, corn, and jalapenos. If you have younger kids, only cheese, tomatoes, and lettuce may be appealing, though some children might be willing to experiment with toppings beyond the basics.
How much seasoning do you use for fajitas?
Seasoning is a matter of taste. Some people prefer spicy while others want a more mild seasoning. Using a fajita kit takes the guesswork out of seasoning because it's premixed. If you're making fajitas from scratch, the seasoning usually includes cumin, chili powder, paprika, garlic powder, onion powder, and cayenne pepper. A standard fajita seasoning recipe includes:
2 teaspoons chili powder
1 teaspoon paprika
1/2 teaspoon onion powder
1/2 teaspoon garlic
1/4 teaspoon cayenne pepper
Double the mixture if you're making a large batch of fajitas. Variations on fajita seasoning may include salt and sugar.
Can you use taco seasoning for fajitas?
Taco seasoning packets include similar ingredients to fajita seasoning mixtures. If you don't have time to make up a fajita seasoning mixture and don't have a fajita kit on hand, a taco seasoning packet is a good substitute to use in a pinch. A taco seasoning packet will work best with chicken fajitas, however. Skirt steak is a tougher meat and may need additional acidity to help soften it. Since that ingredient isn't usually in a taco seasoning packet, you may need to add some lime juice to the pan when cooking the steak, peppers, and onions. The acid in the lime juice works to soften the skirt steak.
How do you prepare the tortillas for fajitas?
Typically tortillas used for fajitas are heated before serving. Tortillas can be heated in a couple of different ways. The easiest and quickest is to wrap a stack of six tortillas in aluminum foil and place them in an oven preheated to 350 degrees. Allow the stack of tortillas to heat up for about 10 to 15 minutes. Another way is to heat up the tortillas on the stove in a pan with a light amount of oil. When using the pan method, heat each side of the tortilla for around 20 to 30 seconds. When using the pan method, it's important to place the heated tortillas in aluminum foil to prevent them from becoming hard.
What side dishes can you serve with fajitas?
With protein, peppers, onions, and toppings, fajitas really are a stand-alone meal. That's what makes an easy chicken fajita dish such a dinner time do, but it doesn't mean you can't serve them with a side too. Spanish rice, rice and beans, refried beans, nachos, and a corn salad are all delicious side dishes for fajita night. A side is always great to have on hand for the picky eater in the house just in case the fajitas aren't a hit.
Homemade meals are healthier and budget-friendly. But on busy weeknights, there isn't always a lot of time to cook. That's where quick meals like easy chicken fajita dishes come in. Fajitas are super versatile. You can change up the protein by swapping chicken for skirt steak or even going vegetarian with tofu and beans. Adding your own toppings to each fajita makes this dinner a fun meal like tacos. Make fajitas from scratch or use a kit. Either tastes terrific.
Editors' Recommendations