Eating low-calorie meals on a budget that are family-friendly can almost feel like an unattainable goal these days. Especially when these meals need to be prepped and served within an hour, sometimes even in shorter time frames. Busy lives, kids' after school activities, work commitments, and long hours are just a few of the obstacles families must hurdle over just to sit down together to have a meal. If your goal is to feed your hungry family without breaking the bank, or sacrificing flavor or health, then grab your grocery list and a pen. We've found five of the best 600 calorie or less dinners for families.

Baked lemon and herb cod
1 tablespoon olive oil
1 cup whole-wheat panko breadcrumbs (regular panko or plain breadcrumbs will work in a pinch)
1/3 cup full-fat Greek yogurt
3 tablespoons Parmesan cheese, grated
1 ⁄4 cup fresh parsley, chopped
1/4 cup fresh basil, chopped
2 -3 garlic cloves, grated or finely minced
1 large lemon, juice and zest, divided
3 ⁄4 teaspoon fine sea salt, more if needed (adjust according to taste)
1/2 teaspoon paprika
1/4 teaspoon black pepper
4 (8 ounce) Alaskan Cod fillets
Fresh lemon, herbs, and white fish are baked to perfect tenderness with this easy to put together, low-calorie dinner. The freshness of the lemon brightens and elevates the fish without overpowering it, and without adding too many flavors or spices for delicate kid's palates. The Greek yogurt adds a mild tang to the dish while keeping the fish moist and delicious, and the seasoned breadcrumb crust adds a savory crunch. Kids and adults can enjoy this flavorful dish. Feel free to substitute the Alaskan cod with the wish fish of your choosing. A few suggestions could be whiting, tilapia, halibut, flounder, or orange roughie.
Teriyaki chicken, rice, and veggie bowls
1 pound boneless skinless chicken breast
salt and pepper
     For the teriyaki sauce:
1/4 cup packed light brown sugar
1/4 cup low-sodium soy sauce
2 Tablespoons rice wine or apple cider vinegar
1/2 teaspoon ground ginger
2 cloves garlic, minced
1 Tablespoon cornstarch
Rice of your choosing
Veggies of your choice
This easy-to-prep, and even easier to pull together rice, protein, and veggie bowl is sure to be a crowd-pleaser in your home. The sweet, salty, and sticky teriyaki sauce paired with soft rice, tender veggies, and warm chicken will fill bellies and satisfy appetites no matter the age range. Not a fan of broccoli? Easily substitute in your favorite greens such as beans, snap peas, slivered carrots, green onions, or peppers. In a hurry? Skip the long cook rice and prepare the instant kind. Amp up the flavor of your rice by using your favorite chicken or vegetable stock.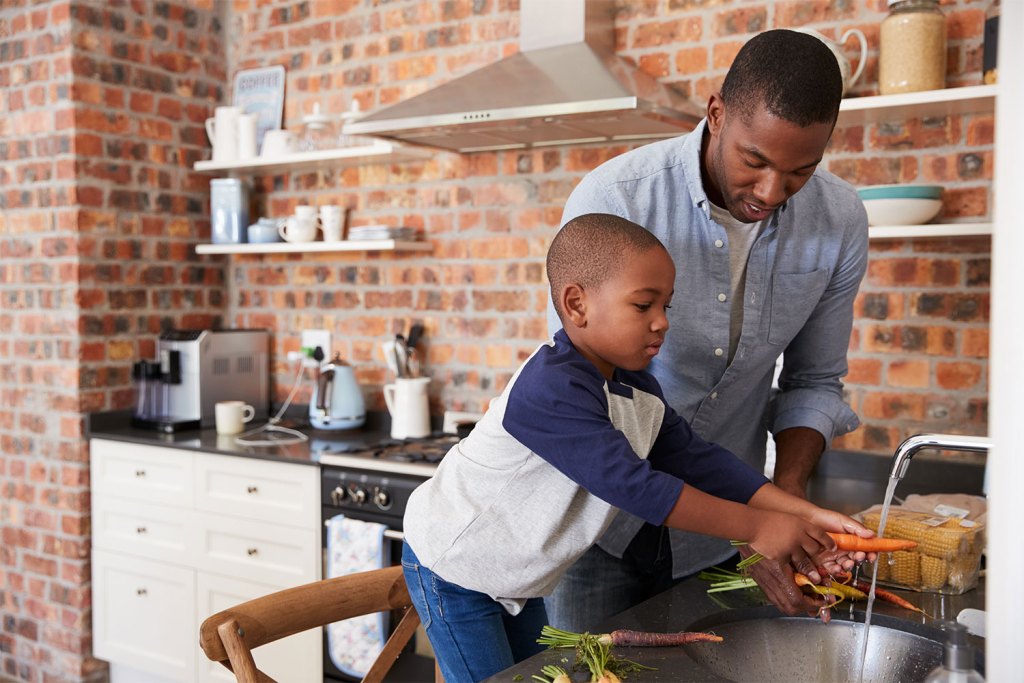 One-pan chicken fajita pasta
1 pound boneless skinless chicken breasts, cleaned and cut into bite-size pieces
3 TB fajita seasoning (homemade or store-bought packet), divided in half
4 TB olive oil, divided
1 medium onion (yellow or red) diced
2 bell peppers (any colors) seeded and diced
5 cloves fresh garlic, minced
2 1/2 cups low sodium chicken broth
1 can (10 oz) fire-roasted tomatoes with juices (substitute a can of Ro-Tel for an added kick)
8 oz dry penne pasta
freshly ground black pepper, to taste
So, you have a lot going on this week, and need a quick and delicious 20-minute dinner recipe, using the least number of dishes as possible. And voila! We bring you a one-pan, 20-minute chicken fajita pasta recipe sure to bring smiles to all your little – and big – one's faces. Take this meal to a new level by adding in a can of black beans, corn, or olives or perhaps, a sprinkling of your favorite corn tortilla strips for an added low-cal crunch.
Zucchini lasagna bake
1 pound lean ground beef (90% lean)
1/4 cup chopped onion
1/2 teaspoon dried oregano
1/2 teaspoon dried basil
1/4 teaspoon salt
1/4 teaspoon pepper
1 can (15 ounces) tomato sauce
1 large egg, lightly beaten
1 cup 2% cottage cheese
4 medium zucchini (about 1-3/4 pounds)
3 tablespoons all-purpose flour
1 cup shredded part-skim mozzarella cheese
Additional shredded mozzarella cheese, optional
This lightened family favorite will fill bellies and satisfy even the tallest of teens to the tiniest of toddlers. This healthy twist on an old Italian favorite lightens its calories without skimping on all those classic flavors. We promise that after a few bites of this baked noodle-free recipe, you won't even miss the extra carbs those noodles bring to the table. For a bonus bite, substitute the part-skim mozzarella cheese with a blend of provolone, asiago, mozzarella, and parmesan cheeses.
Slow cooker beef tips burgundy
1 boneless beef chuck roast (3 pounds), trimmed and cut into 1-inch pieces
2 medium onions, halved and sliced
1/2 pound sliced fresh mushrooms
4 garlic cloves, minced
3 cups beef stock
1/2 cup dry red wine or additional beef stock
2 tablespoons Worcestershire sauce
2 tablespoons red wine vinegar
1-1/4 teaspoons salt
1 teaspoon crushed red pepper flakes
1/2 teaspoon pepper
1/3 cup cornstarch
1/3 cup cold water
Hot cooked egg noodles
Minced fresh parsley
This ridiculously easy, and unbelievable flavorful recipe goes into your slow cooker and simmers away for 8 hours until you return home from a busy day at the office, running errands, or taking care of business. One of our staff's favorites to prepare on especially hectic days, and also a favorite of their families, will fill you up and keep you full on chilly fall evenings or busy spring weekends on or off the field.
From pasta to roasts and rice bowls to lasagna, our list of diverse and healthy dinner options is sure to please your family's tastebuds and your budget. Eating healthy doesn't have to taste bad or be expensive, especially when tweaking just a few ingredients or substituting proteins for more lean options. Flavor and savory-ness do not have to be sacrificed for health reasons, nor do they have to be for the sake of your children. Kids love these recipes just as much as adults do, making these choices great options for family dinner prep to include your children in your meal making while making a few memories in the process.
Editors' Recommendations