Desserts are arguably the best part of any meal. Making treats with your kids is one of the most fun experiences. So, putting them together is as cute as it gets. As your kids get older, they could start to take over the baking by themselves. But if you aren't quite ready to hand over the oven mitts, there are plenty of options that don't require the oven.
From cookies to snack bars, we found 9 no-bake kids' dessert recipes that your mini human could make without using all the kitchen appliances.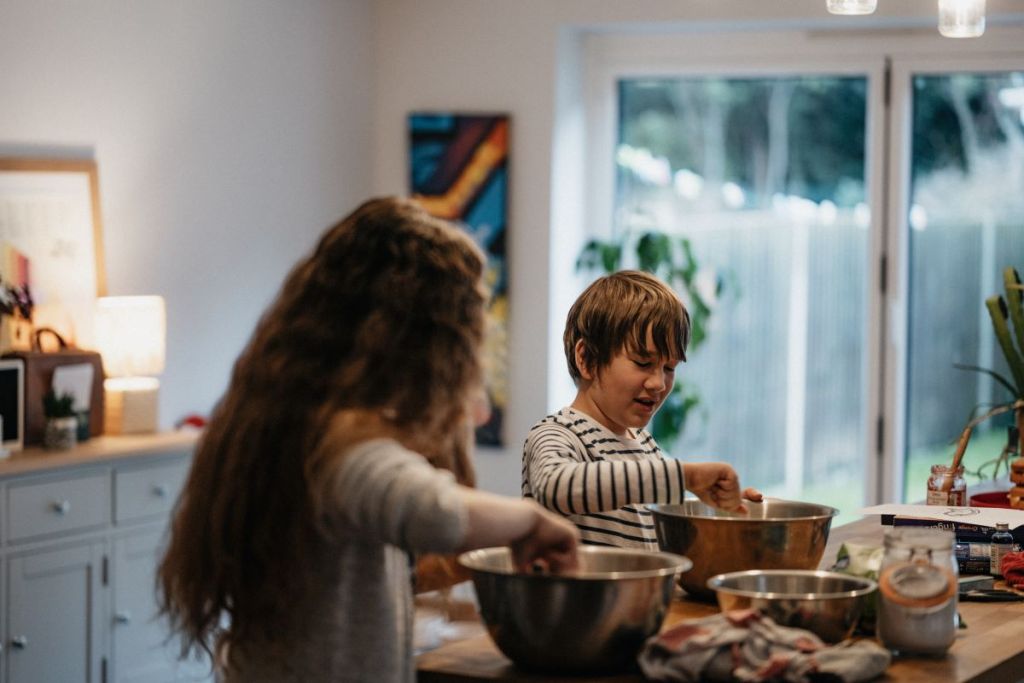 Why you should let your kids have fun in the kitchen
Parents need to let go in the kitchen! We know you are worried about the kids burning themselves or setting fire to something, but they'll learn valuable skills by being let loose in there. Your children will be proud of themselves when they finish a recipe and will build up their confidence when they find they can do it all on their own.
From learning math through measuring to understanding how following directions properly really matter, your child will get more out of baking than a delicious treat at the end. As your child learns to become more self-sufficient, they will get an ego boost and feel capable of doing more outside of the kitchen.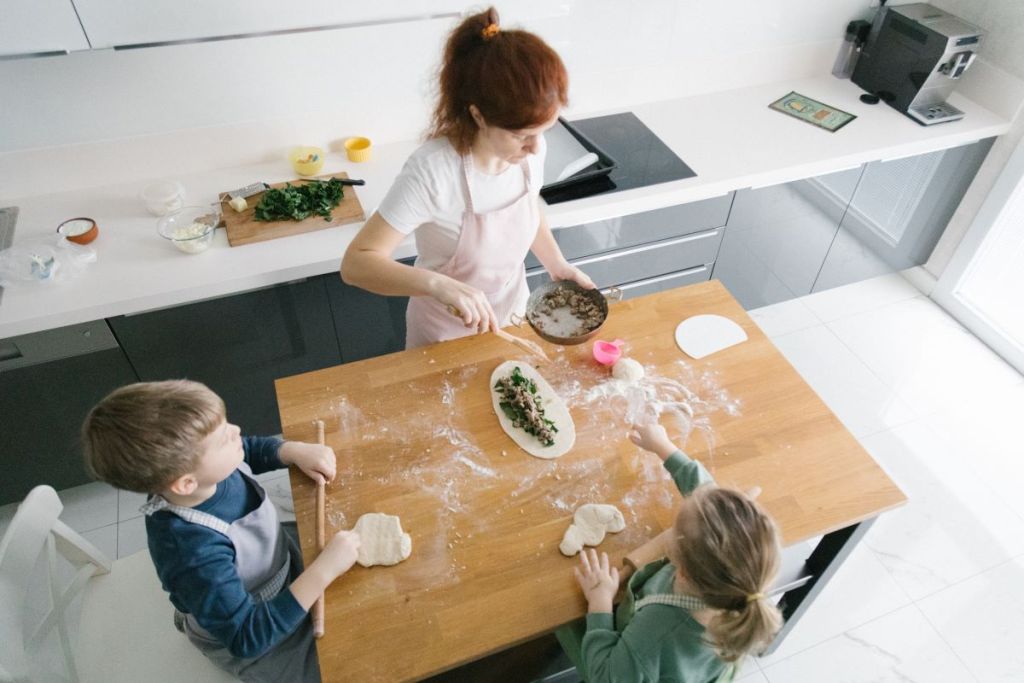 Keep the kitchen stocked
For desserts and other treats, it's best to have these on hand
Flour
Granulated sugar
Brown sugar
Salt
Baking soda
Baking powder
Vanilla
Eggs
Condensed milk
Butter/shortening
Spices
Honey
Peanut butter
Cereal (Cheerios, Rice Krispies, Lucky Charms)
Pretzels
Rolled oats
Various kinds of nuts
Chocolate chips
Dried fruits
You don't have to run out and get all of this at once. Grab one or two things each shopping trip and you'll have endless possibilities for your kids to make. There are many three to five-ingredient no-bake recipes these days that even having half of these items will go a long way. Now you know what you need, so let's get to the no-bake recipes.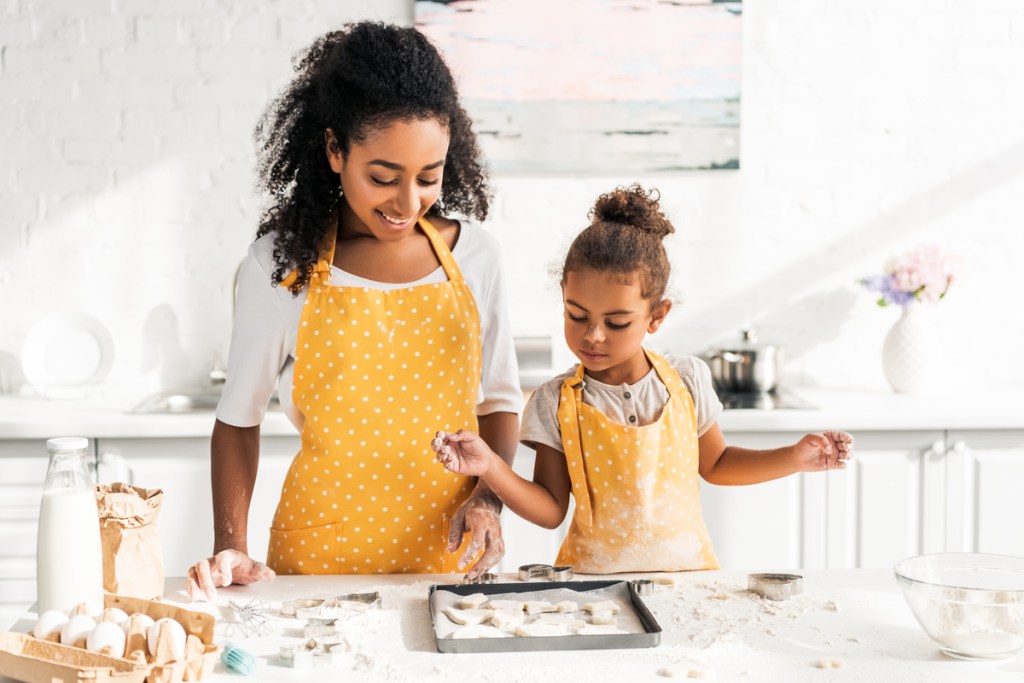 No-bake kids' recipes: No oven required (stovetop possible)
If your family loves snack mix, these bars are sure to be a huge hit. Whether you like sweet or salty, these Chex Mix snack bars your kids will make will win over the whole family.
This one needs a few minutes on the stove, so some supervision may be required with younger ones. The kids will have fun plopping these down on the parchment paper though. The sweetness of the cherries mixed with the crunch of the oats will be a family favorite.
You always have microwavable popcorn on hand anyway, so your kiddos will make a treat with only a few more ingredients. This is a bit like making rice Krispy treats, but with popcorn. Drizzle melted chocolate or sprinkle crushed candy on top.
Kids love pretzels, so let them have what they want. Have your children melt a few different kinds of chocolate to dip the pretzel rods in. Give them options of sprinkles, mini chocolate chips, crushed candy, or crushed cookies to roll in after they are dipped.
These are delicious and fairly good for you. With only three ingredients, the kids will make a delicious and healthy snack for everyone. By mixing up the fruit and flavor of yogurt you use, the combinations with this one are pretty endless.
We know we said no baking, but the toaster doesn't count. Have the kids toast up waffles and make a PB&J, fluffernutter, or hazelnut and fluff sandwich with a crunchy waffle shell. We all get tired of using bread, so put those frozen waffles to good use.
The popsicles from the store are full of sugar and who knows what else, but homemade ones are always acceptable. Let your kids have a blast experimenting with assorted flavors. Fresh fruit with real juice or yogurt will make a delicious frozen treat for any time of year.
Who doesn't like fudge? Freshly made fudge hits the spot every time. There are 3 to 4 ingredient fudge recipes that anyone can make. The kids will love to top the fudge with nuts or crushed candy or drizzle with melted chocolate or caramel.
Oh, where have these been hiding? These apple donuts look amazing. Your kids are going to have a blast seeing what new combinations they'll come up with. It's all on an apple, so they'll have fun and you'll be happy they're eating fruit.
If your kids love to be in the kitchen, encourage that passion. Children are never too young to help with cooking or baking. Even if they aren't ready to learn the oven settings, their hands are the perfect size for measuring and mixing. Some of these recipes might need your assistance at the stovetop, but most of them should be handed right over to the kids to make. Throw an apron on your child and let them figure out how to make these no-bake kid's recipes so the whole family can join in as taste testers.
Editors' Recommendations