Making home-cooked dinners is a lot healthier for the family and certainly budget-friendly, but it can be hard for busy parents to find the time. Dinner preparations and cleanup can be difficult when you're running off to practices and other after-school activities. Who wants to clean a sink full of dishes and pans after soccer and hockey practice? Lack of time is often why many on-the-go families opt for the convenience of takeout on those crazy weeknights.
Ultimately, home-cooked dinners are best for the family because they are healthier. However, not everyone wants to invest in an Instant Pot or a slow cooker to help get evening meals on the table quicker. There are other dinner options that don't take a lot of time or effort.
If you're looking for delicious and nutritious meals that don't make a big mess, try sheet-pan cooking. With healthy sheet-pan dinners on the menu, you get the best of both worlds: tasty food and fast cleanup. Haven't heard of sheet-pan cooking? Let us introduce you to the wonders of sheet-pan cooking. You'll see your oven in a whole new way.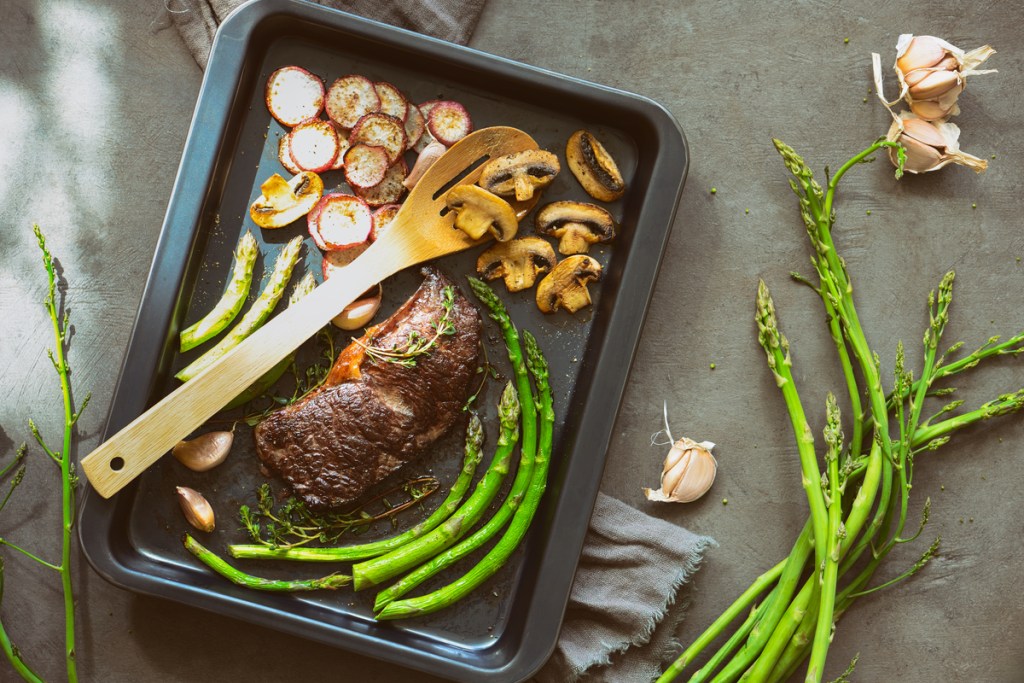 What is a sheet-pan dinner?
Creating a meal with protein and veggies typically requires more than one pot and pan bubbling away on the stove. Both factor in when it comes time to clean up. The main component of sheet-pan cooking is convenience. Cooking a complete dinner on a sheet pan is an enticing option when you have limited time.
A sheet-pan dinner only involves cleaning one pan. The cleanup is even easier if you line the sheet pan with aluminum foil. Unlike cooking dinner on a stovetop, a sheet-pan recipe simmering in the oven doesn't require as much hands-on attention, allowing parents to help with homework, get tomorrow's lunches ready, or deal with laundry.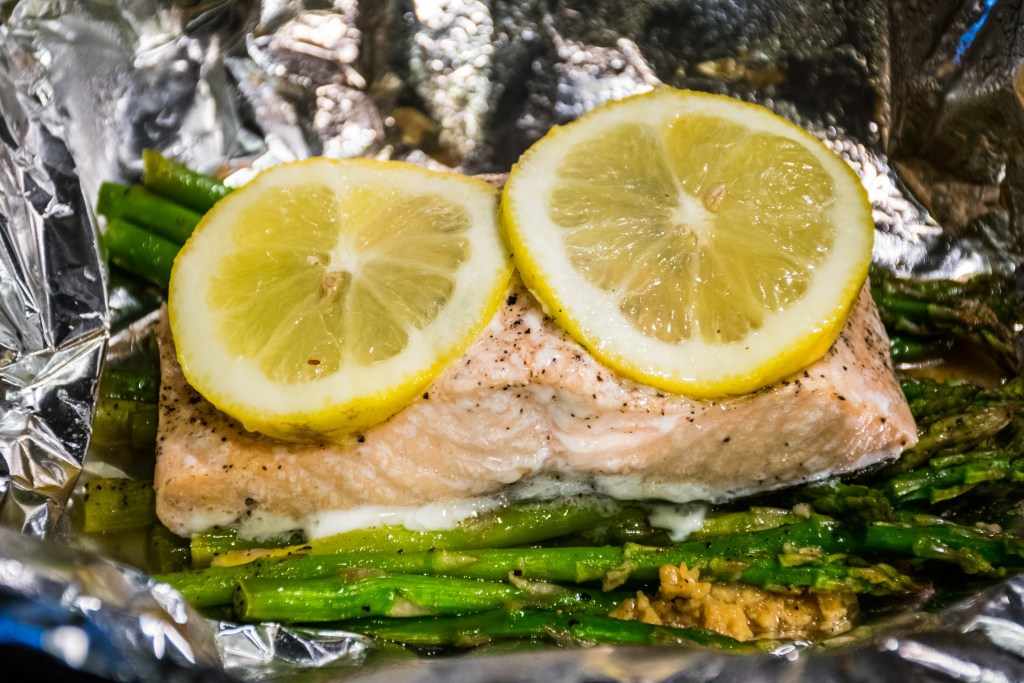 The sheet pan
Unlike an Instant Pot or a slow cooker, a sheet pan is relatively inexpensive. Sheet pans aren't just for baking either. Sheet pans come in all different sizes and can be used to whip up healthy meals in the oven. Sheet pans do need to have a rim, though. The rim keeps the juices from spilling out. So, invest in a sheet pan. Don't use those cookie sheets. The results will be a big mess in the oven.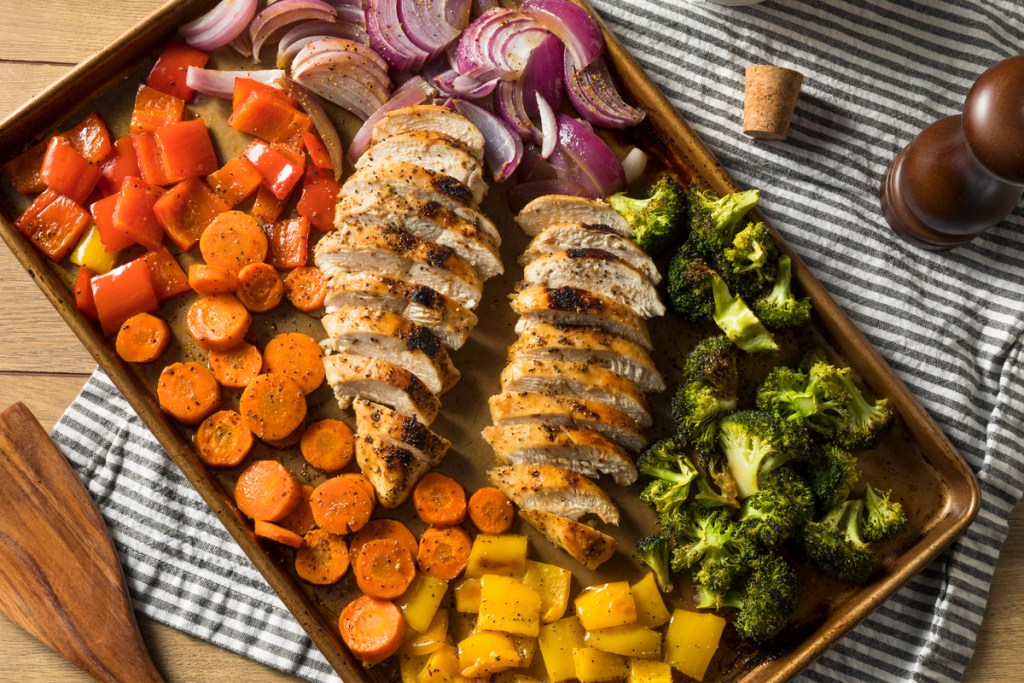 Healthy sheet-pan dinners
Now that we know what a sheet-pan dinner is and how it can save time on those crazy, run-around school nights, here are some tasty sheet-dinner recipes to wow the family.
Chicken fajitas are a yummy dinner even the kids are sure to love. With Cooking Classy, you get a quick, easy sheet-pan dinner that is a perfect pick on practice nights.
Cook up steak and veggies all in one pan with this flavorful recipe from Chungah's food blog. The roasted steak, veggies, and potatoes make a complete and healthy meal without the excess mess.
You'll never think tofu is tasteless again with this delightfully simple and delectable sheet-pan recipe from Recipe Runner. Frying tofu in a pan can be time-consuming and messy. Doing it in the oven makes for tasty tofu even the kiddos will eat. The resulting tofu and broccoli stand alone, but you can also serve them over brown minute rice.
Pork tenderloins can be a delicious change-up from red meat and chicken. Real Life Dinner has an appetizing recipe for pork tenderloins and roasted veggies made on a sheet pan. Cook time is about 35 minutes in the oven with a 15-minute prep to get all the ingredients on the sheet pan.
Having breakfast for dinner can be a fun way to switch up the evening meal. Kitchn has a simple and flavorful recipe for a veggie frittata that's a perfect pick for Meatless Monday.
Meatloaf can be a family dinner staple. Taste of Home shakes up the traditional meatloaf dinner by making mini meatloaves for this simple sheet-pan recipe. The mini meatloaves will cook faster, and the potatoes and asparagus make it a complete meal. If the kids aren't big on asparagus, exchange it for a veggie they do like.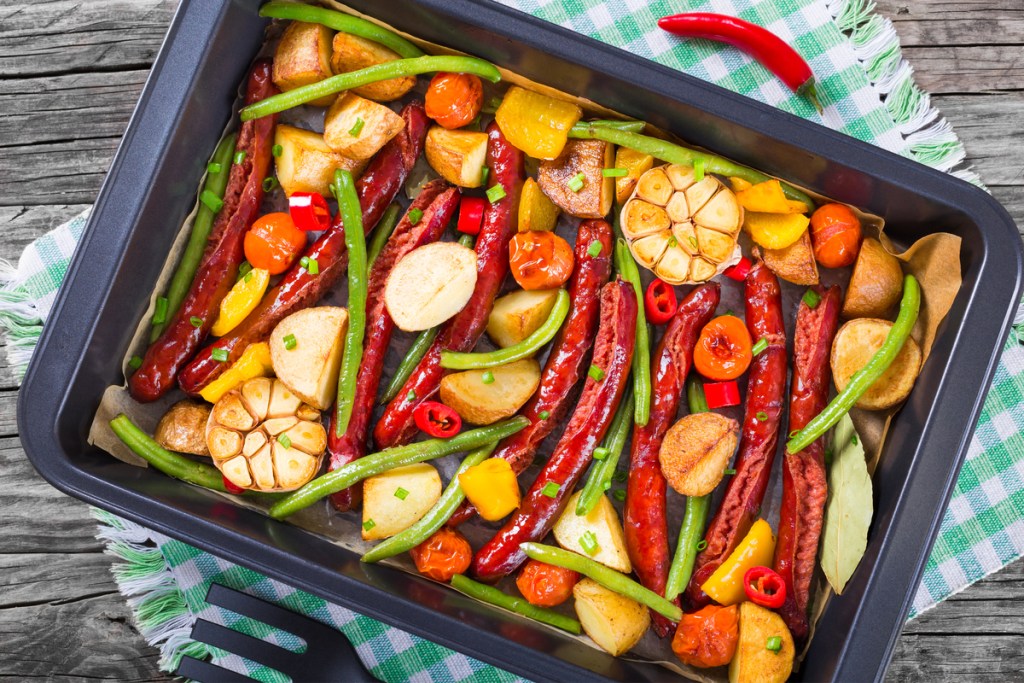 Other sheet-pan dinners to try
Need some more inspiration for sheet-pan cooking? Here are some healthy sheet-pan recipes to add to the meal rotation.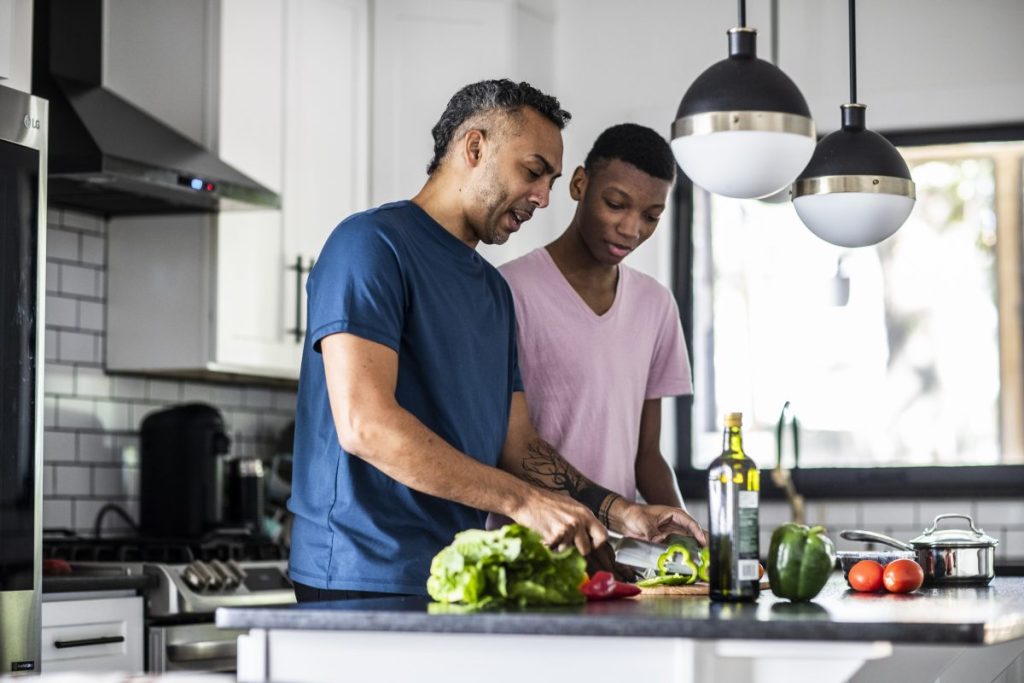 Enjoy sheet-pan cooking together
On-the-go parents are always on the lookout for easy dinnertime meals. Sheet-pan cooking is a perfect pick for making a healthy dinner for the family that doesn't make a huge mess. With evening practices and other after-school activities, a lengthy dinner cleanup is a definite don't. The main plus to sheet-pan cooking is that it only uses one pan and doesn't leave splatter on the stovetop to wash away either.
Healthy sheet-pan dinners combine proteins like beef, chicken, pork, and tofu along with veggies and seasoning. It all conveniently cooks in the oven, leaving parents time to supervise homework or tackle the laundry. The prep time typically isn't long and you can do it the night before. Even the kids can lend a hand with sheet-pan cooking. Give these delicious sheet-pan recipes a try. The family will love the taste and you'll appreciate the quick cleanup.
Editors' Recommendations