Baby's bath time can be a fun and important bonding experience for littles and parents alike. It can sometimes cause concern, however. When choosing a bathtub — much like many other baby products on the market these days, parents can rapidly get the feeling of being overwhelmed. With so many types of tubs available, pinpointing the perfect one for your baby can appear difficult. While options may seem like they're endless, most of the tubs available today fall into three major categories:
Freestanding
Foldable/Inflatable/Travel
Convertible
When shopping for your baby's tub, it's important to read over its description closely. If you find one of the above-mentioned key category words listed about in the product's description or spec sheet, then you know which one to place it into. These categories can help parents narrow down their choices quickly by omitting products that don't align with their needs for their baby's care.
Let's take a deeper look at these categories and what features and additions make them unique and special. By doing this, we hope to aide parents in determining the perfect tub for their growing family based on what is most important to them, fast.
Freestanding
A freestanding tub is an independent baby bathtub that's filled with water and used to bathe your little ones outside of your bathroom tub or sink. Freestanding tubs can be filled and placed anywhere parents would like. While these tubs often carry the assumption that they are only designed for older infants who can support themselves, we have combed the World Wide Web and discovered a freestanding tub that is friendly for ages newborn through 12 months!
Munchkin's Sit and Soak Baby Bathtub features nonslip back and bottom pads, bottom support bump, and a quick-release drain plug. When using Munchkin's Sit and Soak Tub, your baby will be well-supported, giving them the freedom to move around a bit and even splash and kick.
The downside to this style of tub is its size. Storing one of these would prove difficult for folks living in apartments, condos, or other smaller living spaces with limited storage. Once your little one outgrows a freestanding tub, you can safely transition them to your bathroom tub.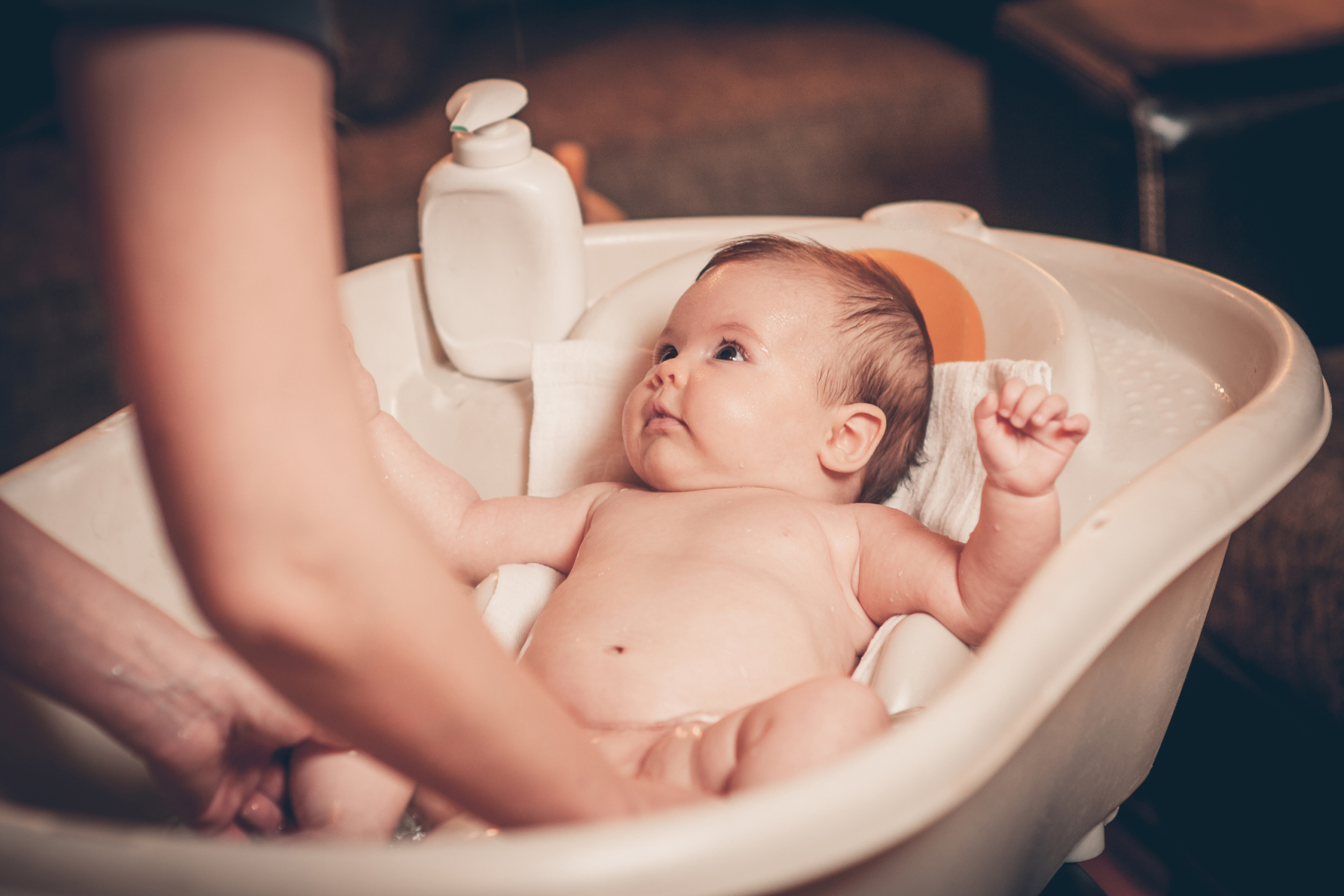 Convertible
Most parents are familiar with this style of infant bathtub. This design is modeled to grow with your baby from tiny newborn through 12 months of age. It comes with a series of inserts designed to hold your growing baby safely during bath time. The First Years 4 in 1 Warming Comfort Tub is a highly rated convertible-style bathtub system. It includes a newborn insert that features a water-collection pocket. This redirects the water from your faucet to cascade down your baby's back and neck, giving them a warm and soothing sensation. The insert can also be placed over most standard-size sinks for a simpler approach to bath time.
Again, like with freestanding style tubs, once your little one has fully outgrown the convertible tub system, you can safely transition them to your bathroom tub – though the First Years 4 in 1 Tub is meant to support children through their toddler stage.
Portable or compact
The last style of infant bathtub is the portable design. This style of tub can also be referred to as: Compact, foldable, inflatable, or travel. While these tubs are designed to be used, drained, and put away, they make great additions to vacation go bags, suitcases for trips out of town, grandparents, or secondary spaces where your littles spend time overnight. They also can be used as your main vessel for daily space-saving bath time. Depending on your family's individual needs, you may choose several options in this specific category.
Our favorite convertible bathtub product is the portable and inflatable nonslip travel tub by Pawsky. It can be used on the go or in the comfort of your own home and comes in two colorful pops of vibrancy. This product is also equipped with a manual air pump, nontoxic and PVC-free materials, and texturized nonslip bottom to keep your little one safe and sound while getting fresh and clean. It also comes with an attached hook for drip-drying. The downside to this style of tub is its vulnerability to damage from sharp objects such as pets' nails or sharp-cornered toys.
Wrapping up
When selecting your baby's bathtub, it's important to keep in mind the features that are most important to you — the parent(s). Features such as sink inserts, water-collection systems, flexibility of use, durability, longevity, and price are all crucial factors in your decision-making process. Try not to let the overwhelming number of products out there get to you and remember that these products fall into the above-mentioned categories. By eliminating categories and thinning the list of liked products, parents can select the perfect product for them more quickly — and get their baby clean when it matters most.
Editors' Recommendations