Everything about your baby is extra sensitive and needs special care. You want to use only the best and most natural products on your little babe's head. From bath time to bedtime, there are different items you might need to keep your baby's head, hair, and scalp healthy.
Having a few basic staple items handy is better than having to drag your baby out to get something for immediate use. Like diapers, wipes, or food, it's extra stressful to run out of something when you need it in the moment. Let's check out some must have baby hair products to take care of your baby's little head.
Oils
Babies can get really dry skin really quickly — their scalp especially. Cradle cap is something your baby could get at any time, and all of the time. The flaky and potentially itchy skin on your baby's head needs some oil. Here's what we recommend:
Regular baby oil is great for a lot of things. Rubbing a little into your baby's hair and on their scalp can really calm down cradle cap.
We suggest tried-and-true Johnson's Baby Oil.
You could also rub in a little bit of coconut oil. This oil will also really help your little one's hair and skin be healthier, as well.
A good one specifically for babies is Baby Bum Monoi Coconut Balm.
Lotion and cream
It might sound a bit funny to put lotion and cream in your baby's hair, but your baby is losing moisture all of the time. Their scalp and precious baby hair need a little help. Your baby can't tell you when their little head needs some extra attention, so it's best to regularly massage some in.
Putting a little in and letting it absorb overnight can help with your baby's scalp and keep their cute hair moisturized.
One that is great for cradle cap, rashes, and more is Era Organics Ointment for Babies.
Good old Vaseline
Vaseline has so many uses. The number of things that Vaseline can do or fix is amazing. If your baby has a dry scalp or really dry hair, you should rub some Vaseline in. It's super affordable and you can get it literally anywhere.
You can use it on your baby's head, skin, or anywhere on their little body, really. Grandma would never be caught without it in her home for a reason. Keep it around.
Don't fix it if it ain't broken. Vaseline should always be in your house (and purse).
Baby shampoo and conditioner
There are so many baby shampoos, how do you pick one? Well, you need to look at the ingredient list. You do not want anything with fragrances, dyes, or artificial anything. Even some of the most well-known brands have products that have ingredients you don't want to put on your baby's head.
The Honest Company's Perfectly Gentle Shampoo is a good one because there are no sulfates, parabens, dyes, or any of that stuff.
Detangler
If your baby is close to being 1 year old, he or she might have some really beautiful hair by now. And with that comes the horrific dance of trying to brush out his hair while your little one is running/squirming/crying/playing dead dog to try to get out of it.
A detangler is going to be your best friend. Even (or especially) young kids can get a rat's nest in their hair. A detangler is a necessity whether your baby has straight or curly hair if you don't want to have a breakdown while brushing.
Don't both hate brush time, get Hamilton Babies Emmy Leave-In Detangler.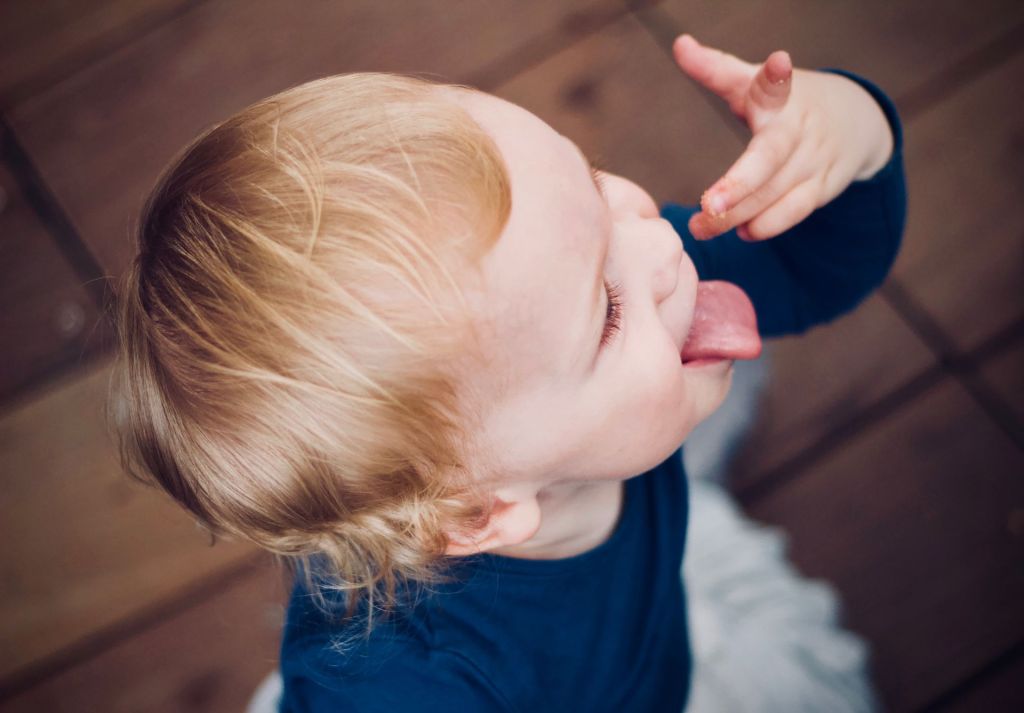 Styling products
Now, this one is up to the parent. But there are actual hair products you can use on your child just like you put hair products in your own hair.
If you want to style your kid's hair a certain way and it needs some help getting there, then look for a baby-safe or a dermatologist-recommended product. Gels, sprays, and other special styling products are OK to use if you pay attention to the ingredients. You don't want to start using all of these chemically filled products on your babe so soon.
A sulfate- and paraben-free choice is Honey Baby's Honey Dew Hair Mouse.
Check the ingredients
We've given you some specific products that would be amazing to use. That doesn't mean there aren't any others. We only want you to pay attention to the ingredient list before you put it on your baby's head.
If your baby doesn't have a problem with cradle cap or their hair isn't looking dry, that doesn't mean he still couldn't benefit from rubbing oil or cream on their little head. Your child's skin and body are constantly changing so fast that preventative measures are best. It's good for you to know what you can put in baby's hair to be on the safe side.
Once your child gets a little older, it could be a cute bonding time for both of you to do your hair together. Your little one can see you putting product in your hair, then he or she feels special when getting product, too. Even if it is only coconut oil and not a $55 1-ounce bottle of some magical unicorn serum promised to bring back your pre-baby hair luster.
Editors' Recommendations