So your baby is mobile. Alert the authorities and get your babyproofing butt in gear. If you haven't battened down the hatches yet, let us just say: There's no time like the present, Mama. Once your mischief-making mover and shaker is ready to explore, your cozy home becomes a veritable obstacle course of opportunity, and your crawling cutie can't wait to test their boundaries and push your patience.
One of the first things you should do — hopefully before Baby even attempts to scoot and boogie — is block off stairways. You may think your baby isn't interested in or capable of climbing. But, one day, you may get an eerie feeling and race to find that — lo and behold — your child is mysteriously halfway up the stairs.
Yes, you're going to need baby gates for stairs ASAP — because the scary truth is that stair-related injuries are all too common, and they can be serious. While being proactive about babyproofing is a big step, there are several other do's and don'ts to consider. Here's what you need to know.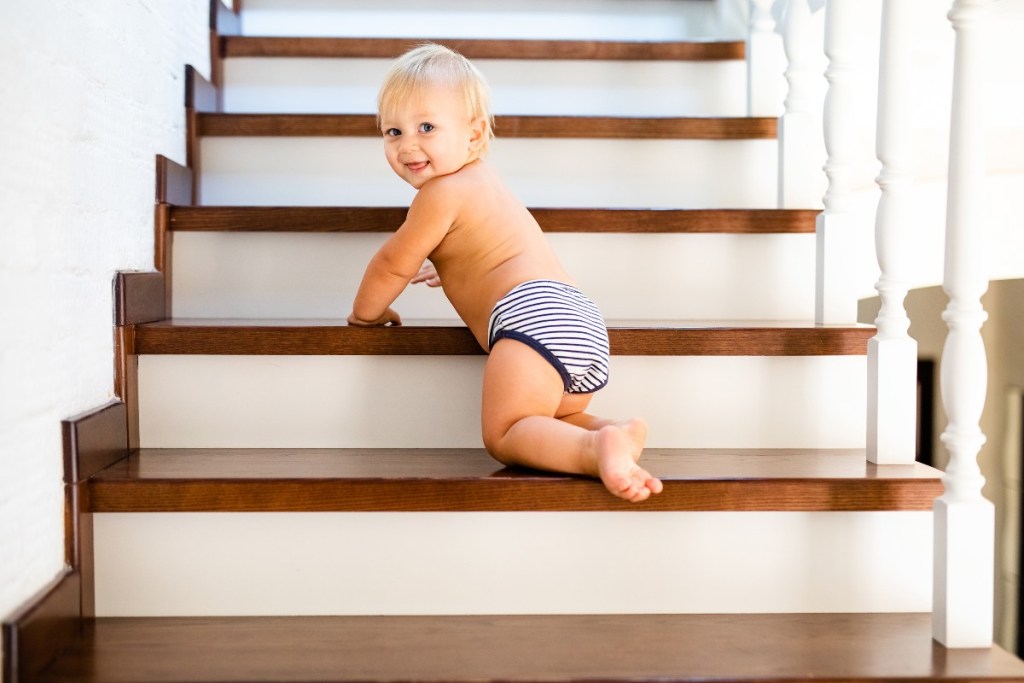 Do's of babyproofing stairs
A stairway has a bottom and a top. You'll want to make sure both ends are properly and safely siphoned off. Baby shouldn't be able to ascend or descend; the goal is that they stay exactly where you want them to be. Here's how you can achieve this:
Do get yourself some gates. The best baby gate for stairs is generally one that is securely mounted into your walls using hardware. Also note that you'll have to find a specific option that works for your specific stairway; this can vary based on banisters, railings, walls, moldings, and other unique features.
Do perform safety checks. Your gate is opened, closed, and even slammed on a frequent basis. While it's designed for this very purpose, you'll want to take responsibility by checking the hardware and integrity of your gate on occasion. If there are loose screws, splintered wood, or any other flaws that could affect safe use, you should address them immediately.
Do position gates correctly. Make sure that the gate at the top of your stairway opens away from the stairs only.
Do check width of slats. Do you have vertical slats between your banister or railing and steps? If there's a risk that Baby could get their head jammed in between them (it happens) or even slip completely through, get a net rail made for this very purpose.
Do consider carpeting stairs. Hardwood is slippery and features less traction for little, developing feet. A runner or full carpeting can offer more cushion and comfort.
Do remove gates at the right time. If you find that your toddler is starting to climb your gates, it's time for them to go.
Don'ts of babyproofing stairs
Babyproofing a stairway can be tricky, and there are some common mistakes people make. Here are the top ones to avoid:
Don't procrastinate. Like we said, Baby's ability to conquer the stairs may be a sudden development. Having the items you need to babyproof quickly and efficiently can ensure continued safety and give you more peace of mind.
Don't use a pressure-mounted gate. Some gates are secured to the wall with a pressure bar. While these are generally useful between rooms, they're not advisable at the top of stairways. These types of gates are made to be moved often and are more likely to fall if pushed or jiggled — you know, by a determined toddler.
Don't raise your gate off the ground. Yes, you do want to make sure that your gate is high enough to offer ample protection, but not by lifting it off the ground. There should be minimal space between the floor and the bottom of the gate — or it could pose an entrapment and strangulation risk.
Don't use pet gates. If you have old, retired gates in your basement from a former pet, you may be tempted to repurpose them. But baby gates go through rigorous testing to ensure safety standards; they're worth the separate investment.
Types of baby gates — and features to look for
There are a plethora of baby gate options — not all of them will work equally well for stairways, though. When babyproofing this tricky part of your home, you'll want to use extra caution and take whatever measures necessary. In the market for this essential? Here are some other things to weigh while browsing:
Auto-close baby gate options. If your hands are always full (and you're a parent, so this goes without saying), consider an auto-close baby gate. When they swing back, they automatically latch and lock for peace of mind. What's more, if you or other members of the family use the stairs throughout the day, you'll want to find a gate option that is easy to open and close.
Style. Do you care about function and fashion? If so, you'll want to pick a baby gate that matches your home aesthetic. There are more utilitarian metal options, wooden gates, and even stylish stair barriers that retract.
Babyproofing can come in gradual shifts. You don't have to do it all at once — that is, if you start before your baby becomes active, mobile, and ever-so-naughty (we say that with affection, of course). Make sure that safeguarding your stairs is one of the first things you do — and you will thank us later!
Editors' Recommendations