Planning the decor for your first nursery? Want to keep things gender neutral, whether you're waiting until birth to find out your child's gender, or you're not wanting to impose strict gender stereotypes on your child? Whatever the reason you're planning a gender-neutral nursery, one great way to easily achieve a gender-neutral nursery is by going with green nursery ideas. Unlike pink or blue, light green nursery motifs have yet to be claimed by one of the genders, so it's open to everyone.
Ready for a little inspiration? Here are 7 green nursery ideas for a gender-neutral look.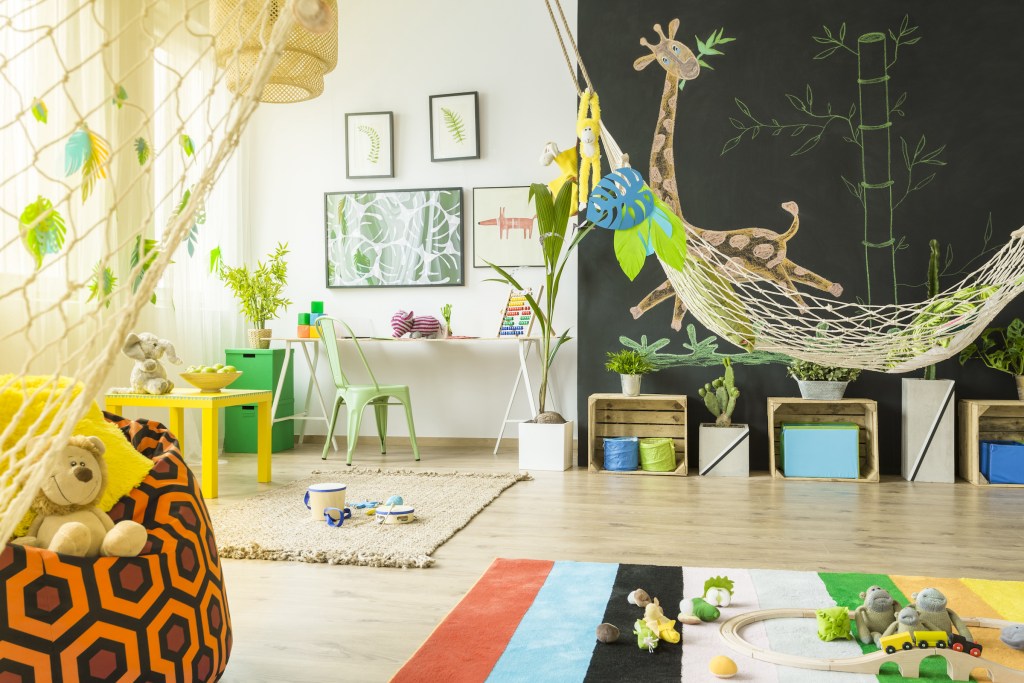 A jungle theme
Likely one of the most popular green-inspired themes you could go with for a nursery, a jungle theme is incredibly easy to put together, just because of how easily and readily available jungle-themed nursery decor is. Whether you want to stick with a light green nursery or a darker hue, throw the green shade of your choice up on the wall and then deck your baby's first bedroom out with all things jungle-fun. Stuffed animals, fake plants, jungle-inspired artwork, furniture in rich wood tones — it all comes together for a nursery that's just as kitschy or cute as you want.
Geometric and bright
There's no need to go so specific with your nursery theme. You can literally just make the theme green. You could even choose a few colors for your wedding décor, pick out a shade of green you like, along with a few complimenting hues. Then, mix and match décor and furnishings in those shades, for a pleasing color palette that comes together naturally. Add in some bright, geometric accents and you have a beautiful, gender-neutral nursery that any child could love.
An orchard theme
A little more herbivore and a little less carnivore — that's what this nursery theme is. Pick all the favorite plant pieces you might for a jungle theme, leave out the animals and add in a dash of bright citrus notes. Whether you go with orange, lemon, or bright red apple, an orchard theme can be cozy, cute, and oh-so-original.
A wooded fairytale vibe
Fairytales aren't just for girls. Go with a wooded theme with lots of lush greens and wood accents, but then throw in a few touches that correspond with your favorite (or your child's favorite) nursery stories. A Little Red Riding Hood feel incorporates stuffed wolves and red drapes. A Hansel and Gretel vibe might include some candy-esque details.
Green accents on a minimalist backdrop
But you don't necessarily need to make your green nursery over-the-top and all green everywhere. If you don't really want to go daring with a green accent wall, you can always go a little more minimalistic with your larger decor, from paint choices to furniture, and then add in green accents, from throw pillows to painted dressers and changing tables.
Minty fun
Don't forget about the full spectrum of green hues that you have to choose from. A green nursery doesn't need to be all hunter greens or sages or olives. Mint is a shade of green, too, and it adds a bit of whimsy and light fun to any nursery space. It's also an easy enough shade to incorporate into large or dark spaces that might feel a little overwhelmed if you were to paint all of the walls a leaf-green color. It's also light enough to play well with whites, black, and gold, in case you want a more neutral color palette, with just a pop of brightness.
A desert theme
On the opposite end of the spectrum from a jungle theme, a desert-themed nursery can be just as fun. Get your green from cacti-inspired accents and then incorporate a lot of sandy browns and beiges. Pick furnishings and wall decor with a Southwest slant.
Picking the perfect nursery theme is easier than you think
It can feel pretty overwhelming, picking out your first baby's nursery theme (or even your second baby's, or your third's). However, there's no need to worry. You can start with a concept as simple as just one color and build off of it, creating a beautiful, relaxing and comforting space, without the need to conform to a gender-specific nursery theme.
Need more help building your gender-neutral nursery? Check out our article on the best sports-themed cribs, no gender required.
Editors' Recommendations