If your little one is a huge fan of butterflies, ladybugs, caterpillars, or is just fascinated by insects, then a bugs-themed birthday party is a perfect pick. You can turn your backyard into an entomologist's dream. Of course, you have nature on your side when it comes to a bugs-themed celebration. Your backyard is a natural habitat for insects of all kinds. Pair Mother Nature with some bugs birthday party supplies, and you'll have a recipe for a fun party that guests won't want to bug off from. Let's get busy as a bee because we have some bugs-themed birthday party ideas that are really buzzin'.
Butterflies
Kids of all ages are drawn to the beauty of a butterfly, which makes a butterfly party a colorful do. If you happen to live near a butterfly park, see if you're able to book a group tour or organize the guests for a nature walk through the garden. You can cap off the celebration with a snack in the park using butterfly party decorations, and luncheon plates, and accessories. Butterfly crafts make for the ideal party activity, and butterfly nets work nicely as a favor.
Ladybugs
A ladybug can't change its spots, but they do make for a super cute birthday party theme. Create a ladybug paradise inside or out with fun decorations, plates, and accessories. Each guest can create his or her own mosaic stepping stone. Their creation can serve as the party favor, or you can fill small jars with wooden ladybugs. Chocolate cupcakes with red icing make for yummy snacks, or you can stop by your local bakery to see if they can whip up ladybug cookies. If you're really feeling industrious, you can set up a live ladybug house for guests to observe before letting the little good luck charms loose in the garden.
The very hungry caterpillar
The beloved children's book by Eric Carle is a delightful theme for a preschool party or a toddler birthday. You can easily find Very Hungry Caterpillar decorations, plates, and other accessories online. Have the book on hand to read and get the kiddos excited with a game of you guessed it, the Very Hungry Caterpillar Bingo, or divide into groups to do a jumbo puzzle inspired by the book. For foods, you can look to the book for inspiration except for the leaves, of course. Your little caterpillar may enjoy a caterpillar to butterfly kit where he or she can watch the transformation over time and then let the butterflies go.
Charlotte's Web
Another classic children's book that would make an appealing birthday party theme for spider lovers is a Charlotte's Web movie party. Get the party started by reading parts of E.B. White's best-selling book. Set up an outdoor or indoor movie party using farm-themed decorations. Guests can get crafty making foam and wooden spiders before it's time to watch Charlotte's Web. There are several movie versions to choose from with live-action or animated options. Pick the appropriate one depending on the age of the guests. Zuckerman's favorite pig may not know how to make a Charlotte's Web cake, but you can find plenty of inspiration on Pinterest.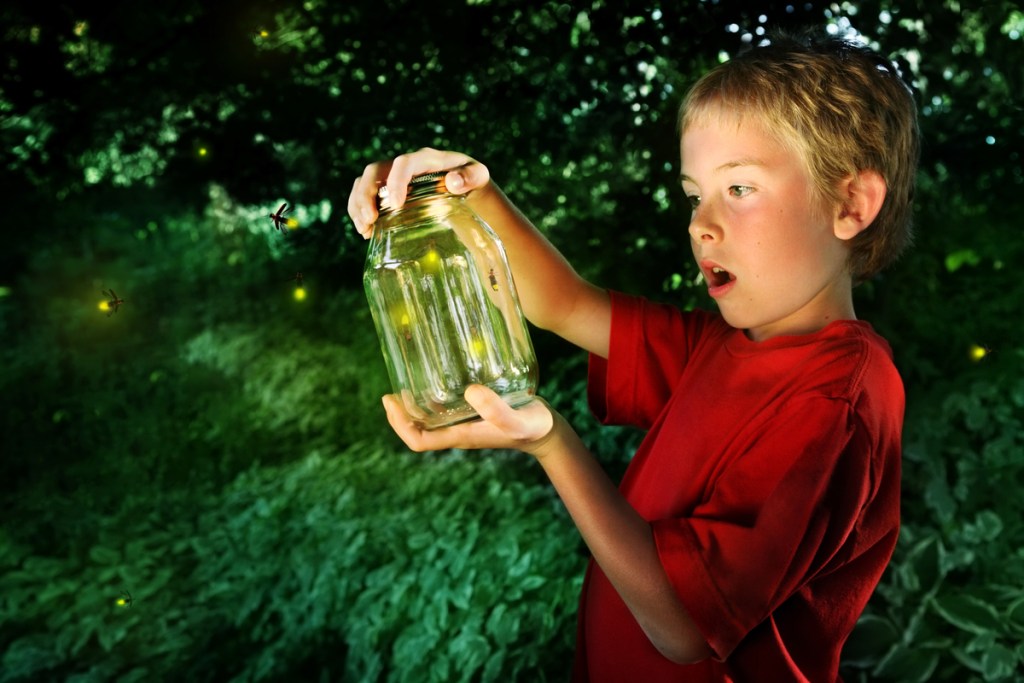 Firefly hunt
One of the joys of summer is trying to catch fireflies. If your birthday gal or guy loves fireflies, a firefly party is in order. Invite guests over for an evening backyard barbecue, serving kid faves like hot dogs and hamburgers. When the fireflies join the party, hand out collection jars for kids to catch and release the fireflies. Set the mood in the backyard by putting out solar-powered firefly lights.
Nature walk
A birthday party off the beaten path for kids interested in insects and nature makes for a fun hike. Check out the hiking options in your area to find a family-friendly path. An added bonus would be a trail with a nature center and a tour from a ranger. Party snacks can include a kid-approved trail mix and water for the hike. Personalized bug catchers/keepers are a sensationally scientific favor that party guests can use on the hike.
A Bug's Life party
Get buggy with a backyard movie party featuring the Disney Pixar film, A Bug's Life. Invite kids to come dressed as their favorite bugs. Deck out the backyard with some bug-alicious decorations and party plates. For a movie snack, make dirt cups. After the movie, guests can go on a bug hunt with their personalized bug catchers.
Get buzzing
A bumblebee party is super cute for toddlers or preschoolers. Ask the little bumblebees invited to dress in black and yellow. Deck the party area in bee-utiful decorations. Fill up plastic baby pools with yellow and black balloons or balls. Set up a backyard or indoor movie for a showing of Maya the Bee. Chocolate cupcakes with yellow icing make for a yummy treat. Bee cookies make for a buzzin' party favor to snack on later.
If your future entomologist is having a birthday or your birthday girl or boy loves nature and insects, a bugs-themed birthday party is a definite do. Get kids outside for a bugs-inspired party if you can. With one of our fun bug themes, you can head to a butterfly park, trail, nature center, or backyard for a buzzin' celebration. Remember to select a rain date for any outdoor party.
Editors' Recommendations