Turning 5 is a momentous occasion. Your preschooler will soon be heading off to kindergarten, and it's certainly a birthday to celebrate with a party. The age of 5 is considered one of those special milestone birthdays. Often the big question these days is whether to hold a birthday party at home or choose an event location. These days it may seem as though holding a birthday celebration at a party place is the thing to do. Home birthday parties never actually went out of style though. Many parents just prefer a setting away from the home because of the after-party mess.
Birthday parties at home can be loads of fun and are budget-friendly celebrations. Now, don't let the idea of hosting a 5-year-old birthday party at your house fill you with anxiety. Home parties are easier to plan and execute than you may think, especially for 5-year-olds. While it's true that at-home birthday parties are more of a hands-on task for you, they don't have to be full of stress.
The biggest key to an at-home birthday party is to keep the kids occupied so they're not running around your home. A well-planned and supervised party for kids will keep the birthday celebration from turning chaotic and we've got birthday party ideas at home that are simple and super fun.
Birthday party ideas at home
When it's time to think about an at-home birthday party for your soon-to-be 5-year-old, you probably envision a wild movie scene where all the kiddos are charging through your house leaving a huge mess in their wake. An at-home birthday party doesn't have to be a recipe for disaster. On the contrary with structure and extra hands on deck, birthday parties at home can be a blast. Here are eight birthday party ideas that will make the guest of honor and their friends very happy.
Arts and crafts party
Most 4- and 5-year-olds enjoy making crafts. A fun and relatively inexpensive at-home birthday party idea is to set up different craft stations around the house or in the yard if the weather permits. Crafts can be seasonal, holiday-inspired, or a theme provided by the guest of honor.
Divide the partygoers into small groups of three to four and have them rotate to each craft station. Set aside enough time at each craft station for kids to be able to complete the activity. Be sure to have an adult or teenage helper at each station to guide the craft. Provide bags for the kids to collect their projects. A cute party favor is a craft apron. Personalize each with a fabric marker. Allow an hour for the crafts, and afterward, serve pizza and cupcakes.
Painting party
Soon-to-be kindergarteners and preschoolers love to paint. There are so many creative ways for kids to explore painting with different materials. A painting party is ideal at home if your child's birthday falls during warm weather months. Painting outdoors makes cleanup much easier and won't cause stress for you. Like the craft party, set up different painting stations. Painting station ideas include finger painting, sponge painting, fabric painting, watercolors, and Q-tip painting. Place the kids in small groups and have an adult or a tween or teen to supervise. Kids can paint their own t-shirts with fabric markers for a keepsake favor too. Keep the artistic theme going by having the party guests decorate their own cupcakes before heading home.
Game party
Another simple at-home birthday party idea is an old-fashioned game party. They wouldn't be 5-year-olds if they didn't love playing games. Classic party games like pin-the-tail-on-the-donkey, hopscotch, Simon Says, freeze dance, musical chairs, egg and spoon racing, and bean bag tossing are always a hit. You'll definitely need a lot of energy and extra helpers for a game party because an adult will need to lead the activities and keep the kids organized. A game party is a perfect pick if your child has a small guest list. Anywhere from 8 to 10 kids is perfect for this type of party. If you're not comfortable leading the games, consider hiring a college student majoring in early childhood education to run the party.
Cooking party
Little hands really adore helping in the kitchen, which makes a cooking party a super tasty option. An at-home cooking party is another great choice for a short guest list. A cooking-themed party for five to eight guests is best. Start off by letting the young chefs decorate their own cooking aprons with fabric markers. The apron also serves as the favor. Kids can make their own pizzas. While the pizzas are cooking, have them create their own smoothies and decorate their cupcakes. When the pizza is ready, it's time to eat and sing happy birthday.
Breakfast party
Most 5-year-old birthday parties are in the afternoon. So, change things up by hosting an at-home breakfast birthday party. The twist here is the guests get to have a hand in making their own breakfast. Kids can help mix the pancake batter and breakfast smoothies before getting to work decorating doughnuts. Doughnuts make a yummy change from the usual cupcakes.
Movie party
A super easy and low-maintenance at-home party idea is to invite guests over to watch your child's favorite film or a new one that's recently dropped on Disney Plus or Netflix. Kids can come in their pajamas and bring their favorite stuffed animals. Food can be tasty movie treats like popcorn, chips, and cookies. If the weather allows, host an outdoor movie party.
Backyard campout
You don't need to trek out into the woods for a campout birthday party. Weather permitting, you can host an at-home birthday party with a camping theme in the backyard. Indoor campouts can be fun too if your child's guest list is small. Pitch some tents and have the ingredients for s'mores on hand. Activities can include a scavenger hunt, campfire stories, and a nature hunt.
Afternoon slumber party
Age 5 might be a bit young for a sleepover, which is what makes an afternoon slumber party so inviting. Guest should come to the party in their pajamas and bring a stuffed friend along with a sleeping bag. This afternoon slumber party can include all the sleepover essentials such as games, crafts, snacks, and of course, a movie.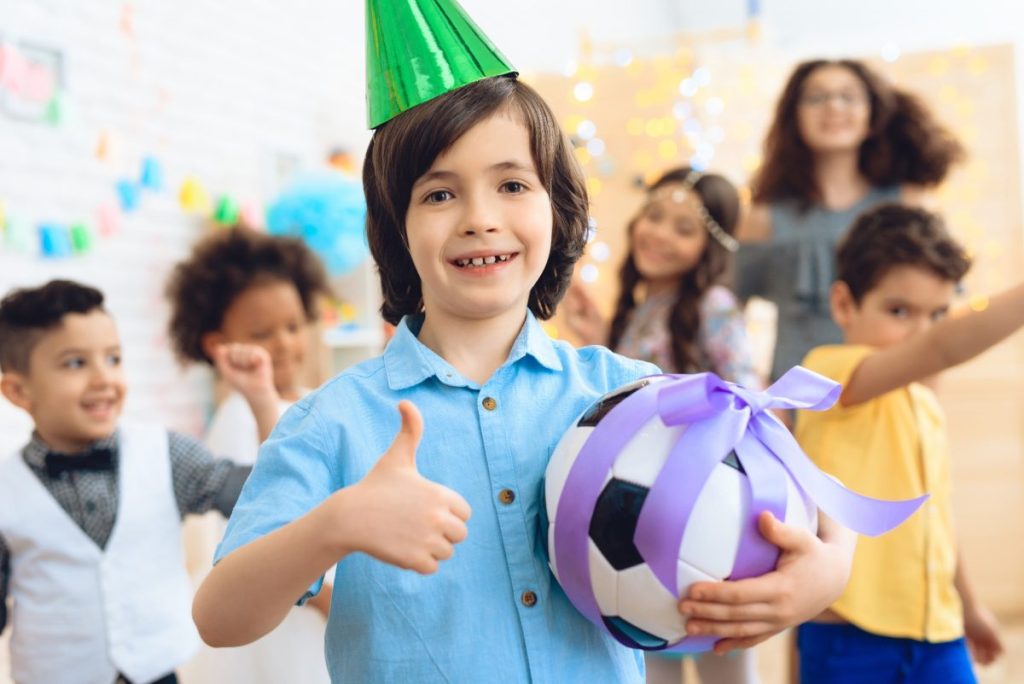 More birthday party ideas at home
If these at-home birthday party ideas aren't striking a chord with your kiddo, here are some more fun suggestions when hosting a party for your soon-to-be 5-year-old.
Sports party
If your kiddo is into soccer or just loves being outside with a ball, then put together a sports-themed birthday party in your yard. Like a craft party, set up different sports stations with a soccer goal, a kiddie-sized basketball hoop, and knee hockey nets. Have parents or teens on hand to organize games around the different sports. An at-home sports birthday party is ideal if you have a big yard and your kiddo's birthday is during warmer months. Since you will need to be outside for this, include a rain date on the invitation.
Magical party
For a retro at-home birthday party, think magic. Hire a magician to come to the house and entertain the kiddos for an hour. Plan some basic party games like pin-the-tail on the donkey and an egg-and-spoon race before serving pizza. End the party with a cake or cupcakes.
Obstacle course
Everyone knows that 5-year-olds have tons of energy, which is what makes an obstacle course party a fun idea. Setting up an obstacle course in your backyard isn't hard. Pool noodles can go a long way to helping create a backyard obstacle course. An inviting obstacle course needs things kids can crawl through, jump over, jump on, and run through. Be sure to have plenty of cool drinks on hand. Wrap up the obstacle course party with a make-your-own ice cream sundae bar.
Pool party
If you have a backyard pool, then a pool party is always an option for an at-home birthday party. Plan this one with caution though when dealing with 4- and 5-year-olds, since most won't be confident swimmers. Keep it safe by hiring a certified lifeguard to keep an eye on the kids in the pool. Have swimmies and life jackets on hand for kids who don't bring their own.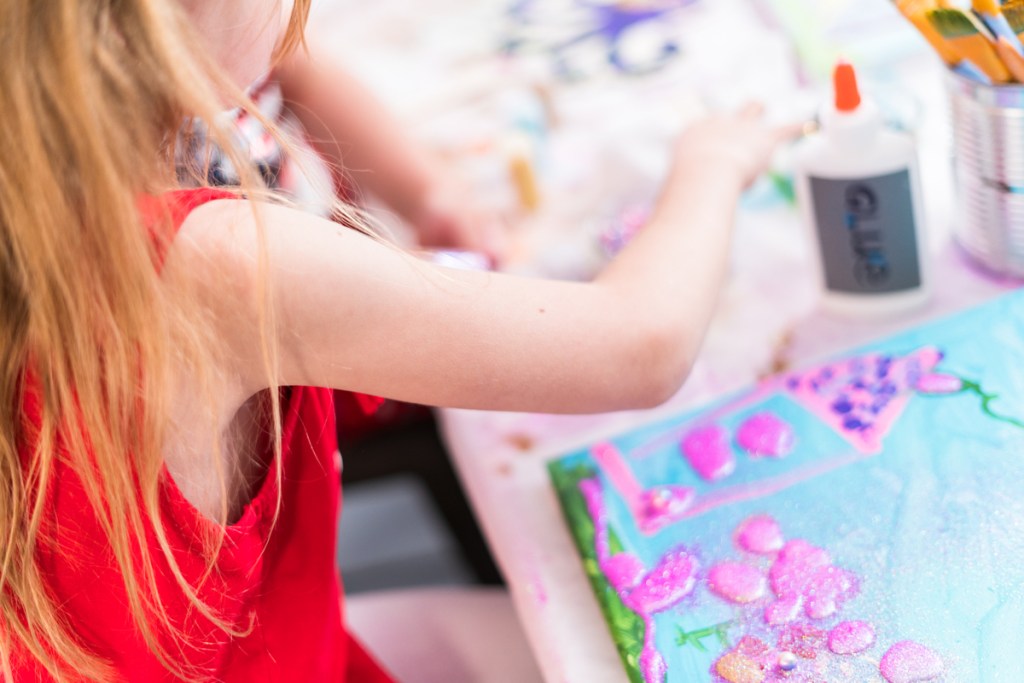 Home parties are always a hit
Hosting a birthday party at home for your 5-year-old can be just as fun if not more than hosting it at a pricey venue. At-home birthday parties are budget-friendly and aren't as difficult to plan and execute as you may think. With this exciting menu of birthday party at-home ideas, you'll have plenty of inspiration to find one suiting your birthday boy or girl.
In order to avoid chaos, be sure to have enough activities planned to keep the kids occupied. It's also important to have additional hands available to help with craft stations, run games, or assist budding chefs. Whenever possible, use your outdoor space. Doing so makes cleanup easier. Build in a rain date for outside at-home birthday parties.
Editors' Recommendations