Navigating your way through a corn maze is typically a family-friendly fall activity. There are even nighttime jaunts through corn mazes complete with people dressed up as zombies to give maze goers a fright. Evening corn maze treks are for teens and adults who enjoy a good scare. For the rest of us, a winding trip through the maze of corn stalks is enough. Sometimes though people do actually get lost. A Massachusetts family made national news when they called 911 because it was starting to get dark and they couldn't find their way out of a seven-acre corn maze near Salem.
In 2014, a few people got turned around in the world's largest corn maze in Dixon, California. Officers weren't exactly surprised. It turns out getting lost inside a corn maze isn't as uncommon as you'd think, especially in mazes spread over multiple acres. While it can be kind of fun to lose your way in a maze, darkness and having small kids in tow do make getting lost a lot less appealing. Since no one plans on getting lost in a corn maze, it's helpful to be prepared before heading in to avoid becoming a fall news story.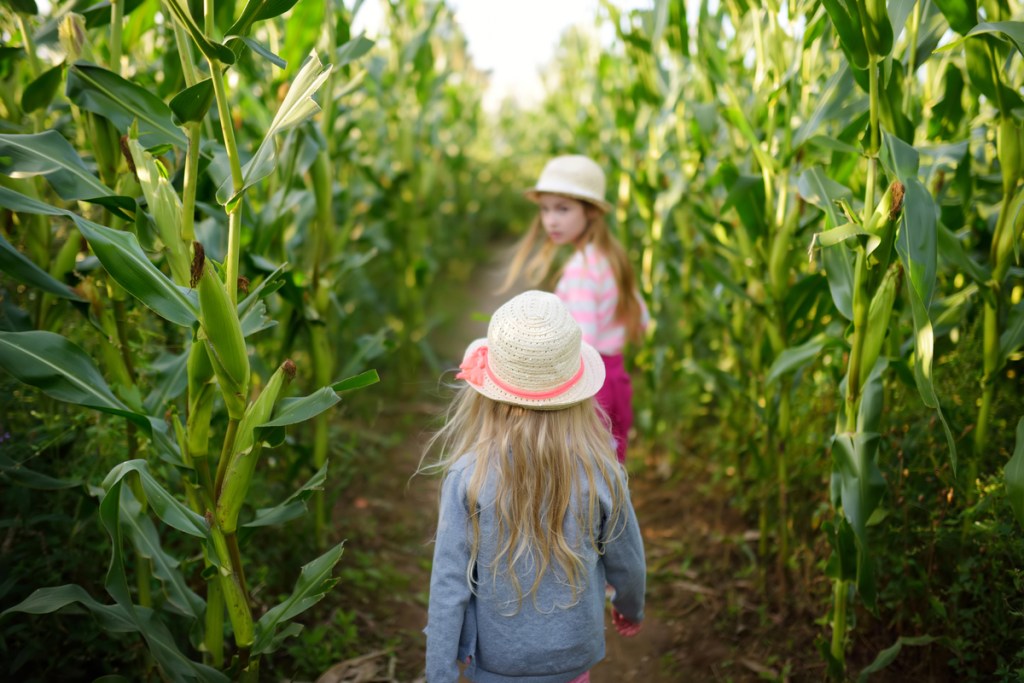 How to get out of a corn maze
Hedge mazes were a thing in England back in the 18th century, but mazes actually go back all the way to Ancient Greece and Rome. In the United States, the first corn maze was created in Annville, Pennsylvania in 1993. At the time, the almost two miles of winding paths through the cornfield took up three acres. The current Guinness Book of World Record for the biggest corn maze belongs to Cool Patch Pumpkins and their 60-acre corn maze in California that caused numerous folks to reach out to the police for help locating the exit. Most corn mazes tend to be between four and 20 acres. An acre is about the length of a football field. So, it's easy to see why people get turned around in those very large corn mazes. Don't worry though, we have some corn maze navigating tips.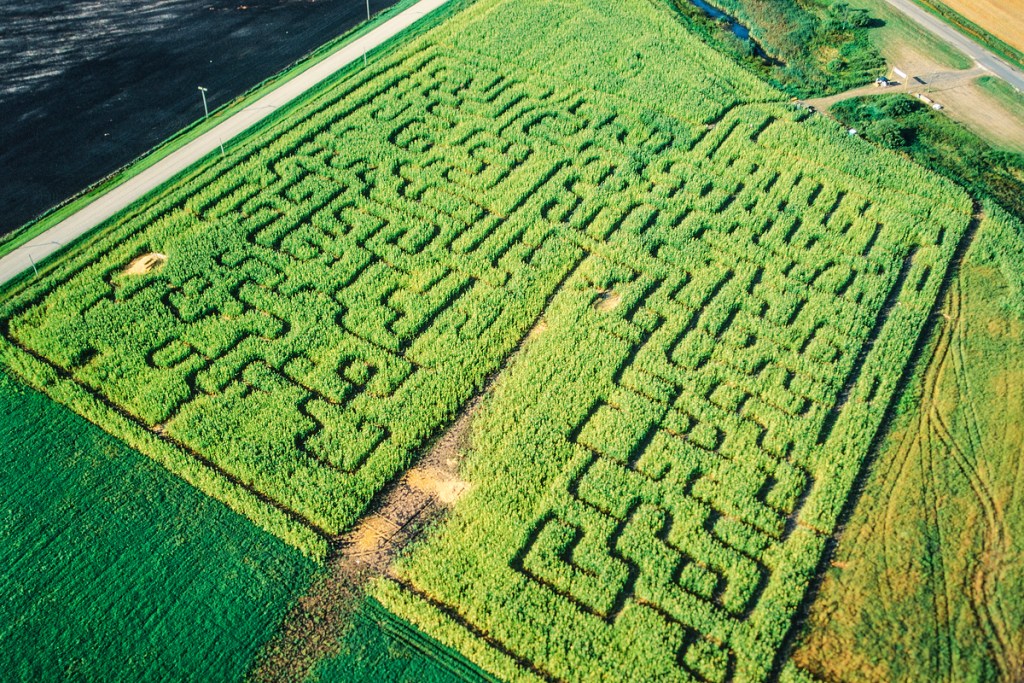 Scope out your maze
Before heading out to a local farm for fall fun, take a look at the size of its corn maze. If you have young kids, don't choose a 10-acre corn maze. Look for a smaller one that is easier to navigate with little ones. If you have older kids or teens, larger mazes can be a lot of fun to explore together.
Identify entrance and exits
Take a moment to see if the corn maze you're about to enter has a separate entrance and exit. Some mazes are designed with one point of entry and exit. Others have a marked entrance with an exit on another side of the corn maze.
Look for landmarks
Those corn stalks can grow pretty tall, but take a look around before entering to see if there are any distinguishing landmarks like a water tower to help orient yourself once everyone is inside the maze. Some mazes have little quizzes along the way or other signs. Take note of those when you pass, including trash like water bottles.
Work as a team
Like the commercial says, the letter "i" isn't in team. When families work together to try and find the exit, the trip through the corn maze typically goes better. Don't discount the kiddos. Kids are more observant than adults give them credit for and they may realize you've passed the same bent corn stalk five times before you do.
Download the app
What?? There's an app for that? Of course. Some of the larger corn mazes have developed apps to avoid those embarrassing 911 calls for help. If you're giving a super large corn maze a try, download the app before entering. Don't use it if you don't need it. Then, if you really do get lost and can't figure out the way to the exit, open the app.
Use your smartphone
Even if the corn maze you're heading into doesn't have a map app, your smartphone can still be an asset if the family gets lost. Make sure it's fully charged before starting out. A compass app and your GPS can both come in handy if the exit keeps eluding you.
Listen for noises
Pay attention to the noises around you. People tend to congregate around corn maze exits to chat or take selfies.
Note the farm's telephone number
Before entering the corn maze, be sure to write down or record the telephone number of the farm in the note section of your smartphone. If you end up lost, call the farm for a guide.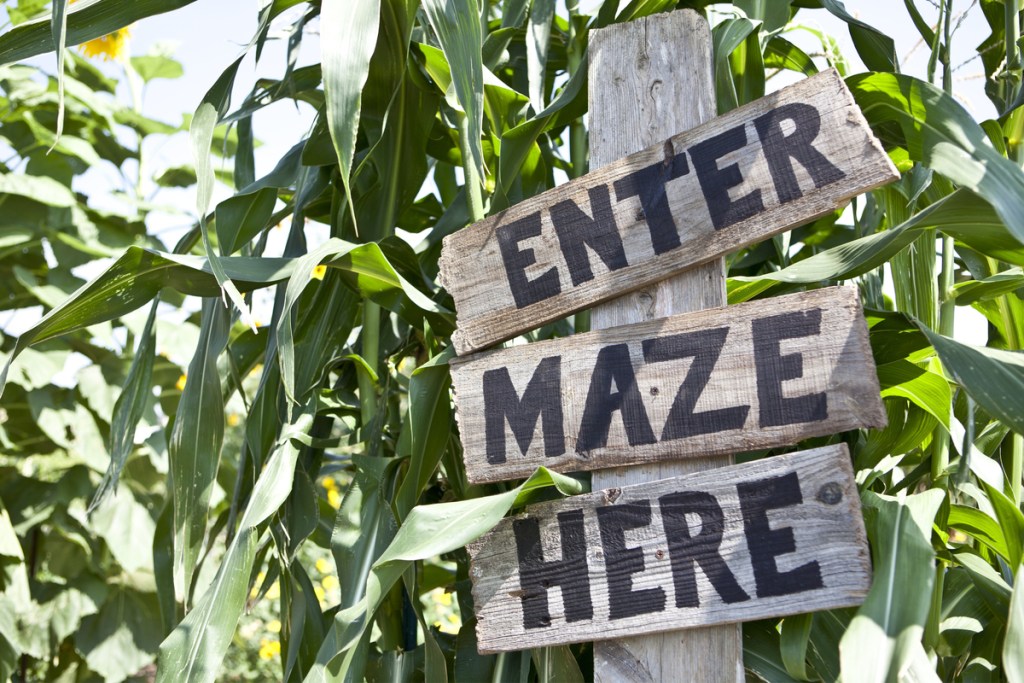 Ask fellow maze goers
Unless you're the last family to enter the corn maze, chances are, you are passing other people in your effort to locate the exit. While it may take some of the fun out, it's okay to ask others for help especially if the sun is going down.
Navigating a corn maze is a fun fall activity. Kids enjoy it as do adults. Sometimes, though, corn maze exploration can turn into a nightmare especially if you happen to be in the middle of one of those monster labyrinths. Since no one wants their 10 minutes of fame as the focus of an embarrassing lost-in-a-corn-maze story, pack these handy corn maze tips before heading into a winding maze with the kids in tow.
Editors' Recommendations