Your child's birthday is coming up and you need a unique idea for the party. Plan a bowling birthday party and you'll roll a strike for their special day. Organizing a kids' bowling birthday party is super fun and low stress, because the venue will take care of most of the party details.
A birthday party at the local bowling alley is a great idea for kids of all ages, from preschoolers to teens. If you're in a large city, you can use Google to find the closest bowling alley to your locale. Always keep the number of participants in mind, and when reading the details, note the cancellation terms, how much of a deposit is required, and what the party packages include. Keep reading for a few other tips and you're certain to roll out the most memorable kids' birthday party.
Invites
Once you've found a bowling alley to suit your party needs and booked a date and time, sending out bowling-themed birthday invitations is a nice touch. Instead of handwriting the details on each one, sites like Zazzle and Etsy let you design your own bowling invitations, including all the pertinent details. If you prefer, go digital and use one of Evite's bowling invitations or customize your own email invites.
Decorations
Decorations sometimes come with party packages, but if yours doesn't, head online to dress up the party area at the alley with bowling-themed festive touches. With a bowling party pack, you can get paper plates, napkins, cups, and cutlery. Top it off with a brightly colored tablecloth or one with a bowling pin displayed on it. Setup and cleanup are quick and no fuss.
Cupcakes for the cake
Cupcakes work best for kids and teen parties, especially when the festivities are away from home. They are a lot easier to deal with than cutting a cake and faster to hand out. A cupcake cake in the shape of a bowling pin or ball will definitely not be a gutter ball.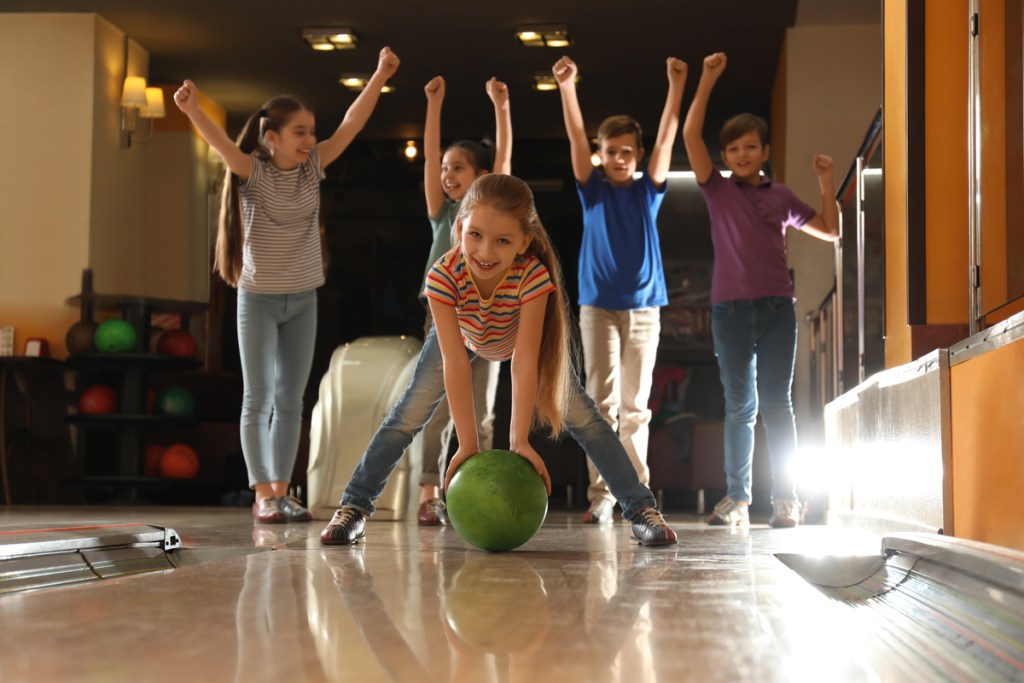 Bowling shoe sizes
Since it's a bowling party, the participants will have to rent shoes. This can be a little chaotic, especially since your party will not be the only activity going on at the bowling alley. To make the party run a little smoother while saving you some anxiety, ask parents to RSVP with their child's shoe size on the invitation.
Before the party, write up or print out a list of all the party guests and their shoe sizes. Arrange to have all the needed sizes before the guests arrive. It will get the kids out onto the lanes a lot quicker and make the entire process less stressful.
Keep shoes organized
Kids and teens tend to leave their shoes anywhere. To avoid lost shoes, bring a container large enough to hold everyone's shoes just in case the alley doesn't have a place for bowlers to store their shoes. Bring sticky notes or labels along to write each participant's name and stick it on the top of one shoe.
At the end of the party, one adult can hand out shoes and collect the bowling shoes to return to the facility. With a little shoe organization before and after the party, you will certainly be rolling a spare.
To bumper or not
If you choose to use bumpers in the lanes, it takes away the chance of those nasty gutter balls and makes bowling a more kid-friendly activity for all, especially younger children. Chances are, most of the guests are novices and not avid bowlers — bumpers even the "bowling field." If parents are staying for the party, have one lane free of bumpers for the adults.
Party favors
Party favors or goodie bags are final parting gifts kids really enjoy. Bowling pin cookies or a chocolate bowling pin lollipop are deliciously delightful party favors you can order ahead of time from a local bakery or chocolate shop. Have the treats wrapped in clear or colored packaging with a bow for a festive touch. Other bowling party favor ideas include bowling key chains, finger bowling game sets, or bowling socks. Check out Etsy for other adorable party-ready bowling pin favors.
If your birthday kiddo is a bowler, a bowling party is a perfect pick for multiple ages. Even adults enjoy a bowling outing, as do families. Most bowling alleys offer birthday party packages at different price levels, and booking one takes a lot of the party planning stress off you. Once you locate a family-friendly bowling alley, decide on the date and time along with how many guests. Many alleys also serve up a party menu kids love, like pizza. That leaves you with just bowling-themed invitations, cake, and favors. Just remember to pack candles and the list of shoe sizes, and this bowling birthday will be a smashing strike.
Editors' Recommendations