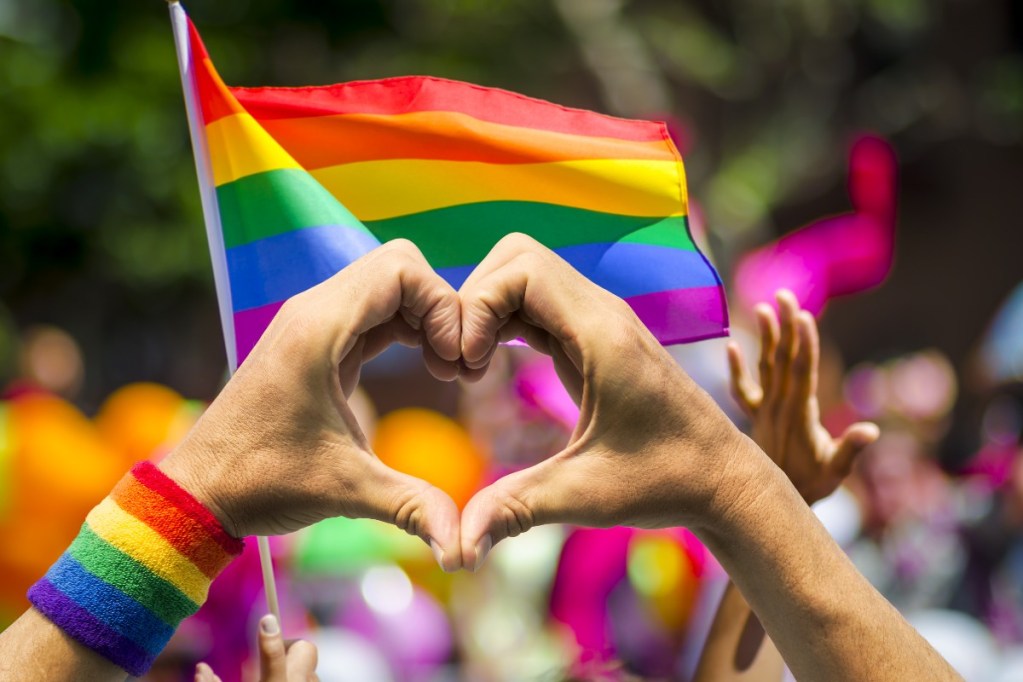 LGBTQ+ history may feel like a more grown-up topic that's harder for parents to tackle, but it's easily accessible with these picture books. Just like women's history or Black history, it's about sharing the stories of inspiring historical figures in age-appropriate ways. Skilled authors sharing identity, joy, pride, and courage will enhance your children's educational foundation and open-mindedness for interacting with all kinds of friends and families.
Before the 2010s, there were few books on LGBTQ+ history for children. Today, there is plenty to choose from to help teach children about respect. We've combed through them to bring you the best picture books for sharing with kids in honor of LGBTQ+ History Month and beyond.
Be Amazing: A History of Pride by Desmond Napoles and Dylan Glynn
Desmond Napoles is better known as teen drag sensation "Desmond Is Amazing," a social media star, model, speaker, performer, and clothing designer. They added the author to that list in 2020 with their book Be Amazing, which "walks you through the history of the LGBTQ community, all while encouraging you to embrace your own uniqueness and ignore the haters."
Kind Like Marsha: Learning from LGBTQ+ Leaders by Sarah Prager and Cheryl "Ras" Thuesday
This book shares 14 historical figures with a positive trait for young readers to aspire to embody. Children will read how to be artistic like Frida Kahlo, creative like Leonardo da Vinci, and determined like Sylvia Rivera. Along with a two-sentence biography and quotation from each person, this picture book is a kid-friendly introduction to LGBTQ+ people from BCE through today.
Pride: The Story of Harvey Milk and the Rainbow Flag by Rob Sanders and Steven Salerno
This emotional narrative shares the biography of gay rights hero Harvey Milk, who was one of the first openly gay people to win elected public office in the United States. Milk is one of the better-known figures from LGBTQ+ history and a good basic starting point to educate children on. This book also incorporates the story of the invention of the rainbow flag, which happened in San Francisco in 1978.
Sewing the Rainbow: A Story about Gilbert Baker by Gayle E. Pitman and Holly Clifton-Brown
For more detail on the creation of the first rainbow flag in 1978, this award-winning picture book explains how Gilbert Baker (with some input from Harvey Milk) conceptualized the flag and hand-dyed and sewed it. It also shares how the flag became a worldwide symbol and how important it is today.
Stitch by Stitch: Cleve Jones and the AIDS Memorial Quilt by Rob Sanders and Jamey Christoph
While the AIDS epidemic is a tough topic to teach to young children, this approach by Rob Sanders focuses on the memorial quilt and how its creator, Cleve Jones, made something special. Especially with this generation having lived through a pandemic and understanding people get sick, young people will benefit from seeing the way people healed from another pandemic. They'll also think the largest group craft project ever done is pretty awesome, too.
Sylvia and Marsha Start a Revolution!: The Story of the Trans Women of Color Who Made LGBTQ+ History by Joy Michael Ellison and Teshika Silver
Sylvia Rivera and Marsha P. Johnson were best friends in New York City and they were also world-changing activists. Both are transgender women of color and their activism helped the trans community and the entire LGBTQ+ community in groundbreaking ways. They worked together in important protests and organizing in the 1960s and 1970s in ways that set the foundation for the entire LGBTQ+ rights movement in the United States.
Two Grooms on a Cake: The Story of America's First Gay Wedding by Rob Sanders and Robbie Cathro
The first same-sex wedding in the United States didn't happen in the 2000s, as you might think. One gay couple was able to find a loophole and legally marry in Minnesota in 1971. Their incredible little-known story is told through the perspective of the two cake toppers who watched the whole love story of Jack Baker and Michael McConnell who made history 50 years ago.
This Day in June by Gayle E. Pitman
One way to show support for the LGBTQ+ community is by immersing yourself in Pride parade events near you. No ally is too young, so help your child understand what that means with This Day in June by Gayle E. Pitman. The pictures are as colorful as what you would see at a parade, and though the book has few words, it leaves a lot of room for discussion with your kiddo about respect for the community.
The Meaning of Pride written by Rosiee Thor, illustrated by Sam Kirk
If you want to help your child learn about Pride beyond the month of June, The Meaning of Pride by Rosiee Thor goes over figures important to the movement in this picture book, like Matthew Shepard and Megan Rapinoe. From learning about the people who helped in the early days of protesting in the 60s to those who are making moves for the LGBTQ+ community today, the gorgeous illustrations will help your child understand the feeling behind it all.
Those in the LGBTQ+ community contribute to American history and all of world history in important ways that we may not even realize. It's important to celebrate LGBTQ+ History Month not only in June, but year-round. For a well-rounded education, use these picture books to teach your children about LGBTQ+ history and to help spread kindness along the way.
Editors' Recommendations