Does tie-dye bring up images of a Grateful Dead concert? Well, you're not alone. Tie-dye took off in the United States in the late 1960s and early 70s, but the truth is, those cool swirls of colors on clothing and other materials have been around for quite a while, and not just at Woodstock. Tie-dye is thought to have been a thing in other cultures for thousands of years with certain patterns identifying different regions. The earliest examples of tie-dye come from South America. Since the 60s tie-dye has been a mainstay in the US and a popular one with kids and teens. Tie-dye shirts for kids are actually a fun DIY project and not as messy as you think. Keep these tips in mind and you can make the whole family a tie-dye ensemble without making a huge mess.
How to tie-dye shirts without a mess
The first step to a stress-free tie-dye experience is getting a one-step tie-dye kit. Kits include a range of non-toxic dye colors already mixed and in easy-to-use squeeze bottles. All you have to do is add water to the pre-mixed colors, and the bottles are ready to go. You can, of course, mix up your own dye colors in squeeze bottles, but the ready-made ones save a messy step.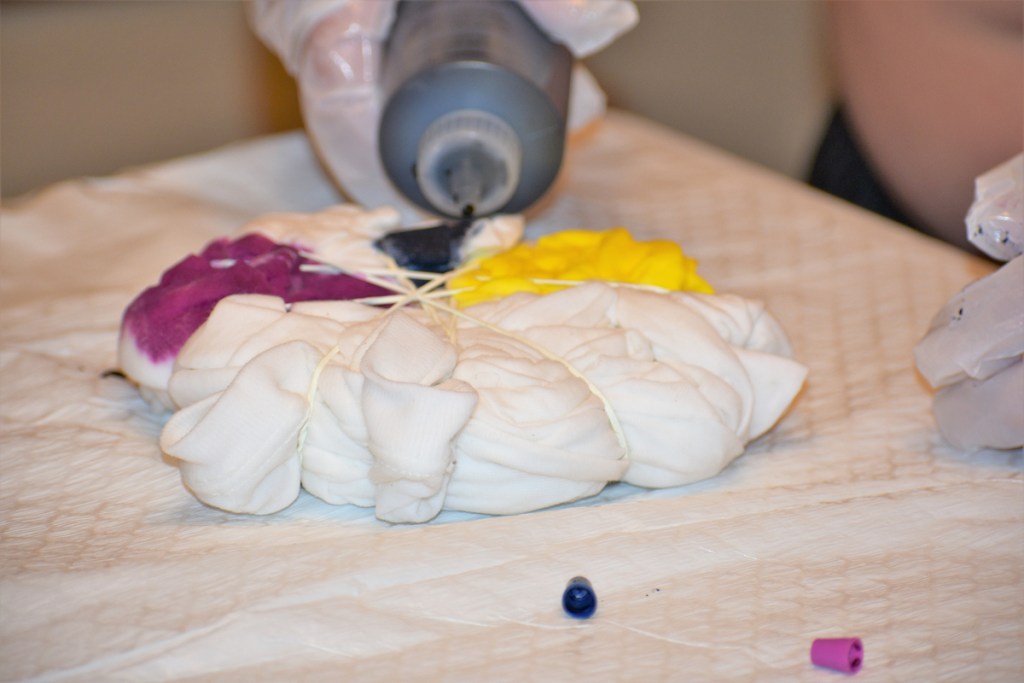 Inside or outside
Tie-dying on the patio or deck is ideal, but you can also do a tie-dye project inside, too. Cover any table with a throw-away plastic tablecloth. Lay out puppy pads for the kids to work on. Puppy pads are key because the pads absorb any excess dye and help make the cleanup super quick.
Cover up
Whenever you're doing a painting or tie-dye project, old clothes are in order. If you don't have aprons as an extra coverup, large trash bags work great. Just cut neck and armholes for each tie-dyer and throw them out when you're finished. Rubber gloves are a must for the parent or caregiver rinsing the clothing once it's been tie-dyed. Kids can also wear rubber gloves when applying the dye to the clothing using squeeze bottles.
Store in individual sealed plastic bags
Once each shirt is completed, place it inside a Ziploc bag. The dye must sit for 12 to 24 hours before being rinsed. Label each bag with the maker's name. Only store one item in each sealed plastic bag.
Other tips for a successful tie-dye
Keep these additional tips in mind to help make your tie-dye project a smashing success.
Use natural fibers – Cotton and other natural fibers tend to hold color better.
Pre-wash clothing- Regardless of the dye you use for any tie-dye project, the colors adhere better when the shirts have been washed prior to dying. Wash the shirts, but do not throw them in the dryer.
Use damp shirts – Make sure the shirts or other clothing articles are damp, but not sopping. You don't want the material being tie-dyed to be dripping wet when kids begin applying the dye.
Use rubber bands or strings – The unique tie-dye effect comes from tie the shirt or other articles of clothing. Rubber bands or strings can be used but must be tightly applied in order to achieve the desired look.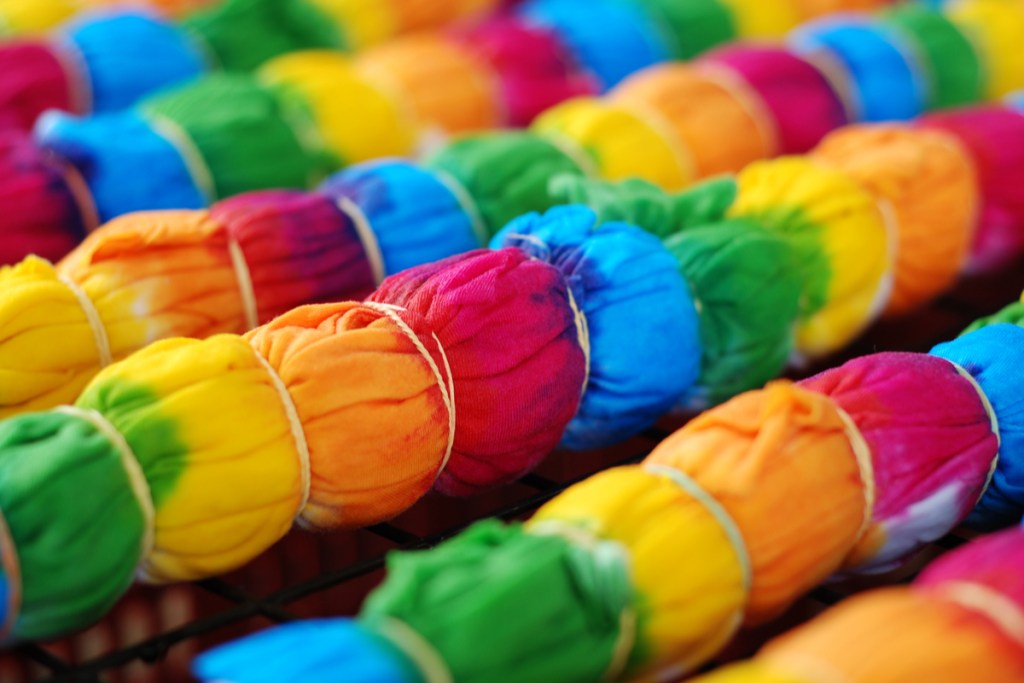 Applying the bands
Whether you use rubber bands or strings, how you apply the ties makes the design. Here are two simple designs.
Crumple – Crumple the garment into a ball and apply up to 10 rubber bands.
Accordion – Fold the garment back and forth like an accordion. Then, divide the result into four sections with four tightly wound rubber bands.
If you want to get creative with your tie-dye designs, try folding the shirt or garment in different ways and securing tightly with rubber bands or strings.
A color explosion
While tie-dye shirts offer a unique blend of colors, you don't want kids to just go crazy with the colors. Think back to those color wheels in art class. Colors adjacent to one another on the color wheel will blend better than colors opposite to each other. For example, pair yellow and orange together but not orange and blue. Blue is opposite from orange on the color wheel and the result would be a muddy mix. To make things easier for kids, print out a color wheel online to make applying the different colors easier. Of course, you can always let kids go a bit wild with the dye colors and see what pops, which is part of the fun of tie-dying.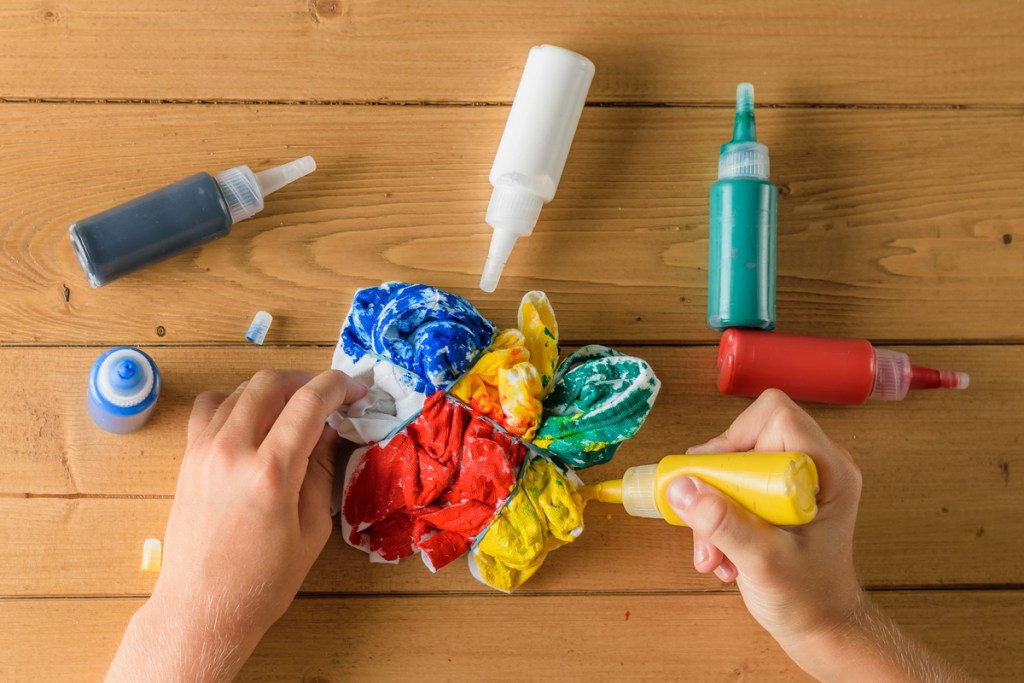 Applying the dye
Making sure the dye gets into the folds of the shirt or other garment is crucial. It's what will help make those trendy colorful designs.
Making your own tie-dye shirts is a fun activity to do with kids. Like glitter, using dye with kids can be very intimidating. Don't let the thought of a dye mess to clean up keep you from giving tie-dye a shot. With these tips in hand, tie-dying is not as chaotic as you might think. Puppy pads absorb the excess dye, which is what makes tie-dying so messy. Lay down disposable plastic tablecloths underneath the puppy pads and you have a workspace that cleans up in a snap. Those ready-made tie-dye kits are a top pick when tie-dying with kids on an afternoon or for a party. Kids will love the colorful results of their tie-dye efforts, too. Even a miss is a hit when tie-dying.
Editors' Recommendations