Love and friendship are always in the air, but especially in February. The romantic holiday has deep origins, dating all the way back to ancient times, but it's the English poet Geoffrey Chaucer who is given credit for turning St. Valentine's Day into a celebration of love. Today, Valentine's Day isn't just for couples. Kids enjoy celebrating Valentine's Day in class and at home with their families by exchanging valentines, playing games, and watching movies.
Do you know who sent the first valentine? It wasn't Charlie Brown. He has trouble getting one. The first valentine was actually a poem written in 1415 by Charles, the Duke of Orleans. He wrote the valentine poem for his wife while he was in prison in the Tower of London. It's currently part of a collection in the British Library. Valentines have come a long way since the 1400s, and the best valentines are handmade. Here are seven Valentine's Day crafts for kids to get everyone in the spirit of love and friendship this February 14.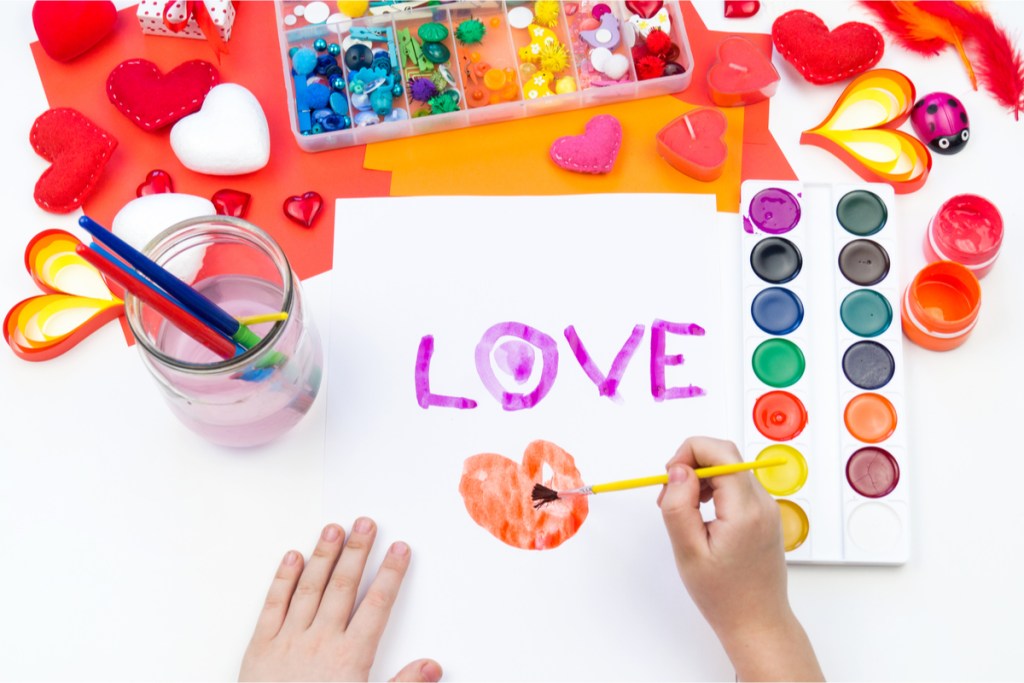 Valentine's Day craft ideas
Sponge painted heart
A handmade valentine comes straight from the heart and sponge painting is a quick and easy way to make a cute valentine or hang some holiday cheer around the house. Draw a heart to use as a pattern or use a template. Heart templates can be found online if needed. For younger children, trace and cut out a bunch of red, white, and pink hearts from construction paper. Other colors are welcome too. Older children can trace and cut hearts on their own. Take an old sponge and cut it into a heart shape. Heart-shaped sponges are easily found online as well. Place traditional valentine colors like red, pink, and white on paper plates. For simple cleanup, cover the table in a newspaper or a disposable plastic tablecloth. When ready to paint, kids can decorate the heart cut-outs by dipping them into the desired color paint and placing them down on the heart. Using different-sized heart sponges will make sponge painting more fun. To keep hands cleaner, attach a clothespin to each sponge before the painting starts. Allow it to dry before hanging. To make this craft into a valentine, older kids can write a message on the non-painted side. Younger kids can draw a picture or simply sign their names.
Valentine wreath
Brighten up the front door or make a sweet valentine for the grandparents by making a paper plate heart wreath. All that's needed is a paper plate, glue, and construction paper. For smaller children, cut the pieces ahead of time. Older children can trace and cut hearts on their own.
Using a template, cut out several small hearts. The hearts can be one color or two colors if making a pattern.
Have an adult cut out the middle of a paper plate.
Make a hole with a puncher and attach a red ribbon for hanging.
Glue on the cut-out hearts to cover the paper plate.
Valentine's Day is the perfect day for puns and this bee craft is really buzzing with love. This Valentine's Day craft from Easy Peasy and Fun makes for an adorable decoration or a lovely valentine for a parent, grandparent, or friend.
For a heartfelt valentine, try this sweetheart tree made out of fingerprints. It makes for a lovely sentiment solo or by adding a poem or message on the other side.
Candy heart frames
Need a heartwarming gift for the grandparents? Head to the local dollar store and pick up some inexpensive 5×7 or 8×10 frames. Using craft glue or a glue gun, apply glue all around the sides of a frame. Then, make a colorful border all along the frame using candy hearts. Allow the hearts to dry before inserting a photo. This Valentine's Day craft for kids is for all ages and makes a noteworthy gift.
Torn-paper heart
Keep the kiddos busy on those gray winter days leading up to Valentine's Day by making torn-paper hearts. Take white construction paper and trace or draw a large heart. Then, with red, pink, or different colored construction paper have the children tear the paper into different sized pieces. Using glue sticks, have the children fill in the hearts with the torn paper bits. The hearts can be one color or multi. For this project, allow children to let their artistic juices flow.
Puppies and Valentine's Day do go together. After all, didn't Charles Schulz say, "Happiness is a warm puppy?" Preschool Inspirations has a creative puppy love valentine that's made entirely out of hearts. Add in the googly eyes and you have a warm puppy that will spread some smiles on February 14.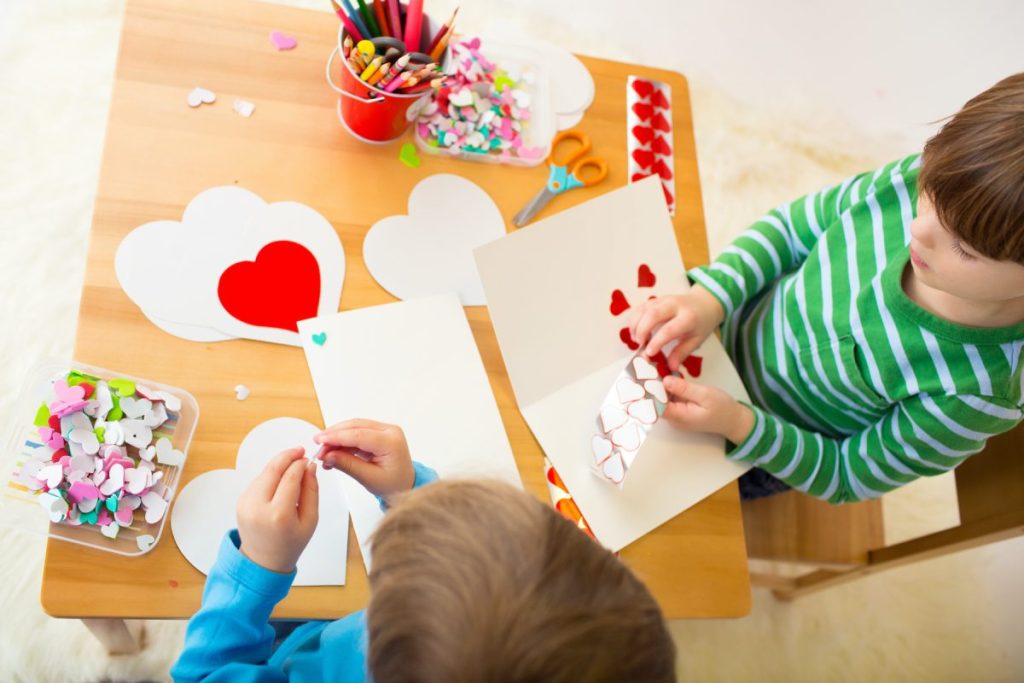 Other Valentine's Day crafts for kids
Need more inspiration for Valentine's Day?
Try these crafts:
Valentine's Day isn't just for couples anymore and creating crafts to celebrate love and friendship on February 14 is a wonderful way to brighten up winter while spreading smiles. Exchanging valentines is an age-old practice. Sure, store-bought valentines are great, but homemade valentines really do come straight from the heart. With these fun and easy Valentine's Day crafts for kids, you can deck the halls or make a loving valentine for grandparents, relatives, seniors, and friends.
Editors' Recommendations