Designing a boho nursery isn't as difficult as it seems. Sure, those Pinterest pics and Instagram feeds may make it look like you need a ton of style and a big budget to make a boho nursery happen, but that's not the case at all. With the right boho nursery decor, furnishings, and a little bit of creativity, you can create exactly the boho nursery that you have in mind — and even on a budget.
Don't believe us? Take a look at our five tips for designing a boho nursery that's every bit as good as what the pros might post.
Step 1: Narrow down your boho nursery decor vision (as much as you can)
Sure, you know you want a boho nursery theme, but let's get even more specific than that. After all, not all boho nurseries are the same. You could google this trend and find that no two nursery photos look identical. While they all have those key boho-ish elements running through them, you'll discover there are all kinds of interpretations of "boho."
There are girly boho nurseries with lots of pink and a touch of glam glitter. There are gender-neutral boho nurseries that play with a low-key color palette. There are boho nurseries that feature a lot of plants, some that work with tiny spaces, and some that work with huge spaces. Some sprinkle in Southwestern elements. Some lean more toward a modern, urban aesthetic.
Do a little more research into the boho nursery trend and try to nail down your desired theme a little more specifically. Then, you can begin weaving in those crucial boho elements that help tie your look all together.
Step 2: Pick out the big stuff
When designing a space, it's always helpful to make your big decisions first and then work your way down to picking out smaller pieces. So, for your boho nursery, throw some color up on the walls first, if you don't care for your walls' current hues. Most boho nurseries work well with lighter, more neutral tones, so steer clear of big, bold colors like fuchsia, sunshine yellow, or royal blue.
Also, go ahead and pick out your big, must-have furniture items: your crib, changing table, dressers, and seating. Again, go more neutral and natural, with some light wood tones, so that you can add in the more boho-y details on top.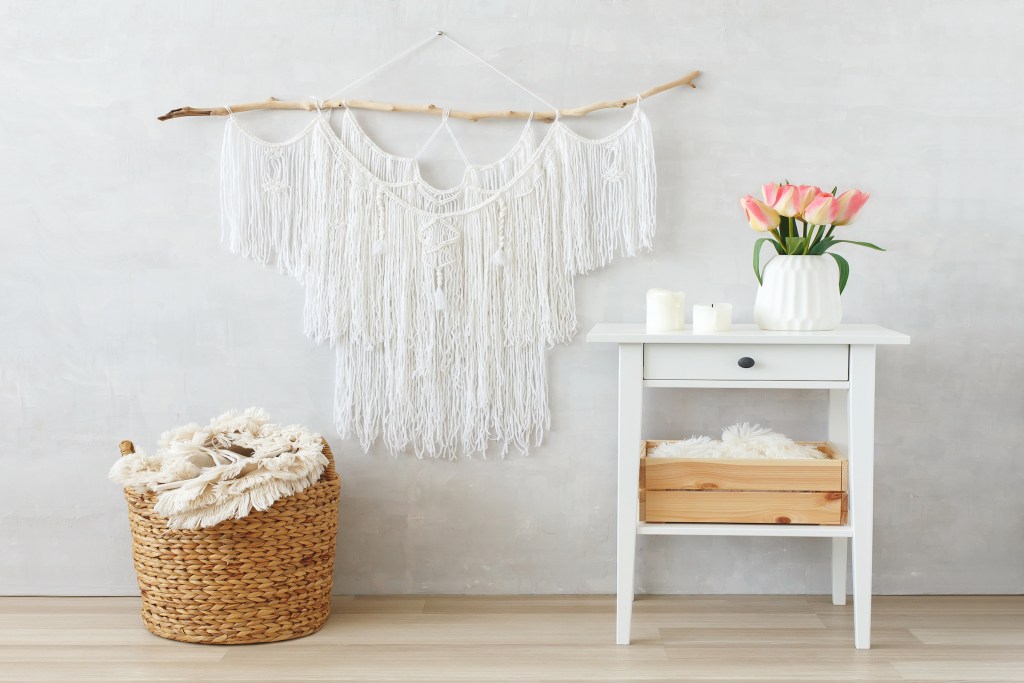 Step 3: Add some texture
Next, it's time to start adding some texture to your design. Think woven or braided baskets, or woven rugs and blankets (or all of the above). Braided baskets in natural fibers can make a handy place to store baby toys or blankets near the crib or nursing seat. Woven blankets, faux sheepskin, macramé accents, and tapestries make for great wall hangings or accent pieces elsewhere.
When it's time to pick bedding, rugs, curtains, and the like, look to Southwest- and indigenous-inspired patterns and embroidery, as well as more natural-looking and feeling fibers. As the boho decor trend has become so popular in recent years, you'll not need to look far to find them. Your favorite home goods store should have exactly what you need.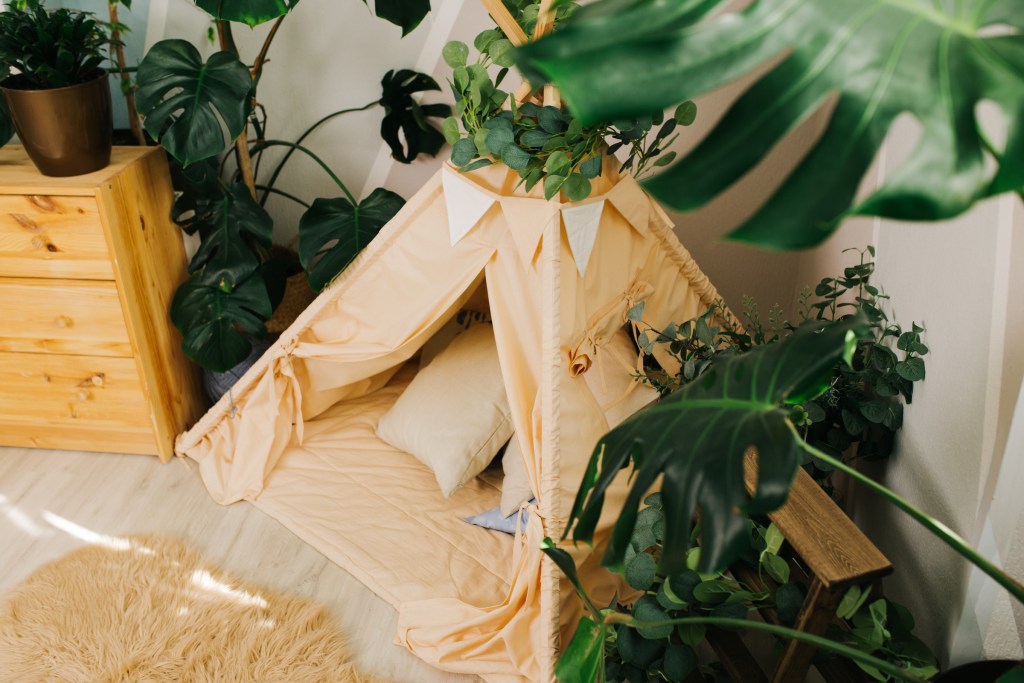 Step 4: Accessorize with plants
You may not want a ton of plants in your new nursery — who needs all those extra things to take care of when you have a new baby on your hands, after all? However, a few or even a fake plant or two can really add some color to your boho scheme, especially if you find you're lacking a pop of brightness.
For safety's sake, you'll want to go with houseplants that are non-toxic. Popular (and easy to care for) house plants that might make a good addition to your boho nursery include Christmas cacti, spider plants, and burro's tail succulents.
Step 5: Throw in some artwork
Really, any artwork can blend into your boho theme, so long as you stick to items that work within your chosen color palette (whether you're leaning heavily on neutral tones, light pinks, blushes, sages, sky blues, or other earth tones). Abstract artwork is an easy addition, but you can also do black-and-white portraits of wild animals, for example. Those types of portraits are becoming especially popular in home decor stores and you can find portraits of cattle, llamas, horses, and other animals, all suitable for a chic boho space.
Can't find any paintings or photography you like? Try adding some braided basketwork to the walls.
Creating a boho nursery is easier than you think
Wasn't that easy? Creating a boho nursery doesn't require a stellar sense of style or a degree in interior design. You just need a little creativity and to start with the big-picture pieces before narrowing down to the more boho-requisite accessories. So, what are you waiting for? Consider how you interpret the boho nursery decor trend and how you'd like to make it your own, and then start shopping.
Don't think the boho decor trend is your thing after all? Check out our tips for creating a farmhouse-style nursery in just as many simple steps.
Editors' Recommendations