Designing a beautiful nursery doesn't need to be an expensive endeavor. You can spend less than $600 and still create a visually pleasing, soothing space for you and your new baby to enjoy in the months to come — even if you decide to go with a farmhouse theme.
Forget what you thought you knew about farmhouse nursery decor. Thanks to a few HGTV superstars, the rustic chic farmhouse style is all the rage again, in all its shiplapped glory. You'll find farmhouse decor overtaking entire homes, available at your local Target and between the pages of your favorite interior decorating magazines — and, now, in your nursery, too. So, say goodbye to cartoonish barnyard animals, because that's not what a farmhouse nursery is about these days. Here's how to design an HGTV-worthy farmhouse nursery for less than $600.
Step 1: Nail down your exact style
You might think that "farmhouse" is specific enough, but when you're trying to design a space on a budget, specificity matters. Go beyond your mere farmhouse dreams and get down into the nitty-gritty of your vision for your baby's space.
Do you want more of a rustic glam farmhouse look? Then you might want to add in a few sparkly, glittery accents to offset your white-washed shiplap walls.
Do you want to go ultra-contemporary with your farmhouse look? Accent your exposed wood and neutral color palette with brushed copper lighting and Edison bulbs.
Want to blend your farmhouse style with a geographic theme, maybe to reflect you and your partner's favorite part of the world? Go Rocky Mountains with a mountain mural on one wall, southwest with some subtle cowboy theme, or southern with some Mason jar accents.
Whatever your exact farmhouse style, nail it down before you begin shopping for farmhouse nursery decor.
Step 2: Paint your palette
First on your to-do list: Brighten up those boring, white walls. Not everyone has the time, money nor energy to shiplap or whitewash or brick up an accent wall, so we turn to paint or paper to get the job done.
Wallpaper is easier than ever to incorporate into your nursery and makes for a great accent wall, even if you leave all the other walls in your nursery white or beige. One farmhouse theme-ready wallpaper option is this checked pattern from Magnolia Home. An $88 roll can cover up to 56 square feet of wall space, typically enough to cover one accent wall.
If you don't care for the picnic gingham look, you might want to go for this exposed wood wallpaper that's the same price.
And if none of the above are a good fit, you can always go to your local hardware store and pick up a gallon of paint in the hue of your choosing, for as little as $15.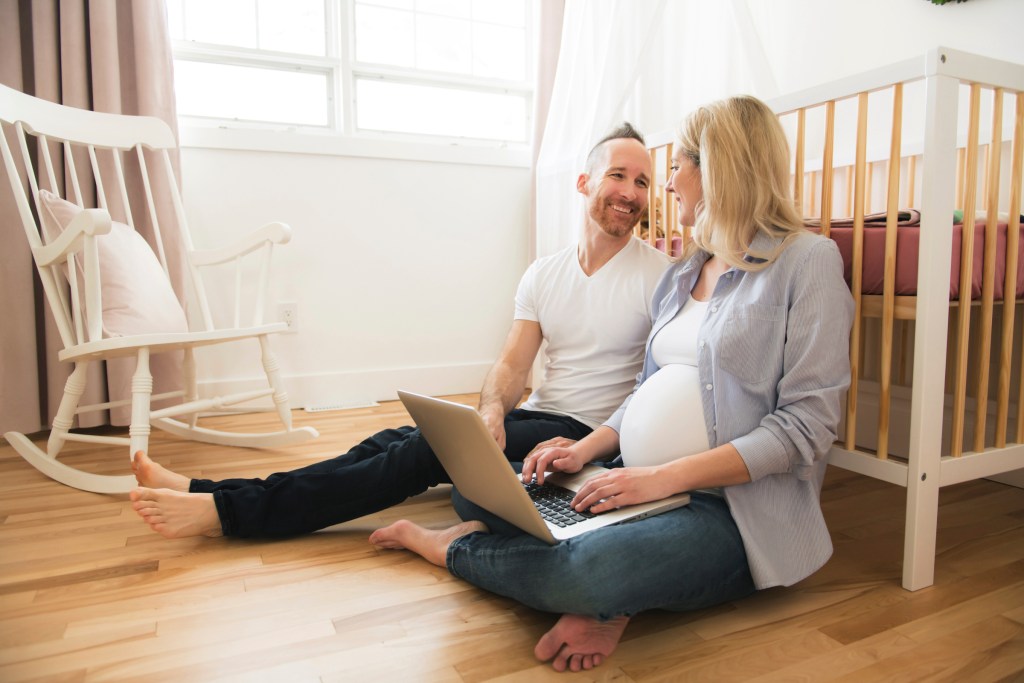 Step 3: Grab your big pieces first
Purchase your largest nursery decor pieces first. Think furniture, such as a crib, changing table, and feeding chair. What furniture you want and need will depend on things like the size of your nursery, as well as your budget.
While you might not be able to find those large pieces in what you might consider an overt farmhouse style, try to keep the big picture in mind. The farmhouse theme comes from all of the decor working in tandem, not just one focal point.
Look for wood details. If you want a brand-new crib, maybe consider this option from Target. At $400, the crib is a great investment, as it converts from a crib to a toddler bed to a daybed.
For your other big pieces, look to antique stores and thrift shops, where you can often find dressers, changing tables, and seating that, with a little bit of DIY love, makes the perfect addition to a farmhouse nursery, on the cheap.
Step 4: Add in some accents
Lastly, it's time to add some accents. Once your walls are painted or papered and your larger furniture pieces are in place, you'll likely be able to see your farmhouse nursery vision coming together.
Consider adding farmhouse-style lighting fixtures, whether you go with a bedside lamp or wall sconces. For larger spaces, this set of two bedside lamps is a great deal for $100.
For smaller spaces that require wall sconces, these Mason jar-inspired sconces (which come in a set of two as well) are a nice option at $50.
A rustic rug makes everything a little cozier, as do throw pillows and blankets in your nursery's color scheme. Magnolia Home offers some beautiful rugs starting at $79, as well as pillows and throws starting as low as $25 if you can catch them on sale.
A little farmhouse-ready artwork and wall hangings are the icing on the cake. Check Etsy for affordable options starting at under $25.
The right nursery decor sets the stage for your first days at home with your
new baby

Welcoming a new child into the world is stressful enough as it is. You don't want your nursery to create more stress on top of all the other stress you have. Take your time ahead of your child's birth to create a soothing, relaxing space where both of you can enjoy a little quality time, peace, quiet, and tranquility. You'll be glad you put in all the effort once it's late at night and you're trying to soothe a newborn to sleep.

Looking for more nursery decor ideas? If the farmhouse vibe isn't really your thing, check out our ideas for a rainbow-themed nursery.
Editors' Recommendations