If you're not interested in decorating your newborn's nursery with babyish pieces, you're not alone. More and more, modern parents choose to give their child's room an upscale look with a country theme. After all, you also spend a lot of time in there. If you want to give your baby's room a country chic makeover without major renovations, we have some easy ideas to turn the nursery into a space where you feel comfortable and relaxed. With our tips, y'all can turn your baby's room into a rustic nursery that's as country as cornbread.
Plaid curtains
Nothing says country charm like plaid fabric. Dress your nursery windows with plaid curtains that feel cozy and match your color scheme. This quick-and-easy trick has an instant effect on the whole room.
For an extra rustic vibe, pair the fabric curtains with wood or bamboo blinds. They add warmth to the nursery while keeping the sun and sound out of the room. This helps your baby sleep better at night. During the day, you can always open the blinds to let the sunshine and fresh air into the room.
Antler hooks
With so much baby gear around the room, hooks are a great way to keep things organized. Give the nursery a Southern flair with antler hooks that are as decorative as they are functional. Choose a metal or natural finish to match the rest of the room and add a bit of texture to your walls.
Rustic laundry basket
If there's one thing you'll always have with a baby it's laundry! Use your baby's hamper as an opportunity to add a touch of personality to their nursery. You can also use these baskets as storage for toys, blankets, or pillows.
These are some of the best materials that'll go great with a country style:
Seagrass
Canvas
Metal
Wire
Oil lantern
If you can't take a walk in the countryside with an oil lantern to light the way, the next best thing is to use one to decorate the room. Use a vintage lantern as a tabletop accessory or get an electric version and install it in the room. These beautiful pieces give the nursery an authentic feel and add light anywhere you need it.
Tent
What child doesn't love a tent in their room? As your baby grows, they'll want a space with a bit of privacy for them to play, read, or nap. With a canvas tent, you can create an adorable space that matches the room's country theme.
If you're crafty, you can make the tent yourself. All you need is plenty of fabric and three wooden poles to give your child a dreamy play space. Add some string lights and you've got the best indoor camping spot of the neighborhood.
Bedding

Your baby's bedding set is a big part of the room. It's also a great opportunity to add a country twist that matches your personal style. Whether that's animals, plaid, or arrows, there are many bedding fabrics that you and your child will love.
Give the country theme a boost with quilt-style comforters that resemble the charm of a bed and breakfast. They add texture to the room and keep baby comfy while they sleep.
Wall decor
Walls offer the perfect opportunity to decorate your child's room. There are many decorative accessories that match the country theme you're looking to create:
Macrame accessories add texture and make walls more interesting.
If you're feeling artsy, paint a mountain mural on a wall for a striking look.
If you'd rather not paint, a rustic wallpaper also does the trick and takes less work.
Need extra storage space? Hang some metal bins next to the changing table for the perfect place to store diapers.
Cute animal pictures give the room an authentic country feel and help your child learn about animals.
Crafty parents can make their own rustic picture frames with branches and a glue gun.
Wooden toys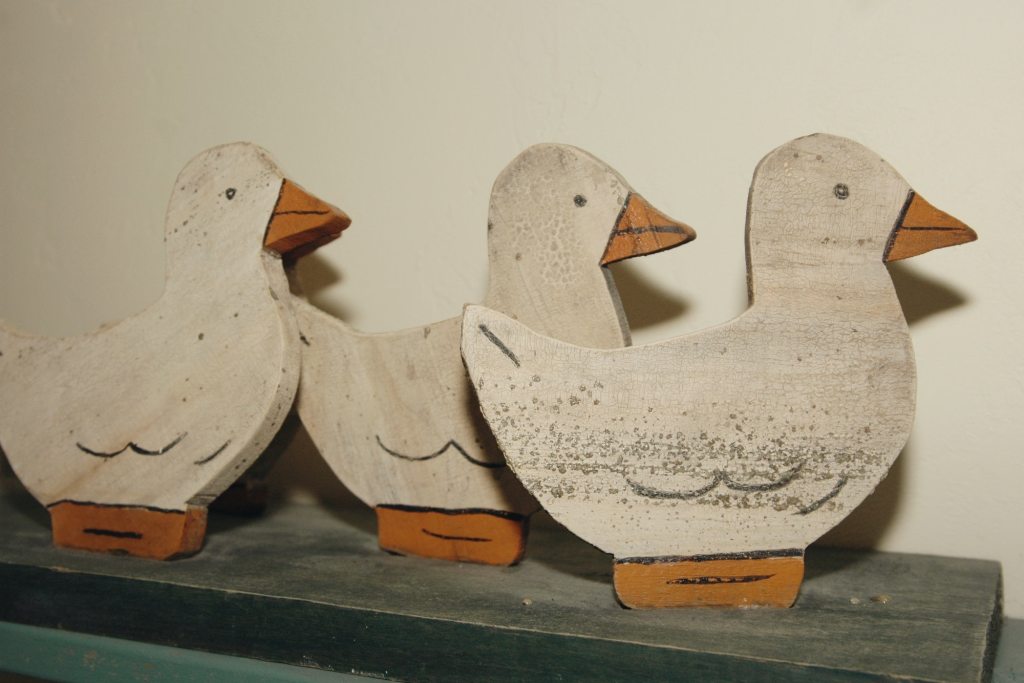 No child's room is complete without toys. When you're going for the country look, choose wooden toys to match your decor. They're an eco-friendly alternative to plastic toys and enhance the rustic look of the room.
If you're feeling a bit extra, add a rocking horse. Choose a plush or all-wood rocker and watch your child enjoy hours of fun with this old-school toy.
Rocking chair
No country home is complete without a rocking chair. A rocking chair in your child's room helps you put your baby to sleep and is relaxing for you both. Add a leather poof to rest your feet and transport yourself to a porch in the deep South.
Sheepskin rug
No makeover is complete without the right floor accessories. A sheepskin rug gives the room a country touch that'll come in handy when your baby starts crawling. Place your child's activity gym over the rug and watch your little one enjoy their play time.
And that's how you transform your baby's room into a stylish country nursery! A few small changes can add a bit of southern comfort to your child's space and a ton of personality. They create a relaxed environment that's contemporary, sweet, and feels like you. All you'll need are some country lullabies playing in the background.
Editors' Recommendations