A cute baby room doesn't have to be traditional. If you're a modern parent looking for trendy nursery decor, a rustic vibe with an upscale feel is right for you. Don't think folksy and baby work well together? Think again! We've got six of the best rustic baby room inspirations to bring this stylish trend to your nursery. With these ideas, you'll create a relaxing and charming space that you love and that grows up with your little one.
Wood everywhere
Nothing says rustic like wood. Whether you choose to go with a pine, walnut, or oak finish wood, it always adds warmth to any space. Add strategic lighting for a soft glow that complements the lumber feel and eases your little one to sleep.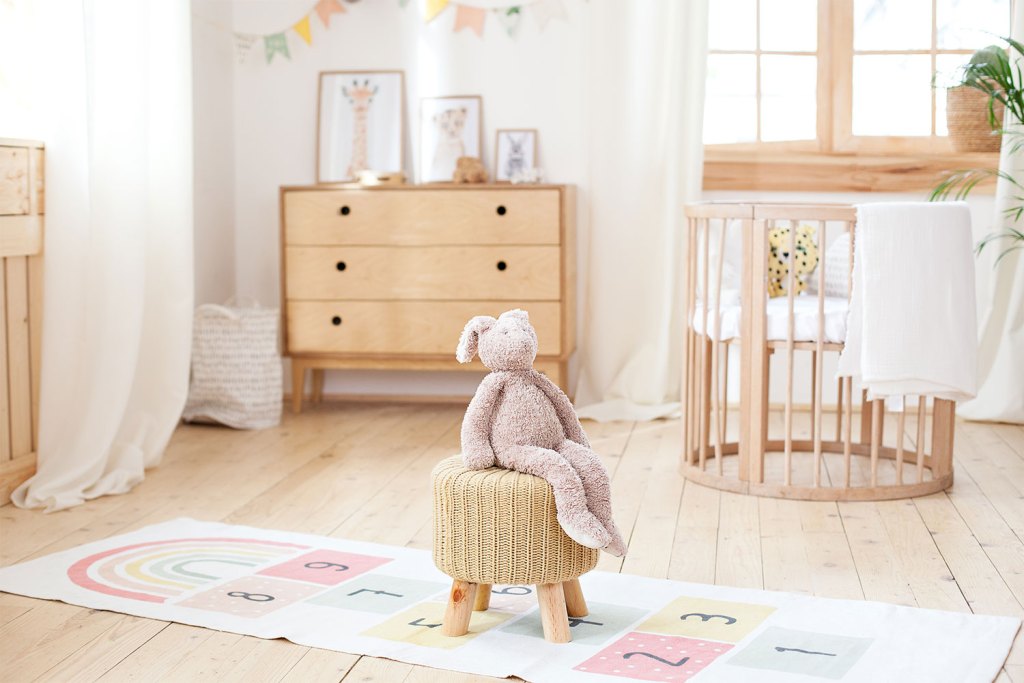 While furniture is the obvious place for wood, there are many other places where you can add wood to your nursery. Here are some ideas to give your baby's room a cozy cabin mood using wood:
Laser cut geometric animal heads look modern and cute.

Imitation wood wallpaper dresses the entire room.

Blinds or window shades let you control how much light you allow into the nursery.

An old-fashioned rocking horse is a classic for any baby room.

Baby mobiles keep your little one entertained while in their crib.

A decorative fireplace gives the bedroom a homey feel.
Plaid for days
In deep colors or pastels, plaid is a classic rustic fabric that looks great in any nursery. One of the best things about plaid is that you can find it in any color scheme. If you already have shades in mind for your little pumpkin's nursery, these are some decorative elements that look great in plaid:
Nightstand lamp shade

Hand-made rag tie banner

Quilt

Decorative pillows for your rocking chair

Changing pad cover

Curtains

Faux leather accessories
If you're looking for timeless elegance, there's nothing quite like leather to deliver. Even in a baby's nursery! Leather doesn't have to be serious or stuffy if you use it sparingly and in the right spots.
These days, you can choose faux or vegan leather accessories for eco-friendly decor with the same handsome feel. Here are a few places where leather will enhance your rustic nursery:
Boxes for knick knacks

Picture frames

Dresser handles

Cowhide rug

Recliner or rocking chair

Curtain tieback straps
Galvanized metal details
The vintage vibe of galvanized metal gives an outdoorsy feel to your interiors. And your baby's nursery doesn't have to be the exception. If you want your little one's bedroom to feel naturally rustic, little galvanized metal details add the right amount of shine.
Here are several ideas for metal objects that are as fashionable as they are functional:
Clock

Tabletop initials

Fan

Laundry basket

Organizer bins

Planters
Country wall decor
Walls offer excellent decorative opportunities for any room. Especially in your child's nursery, the walls help set the tone for you, and it doesn't have to be all pictures. The possibilities are endless when you take wall decor to the next level.
Here's how to do it in your little one's room:
Macrame wall hanging

Dream catcher

Themed murals

Framed animal illustrations

Maps

Guitar
Texture
Coziness is a must for all baby nurseries, but it's extra important if you want to create a rustic vibe. With different textures, you can give your nursery a homey feel that gives your little one the fuzzies. They also bring the whole look together in an effortless and elegant manner.
Here are the most original design tips to add texture throughout the room:
Tree trunk table

Recycled chindi rug

Throw blanket over your rocking chair

Giant teddy bears on the floor

Burlap crib skirt

Natural fiber storage baskets
There's nothing like a cozy baby room to help create a comfortable nursery where parents and children love to spend their evenings. For a modern vintage look, rustic decor is a lovely alternative. It delivers an age-appropriate ambience that looks stylish at the same time. It's also a great way to create a nursery that easily evolves with your child as they grow up. With a few small changes, your little one's rustic nursery can turn into a school-age or even teenager room that your child is sure to love and make their own.
Editors' Recommendations