Let's face it — baby toys can be pricey, but also, in many cases, necessary. Think about it: How many times have you distracted your baby with his or her favorite toy while you've been trying to get something done or keep them quiet? Homemade toys for toddlers and infants are some of the best bets for keeping your little one happy. What are your baby's favorite toys teaching them that you can't really teach them yourself with great DIY baby toys? From fine and gross motor skills to colors and animal sounds, you can teach them anything?
Toys are necessary for your baby's development (and your sanity), but if you're cringing at the thought of buying a toy box full of toys, just for your baby to grow out of them in a few months, we have a few ideas. You can make these six DIY baby toys this weekend, with little crafting skills and just a quick trip to the craft store.
Homemade rattles
Babies love rattles and all that endless noise. When your baby loses their favorite rattle, replace it with a homemade one that comes together in a snap.
Take an empty toilet paper or paper towel roll, or even a plastic food cylinder (like the ones that oatmeal comes in), clean it (the more colorful the tape, the better), and then cover the exterior with some bright paper as well. Fill it with dried beans, tape it shut, and let your baby have some fun, rolling, rattling, and tossing their new toy to their heart's content.
Sensory boards
As your infant is getting accustomed to exploring the world around them via touch, a sensory board can be a fun toy that will keep them entertained for ages. Use a large piece of sturdy cardboard or plywood (whichever you think will be sturdy enough for the items you attach) and add items using hot glue. You'll want to add items that will engage your baby and items that vary in texture and function.
Potential items to add to your sensory board include a (locked) combination lock, so your baby can turn the dial, a compact mirror; a string of beads; pieces of felt; hair scrunchies; carpet squares; feathers; bath loofahs; google eyes; buttons — really anything that has an interesting texture or movement will do.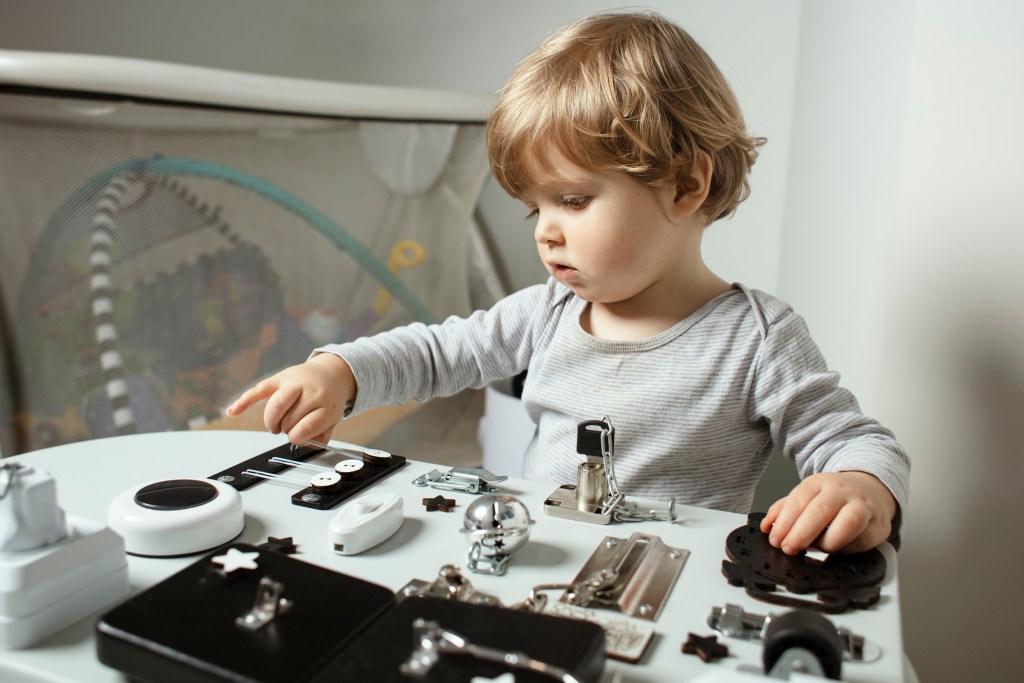 Fabric balls
If you'd like to practice your sewing skills, give this craft project a try. Cotton, fleece, or jersey knit fabric comes together in colorful triangles to form plush balls of various sizes. They're soft, gentle, and can be made by either hand or sewing machine, whichever you're most comfortable using. Plus, these fabric balls are a great use for any fabric scraps that you may have leftover from another DIY or crafting project.
Tag blankets
Another easy sewing project, making a tag blanket is also one that you can do without a sewing machine. A simple blanket (that you can make to whatever size you want), you simply sew folded ribbons between two rectangles of fabric, and then stuff the fabric with a crinkly, crunchy material (this tutorial uses an empty baby wipes packet). The result is a toy that teaches your baby fine motor skills as they tug at the tags, but one that'll also delight them with all the extra noise.
No-sew quiet books
For when you want to keep your baby quiet and occupied, but you don't necessarily want to sew anything, a no-sew quiet book might be exactly the DIY toy you're looking for. All you need is a pen, felt, scissors, hot glue, and velcro. This tutorial shows you how it all comes together in a quick hour or two. Once the base of the book is complete, you can fill it with fun sensory items for your baby to play with, from sewn buttons to more felt shapes to strings of yarn — you're only limited by your imagination.
A wooden baby gym
Do your crafting skills trend more toward woodwork than sewing? Try out this DIY wooden baby gym tutorial. It's chic and minimalistic and would go great in any gender-neutral nursery. You'll need a few power tools, but if you're already into woodworking and home DIY, you probably have them on hand anyway. This is a truly impressive DIY project for any weekend.
Get crafty this weekend
Making homemade toys for toddlers and infants doesn't have to be difficult. With a bit of time, a trip to the craft store, and some love, you can put together a few DIY baby toys that not only save you a little cash but also look great and maybe even save some craft scraps from the trash. Your baby certainly won't know whether their new toy is an up-cycled oatmeal container or something you purchased for $30 at the department store.
These ideas are all you need to jumpstart your creativity and introduce your baby to a world beyond the crib. Using household items, you can make anything at home that you can buy outside of it. Need more homemade toy ideas? Check out our article on unique egg carton crafts that are so easy, your preschooler can make them.
Editors' Recommendations