When it comes to pre-teens, thinking up, planning, and executing lunch ideas for your middle schooler can sometimes feel mundane and chore-like. It's no wonder that parents struggle to come up with interesting, new, and healthy lunch ideas for their hungry kids each day. Doing just that — day after day — can become extremely tedious in a short amount of time, causing parents to burn out or lose interest in creating fun and different meals for their kids. Not only can fresh meal ideas liven the feeling around the kitchen of "same old, same old." It can also create opportunities for conversations with your children while including them in the prep and planning of their weekly mid-day meals. Ask questions about what your child may like to see in their lunch bags, and invite them to join you in the kitchen to whip up some of these delectable bites.
Healthy lunch ideas for middle schoolers
Deli-wrap pinwheels
These fun, simple, and handheld tidbits encompass a healthy sandwich in easy-to-eat, bite-sized pieces. This makes it easier to eat and save, should your child not finish their food at lunchtime. You'll need a tortilla shell — any kind will work, our favorite is the whole wheat option — sliced or chipped deli meat, sliced cheese, any toppings your child likes such as lettuce or tomatoes, and a dressing or condiment if desired. Start by selecting deli meats your child enjoys, adding a slice or two of each kind to the laid-out tortilla shell to customize it. Top the sliced meat with your kid's favorite sliced cheese. Provolone, gouda, or sharp cheddar cheese make great options. Top the cheese with your child's desired toppings and condiments, roll up the tortilla, and slice it into 2-inch pieces. Serve with fruit, chips, pretzels, or veggie sticks.
Mini-charcuterie box
If your child is a grazer, in the sense that they like to eat lots of smaller items like cubed cheese and sliced vegetables and less of a structured meal, now is the perfect time to supply them with their ideal lunch. Begin by gathering all your child's favorite cold cuts, cheeses, fruits, dips, and spreads, and cut them into bite-sized pieces. A variety of cheese and meats can help add depth to the meal, giving your child the option to mix and match different flavor combinations. Grapes, mandarin oranges, blueberries, strawberries, sliced melon, or apples give a sweet note to the dish. Hummus, dips, or a simple cup of ranch dressing can jazz up sliced peppers, cucumbers, carrots, or celery added to the mix also. Toss in a few of your child's favorite crackers for a crunch factor.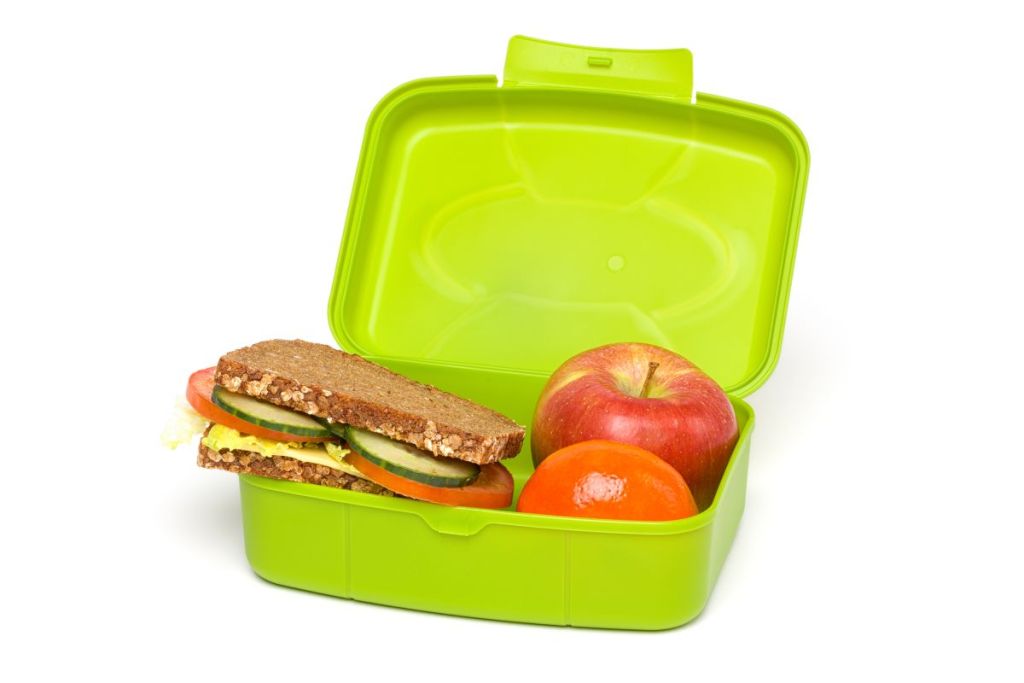 Pasta salad
This picnic favorite doesn't only have to be used during the hot, summer months. Pasta salads make great school lunches for the simple fact that they encompass most of the food groups in one dish. Protein, dairy, fruits, vegetables, and grains are all included when preparing such dishes. While your family may already have a favorite recipe to choose from, there are other options out there to which we'd like to highlight. Ree Drummond's "kid-friendly" version includes bacon — yum! — cheddar cheese and sweet cherry tomatoes paired with a creamy-style dressing your kids will love. Also, this easy-to-follow Italian-style pasta salad includes pepperoni, olives, and peppers in conjunction with your kid's favorite pasta shape for a very flavorful bite.
This delicious nod to one of our favorite Tex-Mex style restaurants is perfect for kids who love the blend of beans, corn, rice, and pico. Burrito bowls are a super easy dish to make that can effortlessly be placed into lunch containers, while also being meal prep friendly. Take this recipe and apply it into your own household with help from your pre-teen on planning the ingredients, as well as prepping the week's mid-day meal together. By doing this work ahead of time, not only are you teaching your child time management skills, but you're also saving yourself mid-week fights and arguments over what's for lunch. Additionally, by including them in your plans, kids are more likely to stay involved in the process, while enjoying their fun, fresh, and healthy choices while sitting with their friends in the lunchroom. Consider zesting up the recipe by including leftover taco meat, grilled chicken, steak, or shrimp, blended cheeses, hot sauces, and spices to their liking.
What pre-teen doesn't like to feel a little elegant and stylish in the lunchroom with fancy-style meals? If your child is a sushi lover, then we have a great option to mix up the boring and same-old lunchtime routines. This California roll in a jar recipe is perfect for make-ahead meals and ideal for prep the night before. Because the Cali-roll does not use any actual raw fish, it makes it great for meals on the go without the worry of illness. The uncooked fish is replaced with cooked lump crab meat, and for Cali-roll lovers, that's just fine. Once you've gathered the ingredients, simply layer them in a plastic container or mason jar, refrigerate, and enjoy. Add to a bowl and toss if that's your style. Additionally, soy sauce, pickled ginger, or julienned carrot make awesome additions to this dish.
Whether your child is a fan of Mexican or Asian cuisine, or just enjoys a tasty pasta salad as their mid-day meal, this list of ideas should get the idea ball rolling for more fun and creative ways to plan, prep, and build your middle schoolers packed lunches. These recipes are also perfect for prep as a team, making the steps go quicker, and getting some essential bonding time together as a family, doing simple day-to-day activities.
Editors' Recommendations