It's always sad to see summer go, but when that autumn chill starts putting frost on the windshield in the morning, it's definitely time to welcome fall. So, dig out the sweaters, toss an extra blanket on the bed, and order a pumpkin coffee. It's OK because it's officially autumn now.
Fall is also a wonderful time to change up the menu with some tasty new dishes. Now, don't worry. Autumn schedules are a lot busier than summer ones with sports, after-school activities, and homework, but fall recipes don't have to be time consuming and complicated. With these yummy and easy fall recipes, the family can warm up around the table.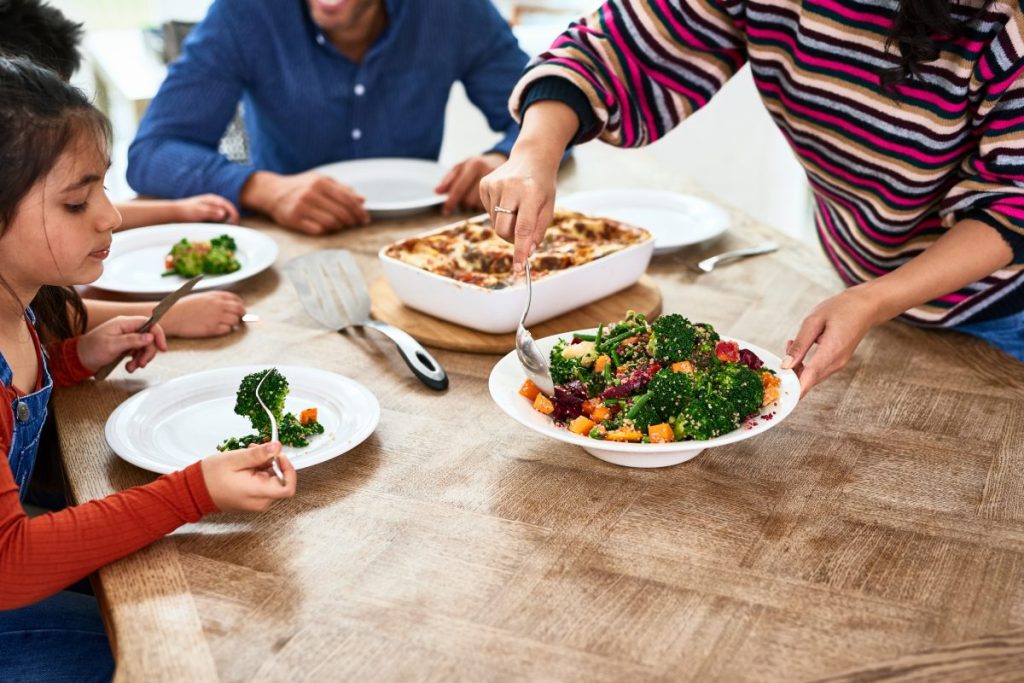 Fall dinner ideas
With crazy school, sports, and work schedules, it can be really difficult to make dinner every night. Eating home-cooked meals is healthier and more budget-friendly. Cooking dinner doesn't have to take a lot of time either. Using a crockpot can be a timesaver and so can simple recipes. If you're looking to spice up the dinner table now that summer has said goodbye, try these delicious and easy fall recipes.
Grilled cheese with apple and bacon
Need a quick and delish fall-inspired dinner before soccer practice? Try adding bacon and Granny Smith apples to your grilled cheese. Food Network has a simple recipe that you can adapt to suit your family's favorite cheese and bread. You can also switch out the Granny Smith apples for the kiddos' top apple picks. Of course, nothing goes better with grilled cheese than tomato soup. Turn these grilled cheese sandwiches into a complete meal by adding a bowl of tomato soup. Food Network also has a spoon-worthy recipe for roasted tomato soup. If you don't have time to make a home-cooked pot of tomato soup, canned or boxed works well, too.
Pumpkin pasta
If you want to add a fall twist to the dinner table this autumn, there definitely should be some pumpkin involved. Pumpkin is, after all, the fall fruit and considered a superfood because of its nutritional punch. For a low-fuss meal that only takes about 30 minutes to get on the table, try the Almond Eater's recipe for pumpkin pasta. You can use your family's favorite pasta for the recipe and skip the sausage if the kiddos aren't into it. Pumpkin seeds make for a crunchy topping.
Pumpkin chili
Chili is an autumn staple. It's the perfect weeknight or weekend dinner and will certainly take away the fall chill after the local football game. Paleo Running Momma has an easy pumpkin chili recipe that can be on the table in 40 minutes. This fall recipe has a 10-minute prep time and uses only one pot.
Baked mac and cheese
Macaroni and cheese is a kid staple. It's also a comfort food earmarked for the fall. Skip the boxed mac and cheese and make a homemade version instead with Chunky Chef's recipe. This recipe doesn't take long either. Dinner can be ready in about 35 minutes. Sprinkle pumpkin seeds on the top for a fall touch. Add a side salad to slip in the veggies.
Sheet-pan chicken and Brussels sprouts
If you haven't discovered sheet-pan cooking yet, fall is the ideal time. A sheet-pan dinner is a perfect pick for busy weeknights and has the proteins, vegetables, and potatoes cooking all in one place. That's a weeknight score for cleanup. For a new autumn favorite, try Seasonal Cravings' sheet-pan chicken and Brussels sprouts recipe. Even those super picky kids will dig in.
Sheet-pan pork chops with apples
Most families head out for some fall apple picking. If you've got a stockpile of apples on hand, this sheet-pan pork chops with apple from Delish is a definite do. The recipe takes about 10 minutes to prep and pop into the oven. With a preheated oven, you can have dinner on the table in around 35 minutes.
Autumn slow-cooked beef stew
Stews are a great and healthy addition to the fall dinner menu. Of course, making stew can be time consuming, but not when you use a crockpot. A Taste of Home's autumn slow-cooked beef stew recipe is a perfect Monday night dinner. Since it takes about a half hour to prep, you can get it ready on Sunday night. Set the crockpot to start simmering before you head out the door for work and school. The recipe makes 8 servings and is ready to eat in 6 hours.
Sloppy Joes
Another fall dish that warms the toes is sloppy Joes. The perk of sloppy Joes is that it's a relatively quick meal to make on those busy autumn nights. Eating on a Dime has a quick and tasty sloppy Joes recipe that only uses three ingredients. For added flavor, you can chop up green pepper and onions. Pair with a salad or sweet potato fries for a complete dinner.
Crockpot pumpkin soup
Soup and sandwich night is delicious and simple for a back-to-school fall night. If the kiddos have embraced pumpkin, try this crockpot pumpkin soup recipe from Rachel Cooks. It only uses five ingredients and cooks in the crockpot on low while you're at work. You can speed up the cook time, if need be, by using the high setting. Pair this delicious, healthy soup with the family's favorite sandwiches.
Broccoli cheese soup
Looking for a quick fall dish that gets the kids to eat veggies? Try this broccoli cheese soup recipe from Spend with Pennies. It only takes 20 minutes to make and includes broccoli and carrots. The creamy cheese will have the kids overlooking the veggies slipped into the soup. This is another perfect homemade soup for sandwich night, though it can stand alone, too.

Other fall recipes
Pumpkin really is king in fall, and we don't mean Linus' Great Pumpkin. If you're looking to add that pumpkin superfood and other autumn favorites to breakfast, try these fun fall recipes.
Enjoy fall family dinners
Once the kids head back to school and their activities, weeknights get crazy. It can be hard to make home-cooked meals with busy schedules, but eating at home is healthier and easier on the budget. Crockpot and sheet-pan recipes make getting dinner on the table faster and autumn is the ideal time to try fall recipes. With these fall dinner ideas, you'll have plenty of inspiration.
Editors' Recommendations