"What's for dinner?" is one of the most daunting questions any parent faces at the end of a busy day. Let's face it, it can be a struggle to find meals that everyone in the family will not only eat without complaint and enjoy but are also quick and relatively easy to make…plus won't break the budget. If you haven't made a tater tot casserole before, you will definitely want to add this tasty dish to your meal plan repertoire.
After a long day, not everyone wants to spend endless hours in the kitchen whipping up a meal that won't be appreciated, which is why a tater tot casserole is such a welcome addition to your family's recipe book. Everyone will gobble up dinner after you make one of these tater tot casserole ideas. If you've been looking for a tried and true recipe that the kids are sure to love, tater tot casserole may be just what you're looking for.
What is Tater Tot casserole made of?
If you've never had a tater tot you don't know what you're missing. Tater tots, which is an actual brand name trademarked by Ore-Ida back in 1953, are tiny (hence the word tots) oval-shaped snacks made of grated potatoes that are then deep-fried. While tater tots have often been served as a side dish, similar to their potato cousins french fries and hash browns, tater tots have evolved over time to the main course with the creation of the tater tot casserole. The beauty of a tater tot casserole is that you can modify the ingredients a bit to cater to your family's preferences, but most recipes typically call for some form of ground meat, a cream-based soup, and definitely cheese. Some people will even use tater tots as a substitute for mashed potatoes in shepherd's pie.
What goes well with Tater Tot casserole?
Depending on what you put in your tater tot casserole you may not need to serve anything with it. The beauty of this dish is it can totally be a one-pot meal, which is great for busy nights where you need something quick and easy to serve the family but still has protein and vegetables. If you incorporate meat and vegetables in your tater tot casserole you may want to simply serve a light salad on the side or even just a loaf of crusty bread.
How to make a Tater Tot casserole
Although recipes can vary, typically a tater tot casserole is made by layering your ingredients in your pan. You would brown your ground meat of choice and add that to the bottom of your pan, then you can either mix your ground meat with your cream soup or layer the soup on top of the ground meat. If you want to add veggies to your tater tot casserole you would then layer the veggies, followed by a layer of tater tots. Finally, you would top your casserole with cheese of your choice then bake in the oven until your tater tots are golden brown.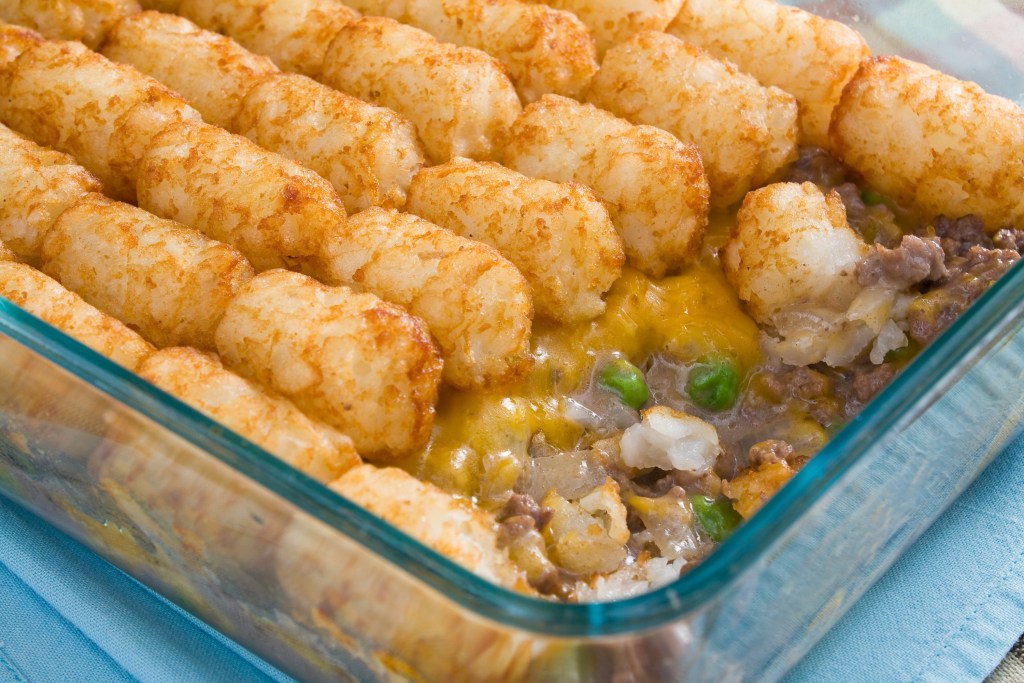 What goes well with tater tots?
If casseroles aren't your thing, tater tots are still a delicious side dish you can serve alongside a number of dishes, especially any dish you would serve with potatoes. They pair well with any kind of sandwich or burger, or as a side dish to eggs and bacon. They're even a tasty snack that you can serve alone that the kids will love.
How do you fix Tater Tots in the oven?
Tater tots can be prepared in a variety of ways, depending on how you like them. This recipe recommends tossing them in bacon grease before baking them in the oven for a flavorful, crispy treat. Guy Fieri recommends tossing them in olive oil before baking and then topping them with garlic, parsley, and parmesan cheese once they come out of the oven. The Kitchn also suggests baking your tater tots longer than what is typically recommended on the bag instructions. "It depends on the brand, but some take up to an hour in the oven, not the nonsensical 20 to 30 minutes they recommend on the bag," they write.
How to make a great Tater Tot casserole
Tater tot casseroles are so easy to make and affordable that even those who don't love to spend time in the kitchen can create a tasty meal that the kids will love. Mom On Time Out shares her tater tot casserole recipe and suggests that you make sure you're seasoning each layer as you add it to your dish. "Season every single layer as needed. If you were serving green beans by themselves, you'd season them, right? So do it for the casserole too!" They also add their cheese below the tater tots instead of on top, so that the tater tots can get nice and crispy in the oven.
The Salty Marshmallow opts to mix ground beef and cream soups instead of layering them so that the meat doesn't dry out when cooking. The site also suggests cooking the casserole at 350 degrees, adding "as tempting as it might be to cook this casserole at a higher temperature, it is best to go a little lower and slower," to ensure the tater tots get nice and crispy while the cheese melts.
AllRecipes gives the tater tot casserole a bit of a Mexican flair with this recipe, adding in taco seasoning and nacho cheese soup. They also recommend baking your tater tots for a bit ahead of time to ensure they remain crispy.
Tater Tot casserole isn't just delicious but it's an affordable, easy-to-prepare one-dish meal that the kids will love.
Editors' Recommendations