Sitting down for dinner as a family is sometimes a little tricky when you have kids. From toddlers never wanting to sit still to younger kids not liking what you're serving, parents feel like they need to come to dinner prepared for battle. But with a few simple mealtime rituals for kids that we've put together, you'll all enjoy sitting down at the table.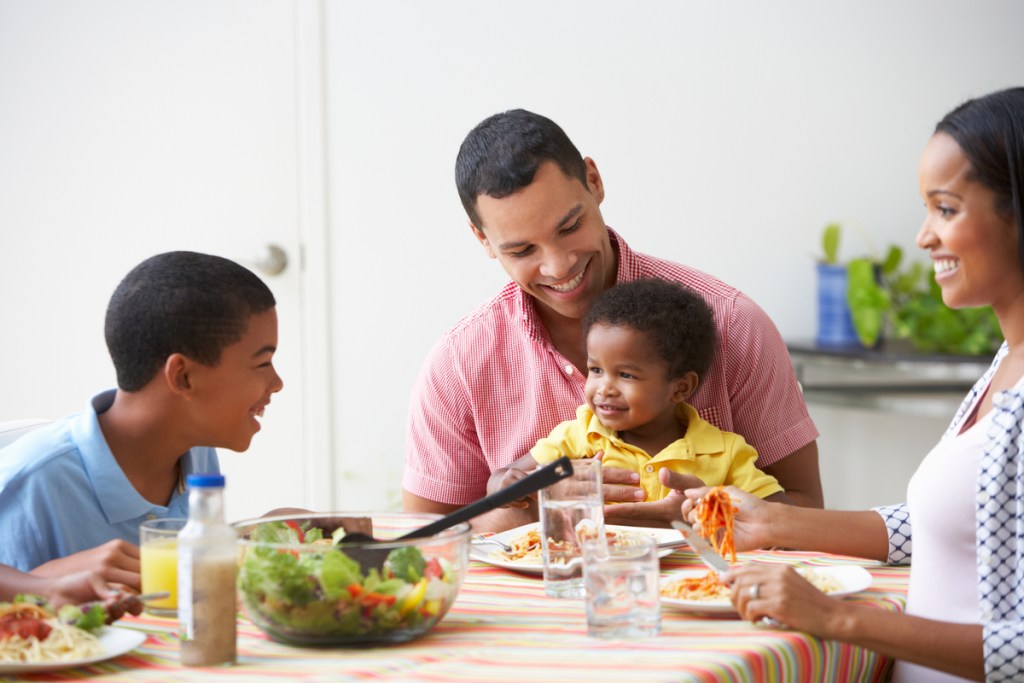 Before you eat
For your child, mealtime starts before they sit down to eat. It even starts the night before. If your tiny tot didn't get the best night's sleep, that leads to more snacking in between meals. We all know kids who snack more in between meals tend to not want to even sit down at proper mealtimes.
If your child gets antsy at dinner, a walk or light activity a bit before will help them settle down. It'll also help their small stomachs digest food better.

During the meal
There are a few things to do while everyone is eating to make sure your kiddos stay engaged throughout the whole meal. It's all about the tunes. The right music gets everyone ready for the task at hand. Ask your child what kind of music they would like to have on in the background during dinner.
Depending on your child's age, where they sit plays a part in whether they'll enjoy dinner. They might have a favorite chair, spot, or person they want to sit next to. If it isn't going to be a big deal for anyone else, let them choose their spot for mealtimes.
Everyone wants to be included during meals. Regular conversation gets a little boring for a younger child; however, games like Would You Rather or Name 5 Things will keep them interested at the table.

The food itself
A lot of kids are like Goldilocks when it comes to the actual food. Besides the point that most kids have a strict chicken nugget and fries diet for a period of time, the temperature of the food makes a difference. If the food is too hot for them, they just sit there watching everyone else eat, waiting for their food to cool down, all while getting bored. Or they won't want to even come to the table until their food is at the right temperature.
Make sure they have their favorite condiments at the table. It helps them feel more grown up. Plus, you don't want to get up two bites in to dig out the ketchup or ranch dressing.
It's not always about how much your child eats that means they are engaged at meals. As long as your little one eats a few bites at every meal, let them be. You don't want to make them finish their whole plate or they will start to dread meals and won't want to participate.
We know — like with most things, creating a routine for your child at mealtimes will take some trial and error. Once you have your routine down, your kids will feel more at ease at the table. And when the little humans are happy, everyone gets to enjoy the meal.
Editors' Recommendations