On March 17, everyone is Irish. There are always green bagels, green doughnuts, green milk, and probably green eggs and ham in a few elementary school classrooms. That's because food is a fun way to celebrate a holiday. This St. Paddy's Day, why not try a classic Irish dish to change up those weekly meals? A great way to help kids explore different cultures is through food. Holidays are the perfect time to try some new dishes you wouldn't ordinarily have at dinnertime. S
St. Patrick's Day recipes aren't just about potatoes either. There are quite a few traditional St. Patrick's Day dinner ideas the whole family will enjoy. Don't worry if you're not Irish or can't name a dish from Ireland besides corned beef and cabbage.
The Irish Kitchen Prayer says, "Bless us with good food, the gift of gab, and hearty laughter. May the love and joy we share be with us ever after!" Doesn't that sound inspiring? We've got St. Patrick's Day recipes that will most certainly bring the good food to the table. So, let's get cooking.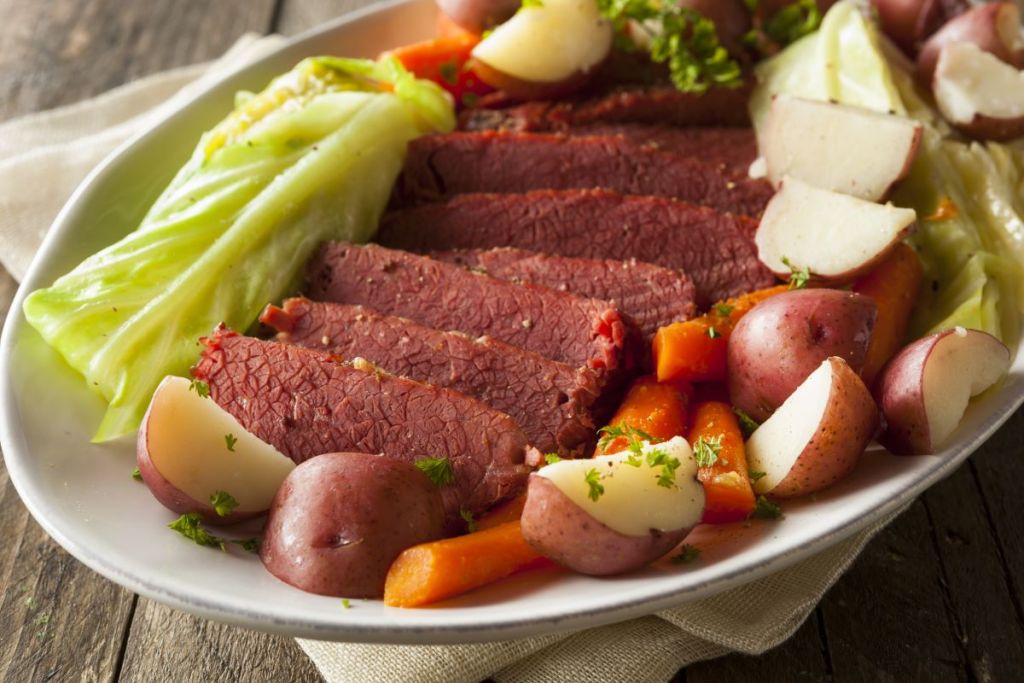 St. Patrick's Day recipes
Some dishes Americans think are traditional Irish meals actually aren't. Traditional Irish cooking revolved around foods readily available, such as meat and potatoes, as well as shellfish. Many typical Irish dishes, like corned beef and cabbage, didn't originate from Ireland. They came from Irish immigrants adapting to ingredients in America they could afford. Nevertheless, when dishing out St. Patrick's Day dinner ideas, you just can't leave certain ones out.
Corned beef and cabbage
While not directly from Ireland, corned beef and cabbage is a St. Patrick's Day staple here in America. It was most likely originally made with pork in Ireland. Once in the U.S., though, Irish immigrants adapted the recipe with corned beef. Irish immigrants were introduced to corned beef through nearby Jewish delis. Simply Recipe offers two different ways to cook up corned beef and cabbage. If you're going to make corned beef and cabbage from scratch, be sure to allow some time. It's also a great dish to make in a crockpot.
Irish stew
Another well-known St. Patrick's Day dinner idea is Irish stew. Traditional Irish stews were made with lamb, potatoes, and carrots. Irish stews have evolved over the years to include more ingredients, like turnips and onions. Spruce Eats has a traditional Irish stew recipe with lamb. If you prefer to try this Irish dish with beef, Allrecipes has a tasty recipe. Leave time to make this St. Paddy's Day pleaser or consider using a crockpot recipe instead.
Colcannon potatoes
If you want to start slow while introducing the kiddos to St. Patrick's Day recipes, try making a side like colcannon potatoes. You make this dish with potatoes and cabbage and it's a delicious side to enjoy on March 17 with a meal the family loves, like pot roast or oven-baked chicken. A Taste of Home has a yummy recipe that can be ready to eat in an hour.
Irish coddle
Stews are a popular dish in Ireland. An Irish coddle is a type of stew that typically used bacon, sausage, onions, and potatoes. Irish coddle recipes may vary from family to family, but the Food Network has a tasty one that you can make with or without a bit of Guinness.
Irish soda bread
A St. Patrick's Day meal would not be complete without Irish soda bread. This is another simple way to introduce a signature Irish food to the kiddos. Irish soda bread has been around for ages, with most families having their own special recipe. Allrecipes has an easy one that can be out of the oven in about an hour.
This St. Paddy's Day is the perfect time to make an Irish meal to enjoy with the family on March 17. You can start simple, with a side like Irish soda bread or colcannon potatoes, or you can try one of our other yummy St. Patrick's Day dinner ideas to introduce the kids to the tradition of March 17. Either way, Irish soda bread is a must-have on St. Patrick's Day that goes perfectly well with Irish stew or corned beef and cabbage.
Editors' Recommendations