While the new year is when many of us typically pledge to start anew by exercising regularly and eating better, there's no wrong time to start adding healthy meals into your weekly meal rotation. Only it's not as easy as it sounds, especially when you're the person in your family who is responsible for making meals that everyone will eat (and hopefully enjoy).
Life is busy and it can be stressful trying to come up with healthy meals that everyone in the family will enjoy. Thankfully, there are many options for healthy family meals that, with a bit of planning, can help keep everyone on track. If you're trying to eat better, these healthy family meals are sure to please everyone.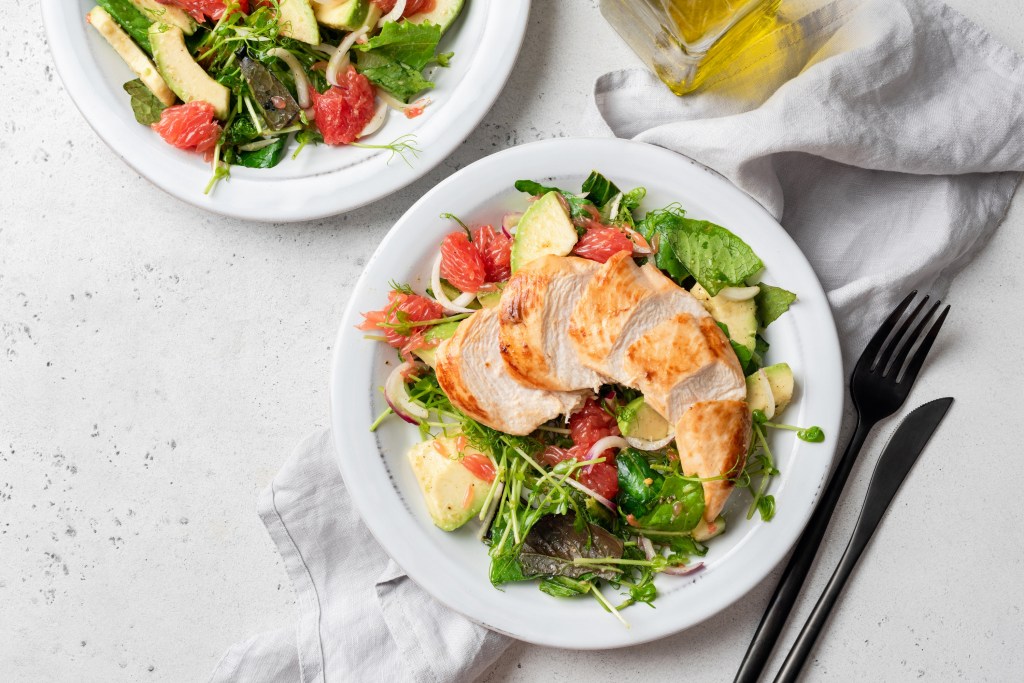 What makes a meal healthy?
Pledging to eat more healthfully is one thing, but to succeed, we need to truly understand what makes a meal healthy. You can make meals healthier by simply limiting the number of sugars, fats, and salt you consume and replacing them with more vegetables and fruits as well as whole grains and lean meats.
Harvard suggests that half your plate should be comprised of fruits and/or vegetables (excluding potatoes) and the more color the better. One-quarter of your plate should contain whole grains: foods like quinoa, brown rice, or whole-wheat pasta. The other quarter should be comprised of lean proteins like chicken or fish. Red meat should be consumed on a limited basis and you should drink lots of water daily.
It can take a while to get used to eating this way, especially if you have kids who tend to be picky eaters or you are busy and tend to grab a lot of meals on the go. It may be easier to start implementing one healthier meal a week than feeling overwhelmed and trying to change everything all at once. Baby steps help lead to long-term success. Here are some healthy family meals that everyone in the family can enjoy and you can begin to rotate through your weekly meal plans.
Healthy family meals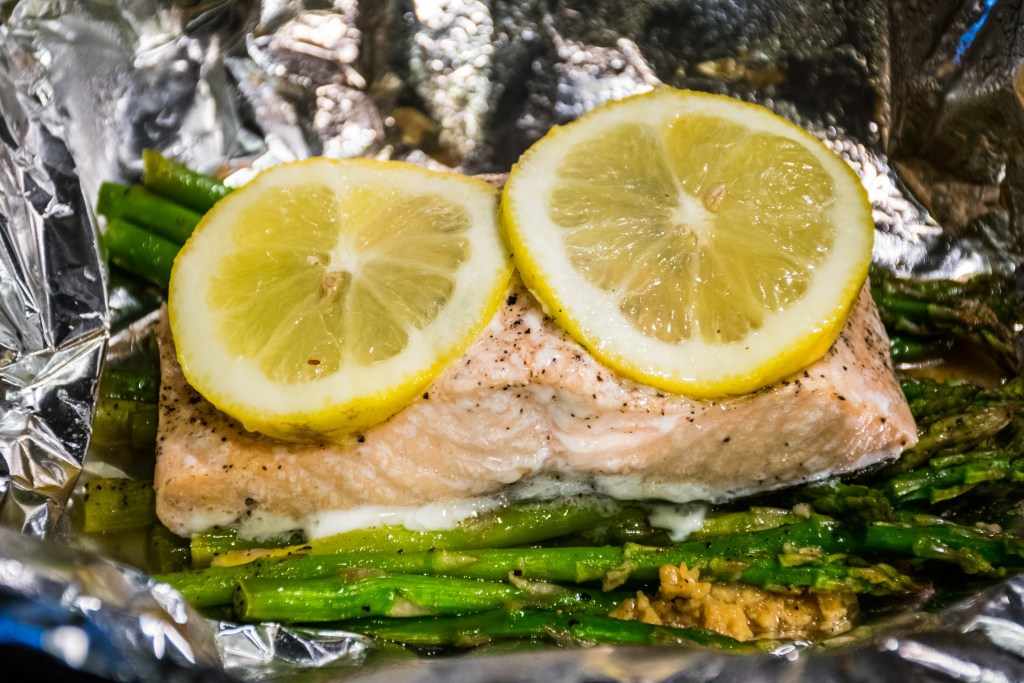 1. Chickpea curry
Eating healthy doesn't have to be bland, and this chickpea curry recipe proves that! This easy-to-make recipe was a staff favorite at Eating Well and is super simple and quick to make. It uses canned beans and tomatoes and spices you probably already have in your pantry. You can serve this with basmati or whole grain rice or even some naan bread if you have some carb lovers in the house. The best part is you can adjust the recipe to add more or less spice if you prefer, and if you're trying to eat less meat, this is also a great, satisfying meal option.
2. Barbecue chicken burger
You don't have to give up your favorite burgers to eat more healthfully, you just have to get a bit more creative when it comes to making them. These barbecue chicken burgers from A Mind "Full" Mom give you all the flavor and heartiness you love in a beef burger in a more healthy, chicken option. You can choose a bun of your choice, including whole wheat, or opt for an even healthier approach and use a lettuce wrap instead. There are so many different ways to serve these delicious burgers that everyone in the family will be satisfied and at just 220 calories a serving, these will quickly become a go-to recipe.
3. Grain bowls
Grain bowls are a great way to serve a healthy dinner while also giving everyone at the table different options. Healthline suggests using whichever grain you prefer as your base, whether it's whole grain rice, quinoa, or something else. You can then top the grains with your choice of vegetables and protein, like chicken, fried or hard-boiled eggs, grilled shrimp, or salmon. Bowls are a great dinner option because you can allow everyone in the house to choose their own toppings, allowing them to customize their own meal. You can also substitute the grains for lettuce and create salad bowls.
4. Cauliflower pizza
Have you heard about the latest trend with cauliflower? You can cook healthy meals using cauliflower instead of flour or other simple carbohydrates and enjoy a low-carb, gluten-free meal! This is good news for pizza lovers. Now pizza night looks a little different from your usual takeout if you're making healthier choices, but you don't have to sacrifice flavor. Follow Good to Know's recipe to make your own cauliflower crust, and then top your healthier pizza with lots of fresh veggies and your choice of low-fat cheese.
5. Skinny Alfredo
Eating healthy doesn't mean you have to give up the foods you love; it just means you may need to make some changes. This recipe for skinny pasta Alfredo by Delish calls for whole-wheat pasta and plain Greek yogurt as an alternative to heavy cream. It's a great way to still enjoy pasta night while making healthier choices.
6. Chipotle shrimp tacos
Taco Tuesday just got a bit spicier with these chipotle shrimp tacos by Cooking Classy. You can make these shrimp tacos as spicy or as mild as you like, and you can even get creative with your toppings by adding a mango or pineapple salsa or stick to the avocado, red cabbage, and cotija cheese the recipe calls for. The seasonings in this recipe will give these tacos so much flavor you may forget that you're eating healthy!
7. Vegetarian Mediterranean sheet pan dinner
This vegetarian Mediterranean sheet pan dinner from Crowded Kitchen isn't just a flavorful, healthy dinner recipe but also a great option for those who are looking to eat less meat. This recipe is made with tofu, potatoes, vegetables, and a creamy yogurt tahini sauce that isn't just delicious but also super fast and easy to make. It's vegan and gluten-free and you can use whichever vegetables you prefer.
8. Jerk chicken kabobs
Kabobs are a great way to combine your protein and vegetables or in the case of these jerk chicken kabobs by Real Food by Dad, your jerk chicken, and pineapple! Healthy food doesn't have to be boring and these kabobs, which are roasted in the oven, are anything but. The recipe gives you the option to turn up the heat or tone it down and is a perfect meal paired with a side salad.
9. Baked salmon in foil with asparagus and lemon garlic butter sauce
This baked salmon in foil recipe by Eat Well 101 isn't just healthy, it's also low-carb, paleo, gluten-free, and keto-friendly! It's also super easy to make and super easy to clean since you're cooking your salmon and your asparagus together in your foil with the lemon garlic butter sauce. Dinner is that much better when clean-up is a breeze!
10. Chicken parm stuffed peppers
It can be hard to eat healthy because you often feel like you're missing out on your favorite dishes, but his recipe for chicken parm stuffed peppers by Delish will make you forget you're not eating pasta. You can also play around with the recipe, substituting ground chicken for the breaded chicken cutlet, or any other kind of ground meat.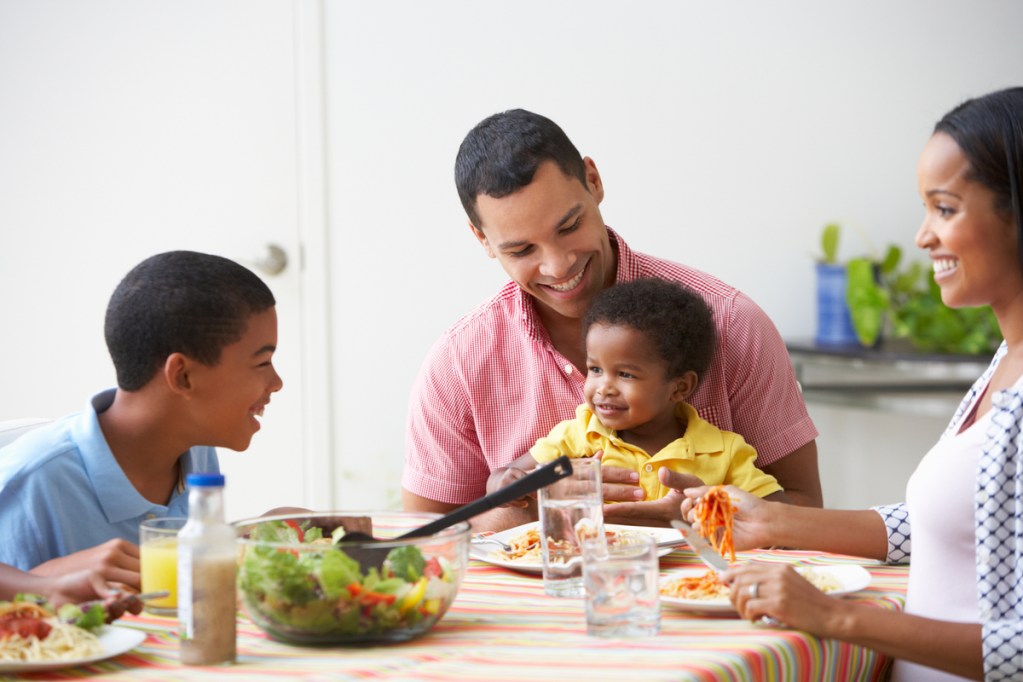 Eating healthy can be fun
Eating healthy doesn't have to be boring, and it also doesn't have to be plain. It can take some time to get everyone in the house on board with eating better but these delicious and healthy meals can be a good start.
Editors' Recommendations