Trampolines are one of summer's most quintessential and beloved toys, drawing smiles across the faces of children each and every trip around the sun. But, what if the joy of a trampoline could be paired with another one of summer's most-loved backyard experiences? Which outdoor item, you ask? Why, none other than the sprinkler! That's right, a trampoline sprinkler — the perfect combination of two gloriously exciting seasonal happenings into one.
When a sprinkler is added to a trampoline, the possibilities of summertime fun go up tremendously. There are, however, a few things to keep in mind when shopping around for such a thing, as well as a few key steps in the setup process to protect yourselves and your children from injury while playing. We have some tips and tricks to share, ensuring you and your family can enjoy hours of bouncing and splashing this upcoming summer.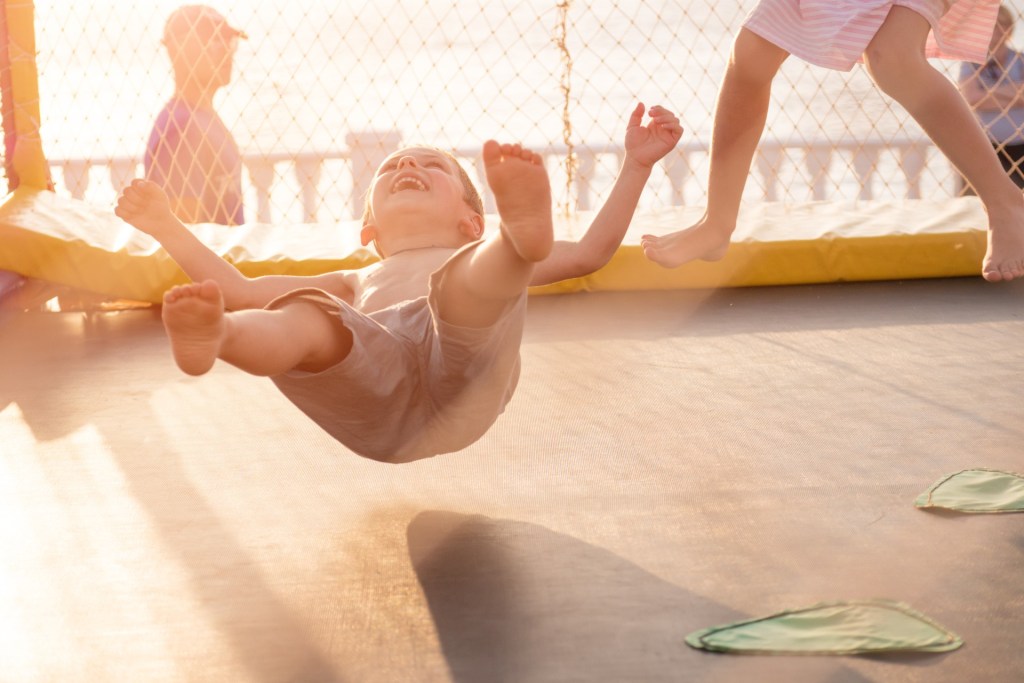 Shop 'til you drop
So, your kids have all but bounced the life out of their trampolines, or you're looking for new and interesting ways to keep them entertained and cooled off this summer but aren't sure where to start looking, we have a great option for you to check out. When shopping for this type of toy, there are a few things to keep in mind:
Quality/durability
Easy setup
Overall price
When purchasing any outdoor equipment or toys, it's important to consider the amount of time it will spend out there and the types of conditions it will be exposed to. Because Mother Nature can be harsh at times, looking for a product that is made to last can be the key to keeping your kids entertained year after year. Look for wording such as: "double-walled hose" and "fiber-infused hosing." These elements are crucial if you plan to continue using your trampoline sprinkler summer after summer.
The other important elements of your purchase are price and setup time. No parent wants to be sweating their buns off in the hot sun for hours trying to set up a child's toy. Especially if they paid a lot of money for it, the extended setup time adds insult to injury. We've searched the vast reaches of the internet in search of the best product we can recommend, keeping in mind it must be relatively inexpensive, durable, and sets up quickly.
To that end, we'd like to recommend ThrillZoo's Heavy Duty Trampoline Waterpark. This product sets up in about 10 minutes, includes heavy-duty and durable hosing, attachments, and a "will not fail" hose connector that pushes water upward of 300 PSI. With a higher pressure, this product truly turns your backyard trampoline into a full-on splash park in a matter of minutes.
If you build it, they will bounce
Now that you've purchased your child's sprinkler system for their trampoline, you may be wondering how to go about setting it up. If you've decided to go with our suggestion or a similar style of product, your sprinkler system should have enclosed a series of attachments, with which you'll adhere the sprinkler hose to the trampoline netting.
To do this, most sprinkler assemblies come with heavy-duty zip ties. Following the instructions provided, you'll likely wrap the zip tie around the hose and through the netting, placing the zip tie through the other end, and cinching it down tightly. The key step here is to firmly tighten the zip tie, keeping the hose as close to the netting as possible. This prevents sagging or pulling of the hose, possibly ripping the netting, or damaging the hose.
Once the hose is attached to the netting and secured tightly with the provided attachments, you will then attach the hose end to the regulator connection. The final step is to connect the hose and regulator to your own hose ending, completing the connection and giving the green light to begin a splash-filled bounce session.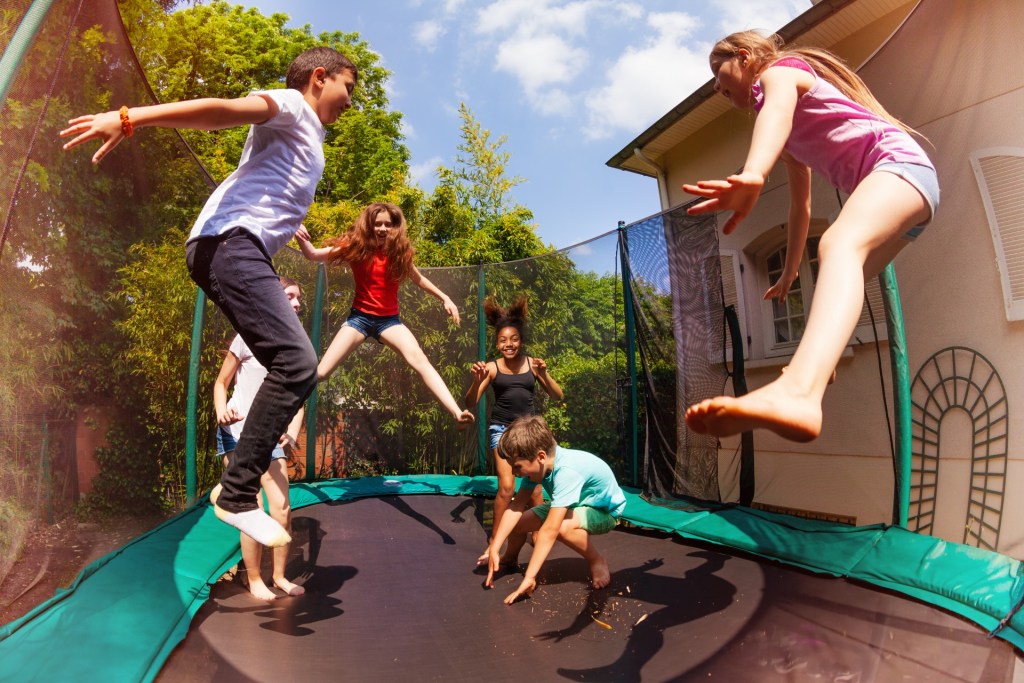 Safety first
But before you tell your kids to suit up, it's paramount that your child's trampoline is safe and ready to use. Here's how you check:
Double-check each attachment — or zip tie — has been tightly clamped into place and any extra plastic tags are removed prior to play.
Check each connection on the sprinkler hose, the regulator connection (if one is included and required for use), your garden hose connection, and any other hose endings or fittings — including where the hose meets the faucet. By checking for any leaks or blown gaskets within the hose line itself helps to stop pressure buildup and prevents the hose from splitting open, possibly injuring someone or, at the very least, causing a large water-usage bill.
Ensure your trampoline netting and mat are in place correctly, with the safety pad carefully covering any exposed metal or springs. This prevents injury, rust, and damage to the trampoline/mat.
If you live in a high-heat-index climate and want to beat it this year, adding a sprinkler system to your trampoline could be the ideal way to keep your kids cooled off, while expelling pent-up energy this summer. Bring the best of both worlds into one right in your very own backyard by mashing up two of children's favorite outdoor activities into one.
Trampoline sprinklers are perfect for hot summer days, holiday events such as the Fourth of July, or even for a summertime birthday party celebration. So, what are you waiting for? Grab your kids, your beach towels, and your imaginations, and hit the mat bouncing!
Editors' Recommendations