Spending time with your loved ones is only a part of Valentine's Day. With all the candy, cozy vibes, and bright colors, this holiday is prime time for cooking up all kinds of delicious DIY treats — and who better to help out in the kitchen than the kiddos?
Celebrate Valentines as a family with these scrumptious (and simple!) ideas. With all these wonderfully sweet things, you're going to be ready for a Valentine's Day full of snacks and smiles. From chocolate to fruit, and even breakfast items, we've found some of the best Valentine's Day treats for kids who are ready to get their hands a little messy. And it's also for parents who could use a hand!
Chocolate covered pretzel "wands"
You can jazz up a healthy, crunchy snack like pretzels with a fondue of melted chocolate or yogurt. Christi from Love from the Oven used pink candy melts to give her pretzels an extra pop, which you can do at home with food-safe dye and white chocolate. Once covered, have your kiddos roll the pretzels in whatever festive sprinkles you can get your hands on!
Valentine's Rice Krispies hearts
There are few classic childhood foods quite as beloved as Rice Krispies Treats. They have subtle sweetness and a satisfying crackle — what's not to love? Now you can take your Valentine's Rice Krispies Treats to the next level with a secret from Cory, owner of Family Fresh Meals. One word: Butter.
Once you heat and mix the butter, marshmallows, and vanilla together, the kiddos can go to work creating their crispy masterpieces. You can always decorate with sprinkles or food dye — just think pink! (And red and white, of course.)
PB&J, with love
You and your littles will love how easy these are to make, and just how versatile they can be. Swapping out grape jelly for red strawberry jam, for example, is just another way of making the day a little more festive. You can try new ingredients for an ultra-special sandwich — might we recommend adding Rice Krispies Treats, or maybe a PB & marshmallow treat? Remember, a simple heart-shaped cookie cutter can go a long way when putting together a PB&J fit for V Day. Time to get creative, parents!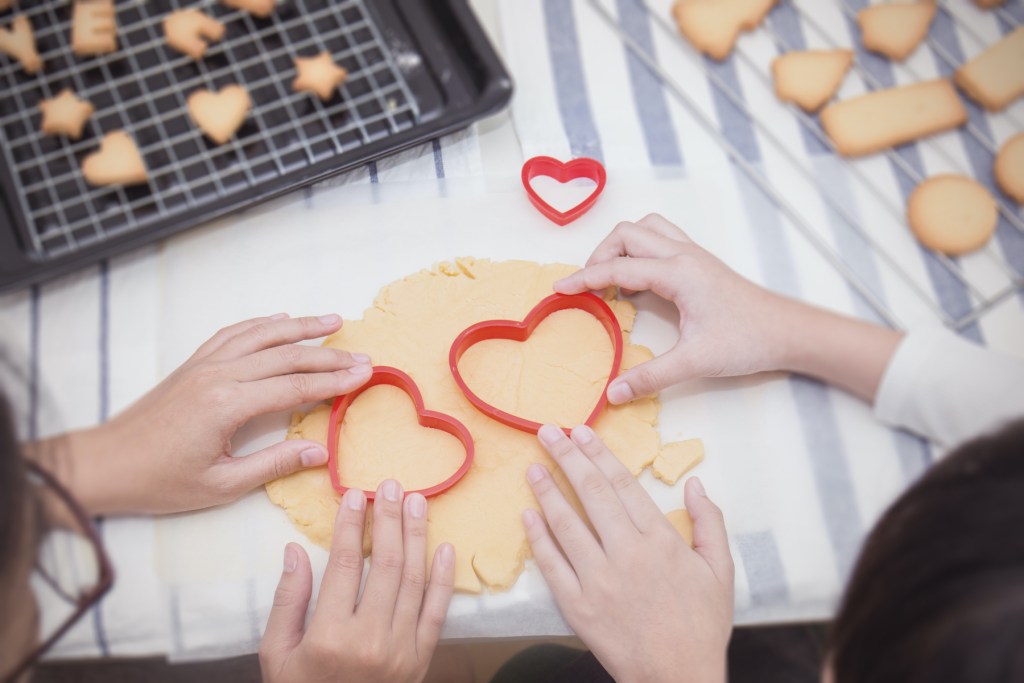 Make your own "Cupid's Crunch" trail mix
You've heard about trail mix, maybe even puppy chow, but are you ready for Cupid's Crunch? You can find many variations and recipes across the internet, but we love Brett's version from This Mama Loves because all you need are popcorn, candy melts, pretzels, M&Ms, and any other treats your kiddos want to sprinkle in.
You might need to give the young ones a hand with candy melting and butter softening, but they can definitely help every step of the way! Now, you'll have your perfect movie-time snack.
Heart-shaped pancakes & festive fruit cups
The Valentine's Day fun can begin the moment your kiddos start their day! It can be fun for them to help pour pancakes or even to cut a watermelon into heart shapes (if they're ready for kitchen responsibility). Luckily, strawberries are naturally kind of heart-shaped, so you can't go wrong with this tasty berry. Other pink and red fruits will add a festive pop to your breakfast. With a morning like this, they'll spend the day full of love.
Valentine tic-tac-toe snack craft
This brilliant idea from Sippy Cup Mom is both a snack and a game! All you need are graham crackers, candy melts (to draw the game board), and Valentine's Day candy hearts (to use when playing the game).
Simply melt your candy melts and pour them into a Ziploc bag. Snip a corner of the bag to pipe your melted chocolate onto the cracker in a grid. Grab the candy hearts and let the games begin!
Have any of these ideas sparked your interest? Feel free to customize any of these recipes with ingredients that work for your kids, whether you're working around allergies or picky eaters.
Maybe you've even thought of something else you can try with your kiddos — go for it! This is a great excuse to get creative and have some fun, all while creating the magic of the holiday for your kids. After all, Valentine's Day is less about the treats and more about the love — so go spread that love! Just don't forget to treat yourself, as well.
Editors' Recommendations