Hosting virtual playdates has become more common since 2020, but finding a safe and fun website or app to use can be a challenge. You might not have planned on giving your preschooler internet access this early, but sometimes that's the only way kids can connect socially. You want to find the perfect limited number of kid-safe apps to let them use, and that's where we can help.
The five options below have taken steps to make your kids safe online and also added in more to do than just talk with in-app games, filters, activities, and stickers. Your kids won't lose interest as quickly when they can doodle on their friend's face on the screen. These apps will let them watch a movie together or play a game together, even when they're apart.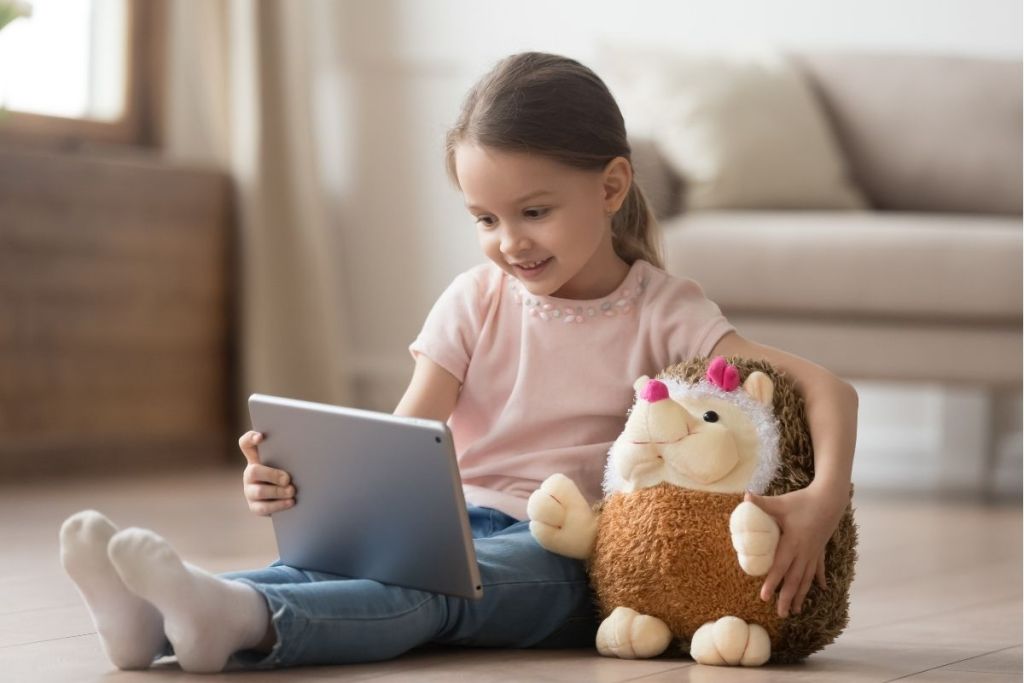 Caribu
This is the app in the virtual playdate space — it's made just for that! Caribu is a kid-friendly and ad-free video-calling app for phones, tablets, and computers that includes in-app games. Your kids can only call approved contacts, and the calls are encrypted for safety. Caribu's basic plan is completely free and includes 15 free in-app activities per month, but you can upgrade your subscription to have unlimited books, coloring pages, puzzles, and two-player games. (Don't worry, there are no in-app purchases for kids to buy.) There are thousands of these activities in the app, and they are a perfect way to connect virtually, not just with friends, but with grandparents and other family not in your household, too.
FaceTime
FaceTime is the video-call app that comes built-in with any iPhone or iPad, and your kids can call your contacts on another iPhone or iPad with it. If you monitor the contact numbers in their device or place the calls from your device yourself, this can be a safe option for video calls. You can also use Apple's Family Sharing accounts to manage controls for your kid's FaceTime just like all of their other Apple apps. There are several fun filters kids can use while talking that you can find by tapping "Effects" at the bottom left of the screen once in a call.
JusTalk Kids
JusTalk Kids is another just-for-kids video-call app for phones and tablets that also has in-app games for callers to play together. Safe and encrypted, parents can add contacts for their kids by phone number or a JusTalk ID for calls over WiFi. There are stickers and doodles for kids to use during the calls, as well.
Messenger Kids
Messenger Kids is the kid-specific version of Facebook's Messenger for phones and tablets. Parents control the contact list and can set other controls, and both kids and parents can report or block anyone. (If a kid reports or blocks, the parent is notified.) Kids can video-call each other over WiFi and use the filters, stickers, emojis, GIFs, and drawing tools to be silly while they talk. It's free and there are no ads or in-app purchases. It's connected through the parents' Facebook Messenger, but your child can have their own Messenger Kids app on their device.
Teleparty
Originally launched as Netflix Party, Teleparty is a Google Chrome browser extension that syncs up friends watching Netflix, Disney+, Hulu, or HBO together and adds a group-chat panel. Your child can watch a Disney movie on a laptop at the exact time as their friend, so they can talk about it in real time or just feel connected while watching without talking. For kids who can't read or type yet, they can have a phone video chat going at the same time.
Once you've chosen the right app for you, you'll also want to plan out some activities. While the kids video chat, can they do the same craft at the same time in their separate homes? Can you give them a conversation prompt to get it going (since kids can be shy video chatting at first)? Communicate with the playdate's parents ahead of time about how long you expect the playdate to last, if anything is off-limits, and what you expect the kids to do. Depending on the kids' ages, more and more independence can be given.
With these sites, you'll be an expert on how to host a virtual playdate in no time.
Editors' Recommendations