When you bring home your newest family member, your little bundle of joy, you are naturally going to be holding them as much as possible. However, when we have to do things such as run errands or go to pediatrician's appointments, your child is likely going to be in their child carrier. As a new parent, you want to make every day a learning day for them, and babies absolutely need some sort of stimulation. That is where toys that can attach to your child's baby carrier come in. There are so many different ones out there that can entertain and educate your child at the same time. Here are some of our favorites baby carrier toys.
Baby Einstein Activity Arms Octopus
The Baby Einstein Activity Arms Octopus is the perfect way to introduce your child to fun toys and bright colors. It features a lovely blue, plush smiling octopus to make your little one giggle. In his arms, he holds three toys that engage different  sensory areas to help your child learn right off the bat! Your baby is 'shore' to have fun under the sea with this toy!
Infantino Spiral Activity Toy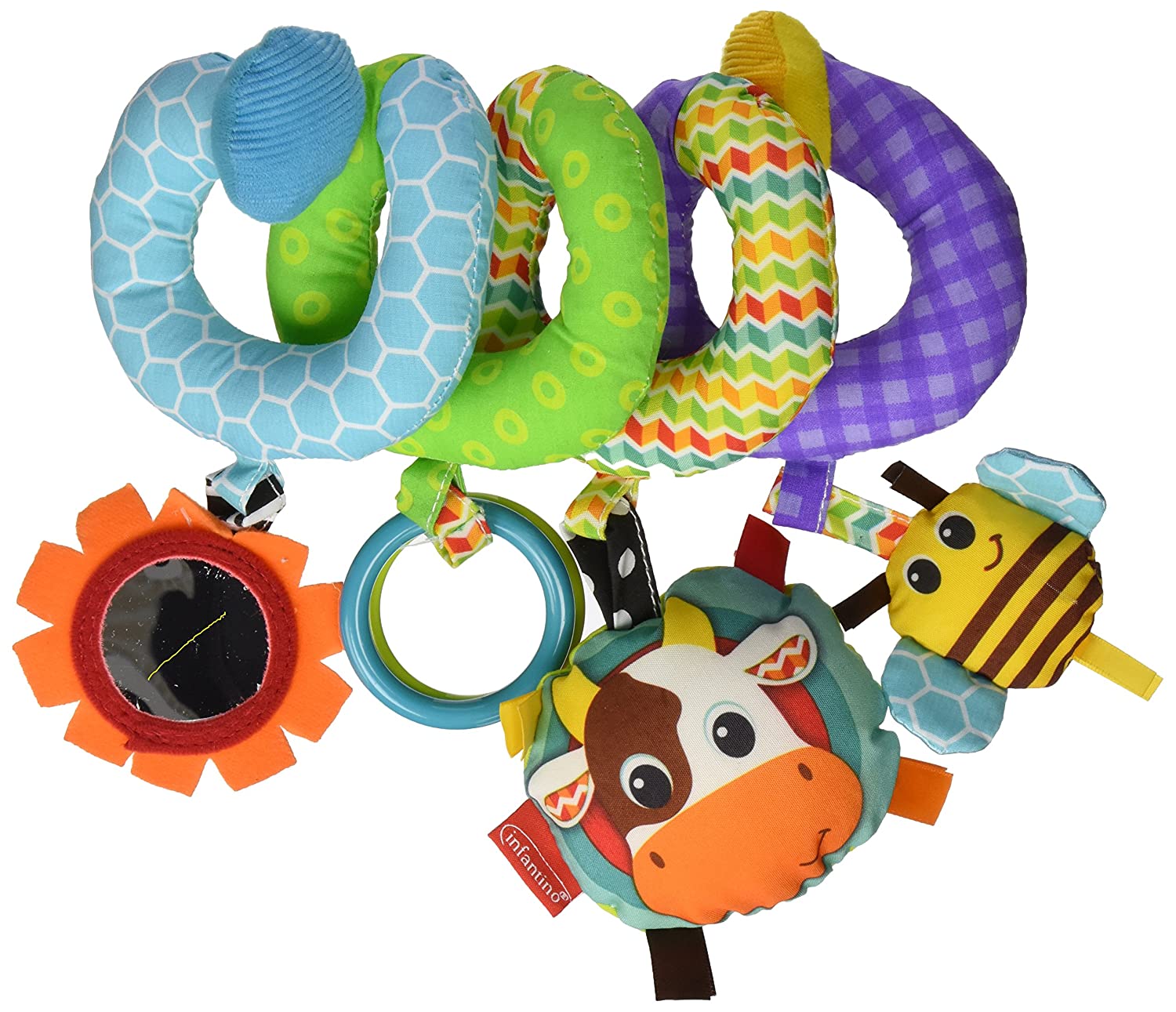 With a unique spiral design, this incredible sensory toy will easily wrap around any car seat handle. There are plenty of fun activities for babies to do while playing in their carrier. There are blue and green rings for sensory play, an orange and red mirror so they can discover themselves, an adorable cow plush with tags, and a sweet little bee. It is a wonderful toy to help improve your child's gross motor skills!
VTech Baby On-The-Moove Activity Bar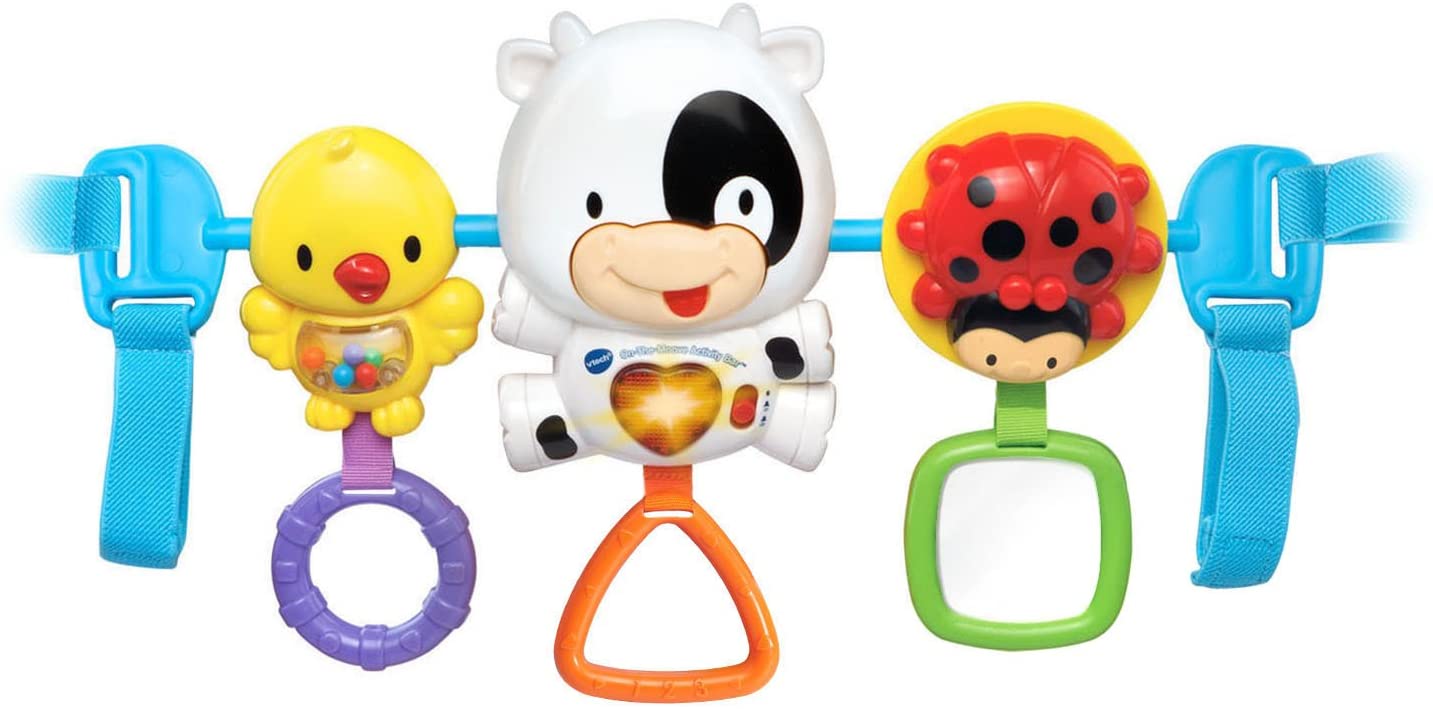 There is so much to do on this fun activity bar! When you press the cow's belly, you will hear over 45 sounds, songs, and melodies. When the baby swings the cow back and forth, they will be able to hear interesting sounds. The baby chick holds a rattle that when shaken produces a funny sound. The ladybug holds a mirror so that baby can learn to see themselves. This is a fun take-along activity bar that will keep your baby entertained for quite a while. Using the elastic straps that are included, this will fit most infant carriers.
Bright Starts Playful Pals Take-Along Activity Toy Sloth
This toy has it all! With a hanging rattle, your baby will love to hear the sounds as they ride in the car with you. It also includes a clacker and a mirror, so you know that your baby will never get bored with this little guy "hanging" out with them! There is plenty to keep them entertained with this sloth hanging toy!
VTech Peek & Play Baby Book Toy
This baby carrier toy is jam-packed with fun for baby! It is a book with six pages that introduces animals with fun pictures and plenty of sounds to keep the baby entertained. It features approximately 50 songs, phrases, and melodies that will capture and keep your little one's attention. They will begin their learning journey through this fun and exciting toy, and they will love the elephant's crinkly ears and listening to the sounds!
NeatoTek Baby Hanging Rattle Toy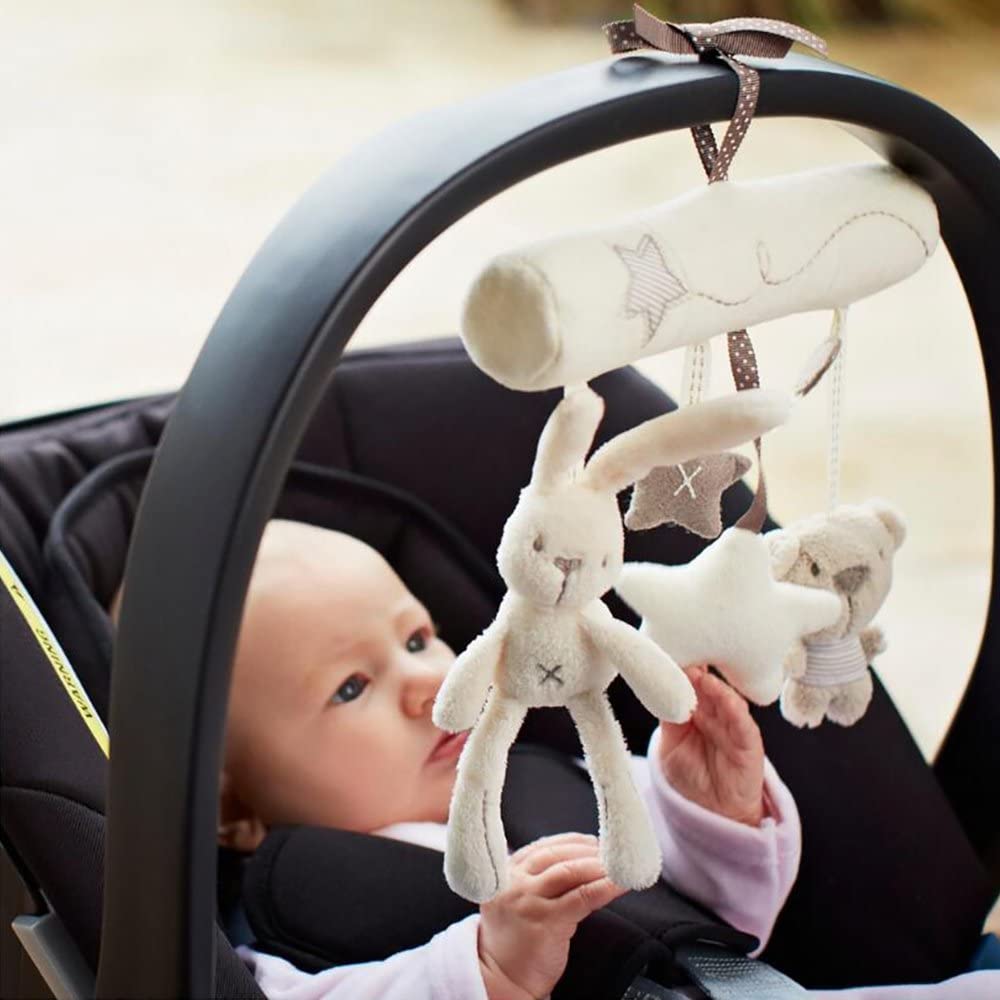 Made of all-natural cotton, this carrier toy hangs on baby's car seat and will provide much amusement. It easily will wrap around the car seat handle or you can even put it on a stroller handle! Babies will be entranced by the beautiful animals before their eyes. The bunny and the bear both rattle and squeak when touched or squeezed! This toy can help your child develop their motor skills and concentration.
No matter what carrier toy you choose to go with, your baby is sure to love it. It will entertain them and enthrall them, but most importantly it will begin to put them on a path to learning that they will follow for the rest of their lives. These activity toys are great for giving children help with things that they need to learn, such as motor skills and tracking with their eyes.
Editors' Recommendations