As parents, it's only natural that you'll want to keep an eye on your kids even if you can't physically be right next to them. Whether you are embarking on a 20-minute car ride or a road trip to grandma's house a few states away, you still want to be able to see your baby or toddler while driving. If your kids are in rear-facing car seats, it can be difficult to glance at them through your rearview mirrors. Luckily, baby car mirrors are here to save the day and make it easy to make sure your little ones are happy in the back!
With a baby mirror, you can see if your baby is fussy, if they have fallen asleep, or if they are content on the car ride. Some of your stress can be relieved if you can visibly see exactly what your little one is up to and if they need soothing. If you don't already have a baby car mirror, you will want to think about installing one in your car. When trying to decide which mirror best suits you and your family, you will want to consider the following aspects:
Size: Generally, baby mirrors for the car are around 11 inches or so. Depending on your preference, you will be able to find mirrors both slightly smaller and larger than the typical size.
Attachment and adjustment:

You'll want to make sure that the mirror is securely attached to the headrest, especially in case of a collision (or if your toddler likes to kick at it). Most baby car mirrors come with heavy-duty dual straps that can be adjusted to fit almost any headrest. You will also want to consider how much the mirror can tilt or if it can be adjusted 360

o

, so you have optimal viewing.

Tech:

Some car mirrors are basic with simple plastic frames, while others take it a step further. You'll find mirrors with lights to brighten up your little one's face at night. You can even find mirrors to entertain your kids with lights and music if they're antsy!
Fortunately, we have rounded up some of the best baby car mirrors, so you'll be able to pick out the right one for you easily.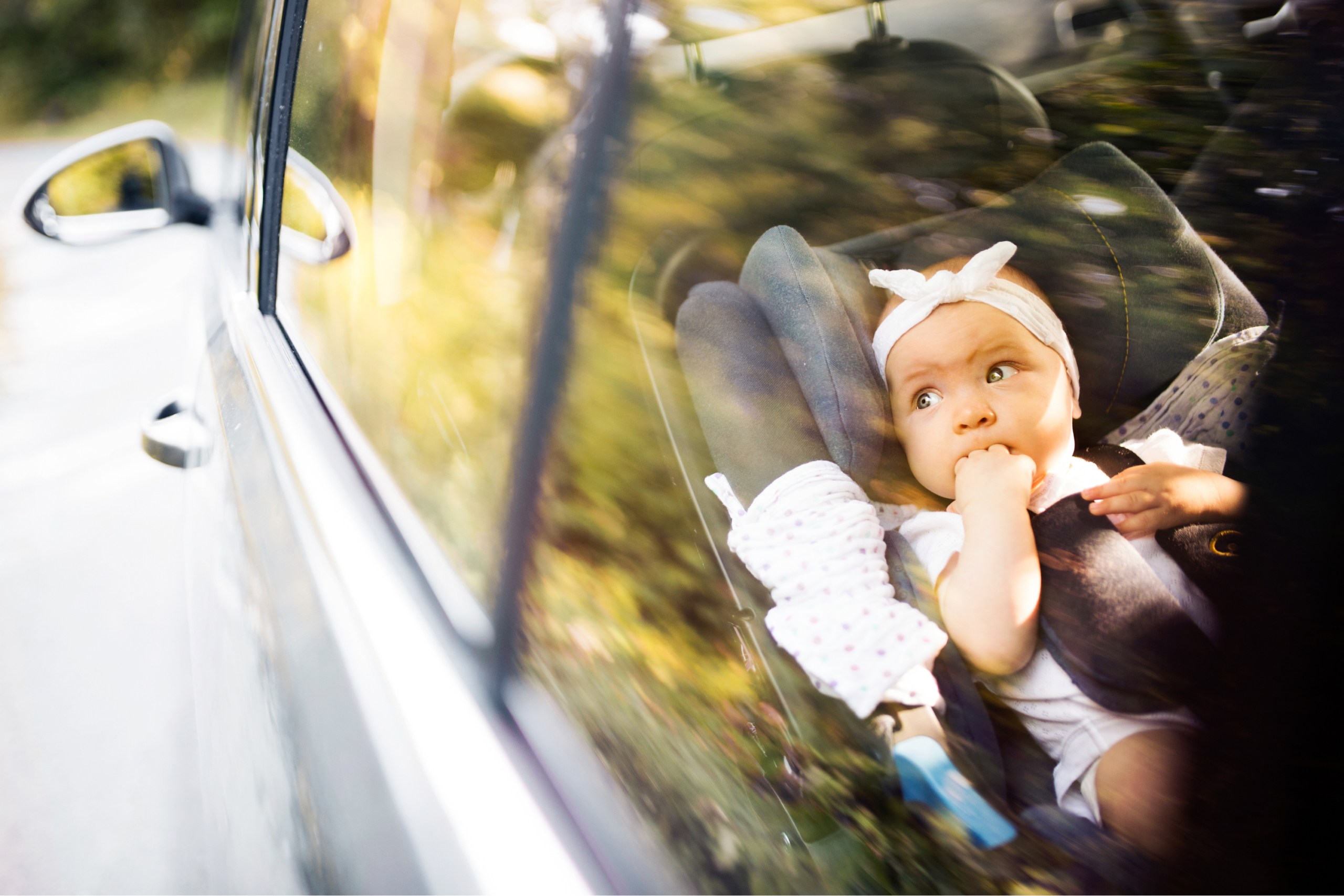 Shynerk Baby Car Mirror
Shynerk Baby Car Mirror
This baby mirror by Shynerk features an extra-wide view of your little one, in addition to a 360o rotating ball, so you can adjust the mirror to achieve the perfect angle. You can easily and securely attach this mirror to any headrest with its adjustable, buckled dual-straps without any tools. You can be assured of your baby's safety because not only does the mirror remain in place, but its acrylic mirror is shatterproof and scratch proof.
BRITAX Baby Car Mirror
BRITAX Back Seat Mirror
If you are worried about a baby car mirror flying off in a collision, you can rely on the BRITAX mirror. This mirror has been accident tested, and thanks to its two large straps, the mirror remained in place during the test run. Attach the mirror to your headrest, adjust the straps, and finally adjust its 360o swivel rotation for the proper angle. Fortunately, the mirror itself is distortion-free and extra-large, so you can fully see your child. As a bonus, its frame is a sleek gray.
Brica Cruisin' Baby In-Sight Car Mirror
Brica Cruisin' Baby In-Sight Car Mirror
If you are a tech family, then this is the baby car mirror for you. With this Brica mirror, you can keep an eye on your baby while also entertaining them. Behind the mirror, LED lights move around during the entertainment mode, while they gently fade in and out during the relaxation setting. The mirror also has up to 24 minutes of kid-friendly music! You can easily control all of the settings with a remote from any seat in the car. Luckily, the mirror also has an auto shut off feature to preserve its battery life.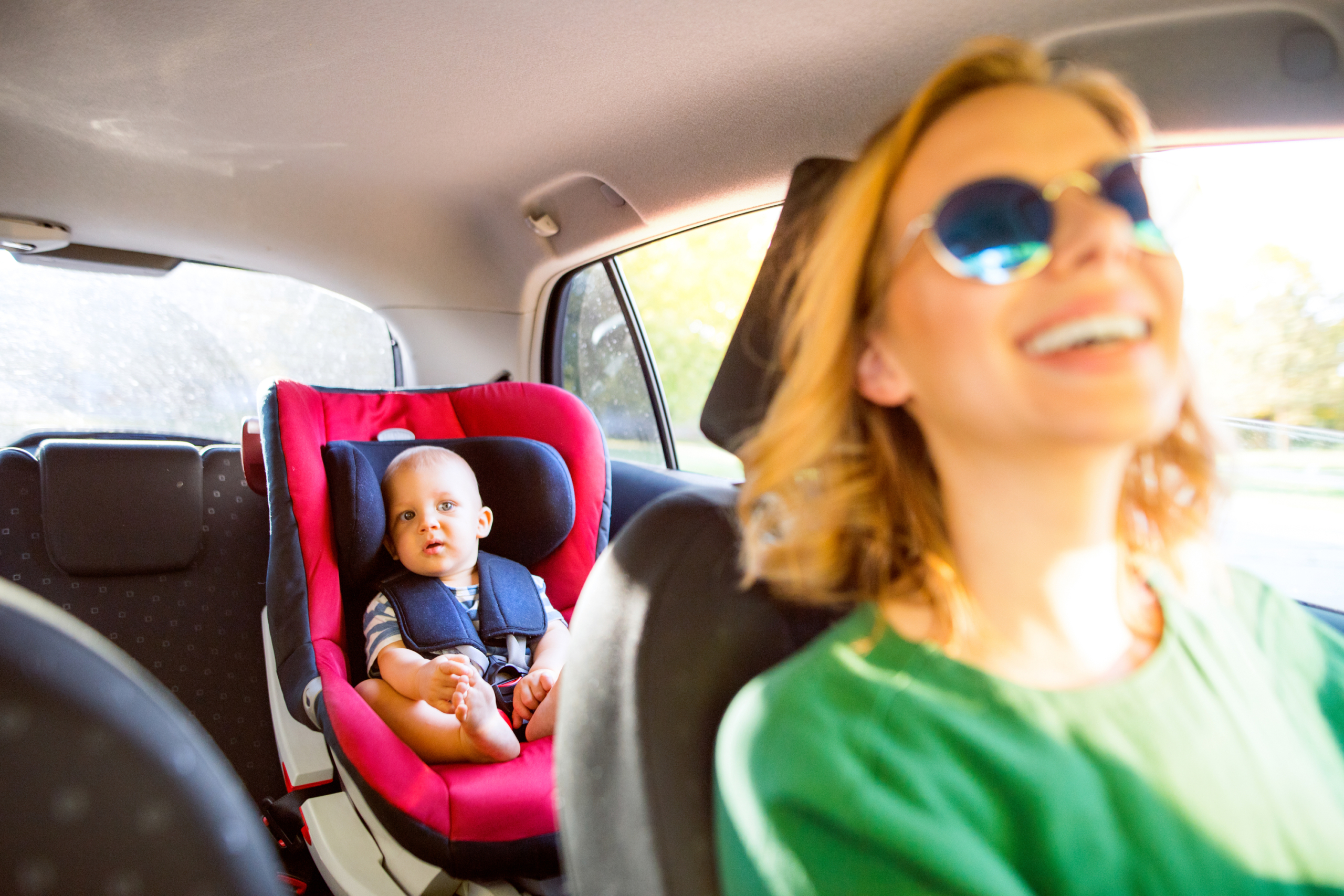 Yogo Baby Car Mirror
Yogo Baby Car Mirror
Light up the night with this baby car mirror by Yogo Baby. If you like to keep an eye on your little ones in the back throughout the day and night, then you will love this mirror that automatically adjusts to meet your needs. This mirror has two LED lights that gradually get brighter as it gets darker, so your baby won't be surprised by the light. A mini remote is provided and can easily be clipped to your car visor to control the lights. The mirror has an easy to install dual strap system, full rotational adjustment and is shatterproof. 
Regardless of which mirror you choose, your little one will absolutely adore making silly faces in the mirror, and you'll feel relieved that you can see them at all times. Monitor their sleep schedules, cranky faces, and let them know you're close. All of the mirrors we have found serve the same purpose: easing your mind as you keep an eye on your baby!
Editors' Recommendations