Kids playing outdoors means less cleanup and worrying for you. Fortunately, kids under 3 are easily entertained and you can turn pretty much anything into a learning activity with little to no preparation. A spontaneous trip to the park, a scavenger hunt in the backyard, a painting party on your deck — outdoor activities for kids are endless. Here are seven of our favorites you can try, too!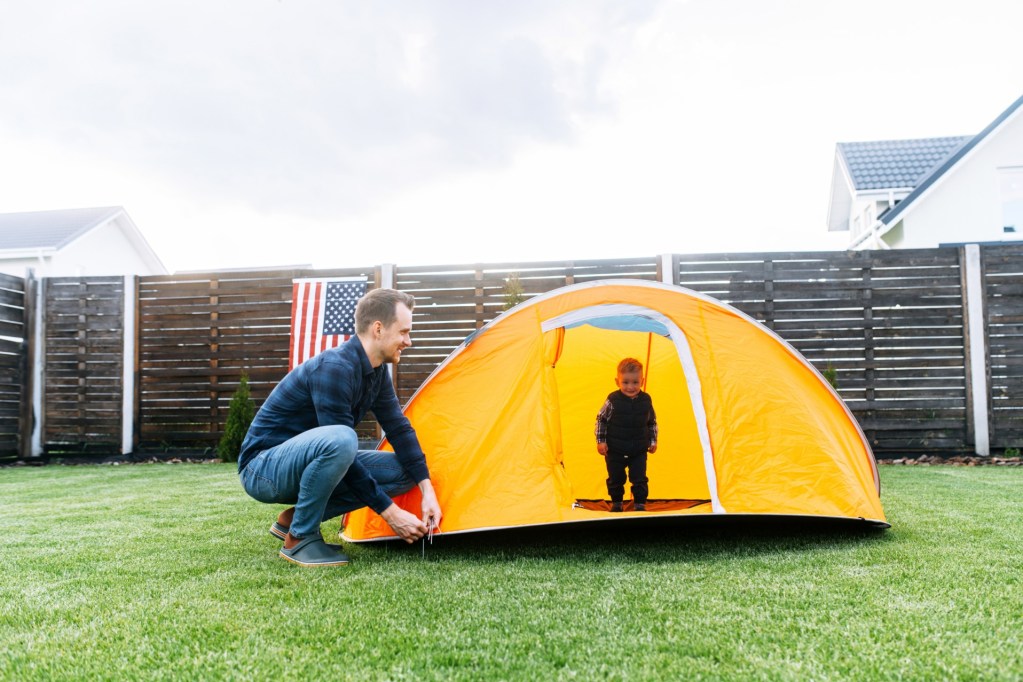 Explore a sensory box filled with treasure
Sensory boxes are popular with babies. Unfamiliar sensations, new colors, strange smells — babies love to explore it all. Fill a plastic box or any other leakproof container with your choice of material. The most common are sand, kinetic sand, oatmeal, dry pasta, dry beans, and rice. Place the box outside where cleanup is easy.
Fill the box with toy treasures and make a list for your little one to check off. You can create a narrative around the treasures if your little one is developing imaginative play. For younger babies, talk to them about each treasure they unearth. Explain names, colors, shapes, etc.
Gather unconventional materials at the park
Nature and everything in it helps children discover the world around them. Walk, drive, or bike to the park and bring a small basket with you. Explore every nook and cranny in the park, and along the way, place whatever interesting objects your little one finds in the basket. Dried, brown twigs, newly fallen leaves, blades of grass, or acorns — pile them all into your bin.
Pick a place to sit under shade and on a blanket. Take out each item from the basket one by one and examine them closely. Talk about color, size, shape, feel, and other observations. Infants will especially benefit from this activity as they take in new sensations and learn new words.
Paint the day away
If your little one is full of energy and itching to make something with their hands and feet, painting outside is the answer. Lay down a tarp, large sheets of blank paper, and some baby-friendly paint. Watch as your baby creates a stunning work of art.
You might also try some food-based paints made of fruit and vegetable jams, though these might attract some ants when used outside. If you're concerned about stains, have your baby paint on the grass instead. When they've crafted their masterpiece, all you'll need to do is run the hose.
Cool down with a sprinkler in the summer
For folks with yards and a sprinkler, cooling down is no problem during hot months. Pull out the baby pool and fill with water and toys for instant fun. If your toddler is agile enough to use water shooters and other gadgets, then it's all the more enjoyable.
If space is limited, a water table or containers full of cool water are also entertaining. Your child will enjoy splashing around no matter if it's in a pool or with water sheets.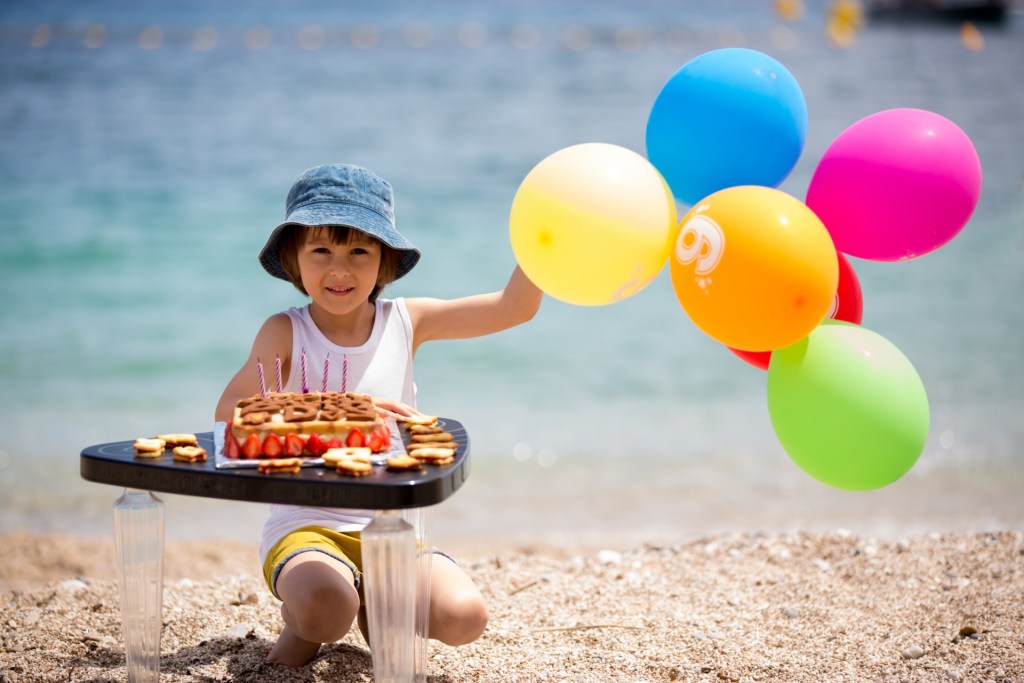 Camp out on the lawn
Yearning for those camping trips near remote lakes on a mountainside? With an infant, the lawn may be the next best thing until they're a little older. Set up a tent right in your yard to give your little one the experience without the hassle of a full-on camping excursion.
Make a day of it and pack lunches, drinks, and toys. Spend the day in your tent reading books, recounting adventures, and eating camp-friendly snacks. Don't forget the premade s'mores!
Have a picnic
Along the same lines, you can save a trip to the beach by bringing the picnic to your yard. Set up a beach umbrella for shade, lay down a blanket, and spread out the food for a fun picnic. Make classic picnic fare like sandwiches, cut-up fruit, and simple finger food like potato chips and dip.
Bring games you can set up easily or giant bubble wands for endless fun. You can also bring an outdoor speaker for musical entertainment and dance-based games.
Make a ball pit
If you have a kiddie pool but the weather calls for something other than water, transform the pool into a ball pit. It's easy: Just fill the pool with balls of different sizes, shapes, and colors. This helps develop motor skills for both infants and toddlers. More importantly, it burns lots of energy!
Outdoor activities don't have to be all-day affairs like a trip to the zoo or a water park. Sometimes, all you need are a few accessories and some energy. Kids playing outdoors is a crucial part of learning, so grab your little one and go even if it's for something as simple as gathering leaves in your backyard and making a collage out of them.
Editors' Recommendations