A good video baby monitor is a must-have for new parents. A dual-camera setup is equally important for those parents trying to split their attention between having more than one child and having to be in more than one room. The visual reassurance it provides in the middle of the night is also absolutely priceless to an exhausted caregiver.
Fortunately, you don't have to spend a small fortune on some quality screen-viewing time and peace of mind. There are lots of great baby surveillance systems on the market that are functional and affordable. It all boils down to the bells, whistles, and features you want. Not exactly sure what you're looking for? Don't worry, we've got you covered. We have done the research and are highlighting our top picks for a 2-camera baby monitor.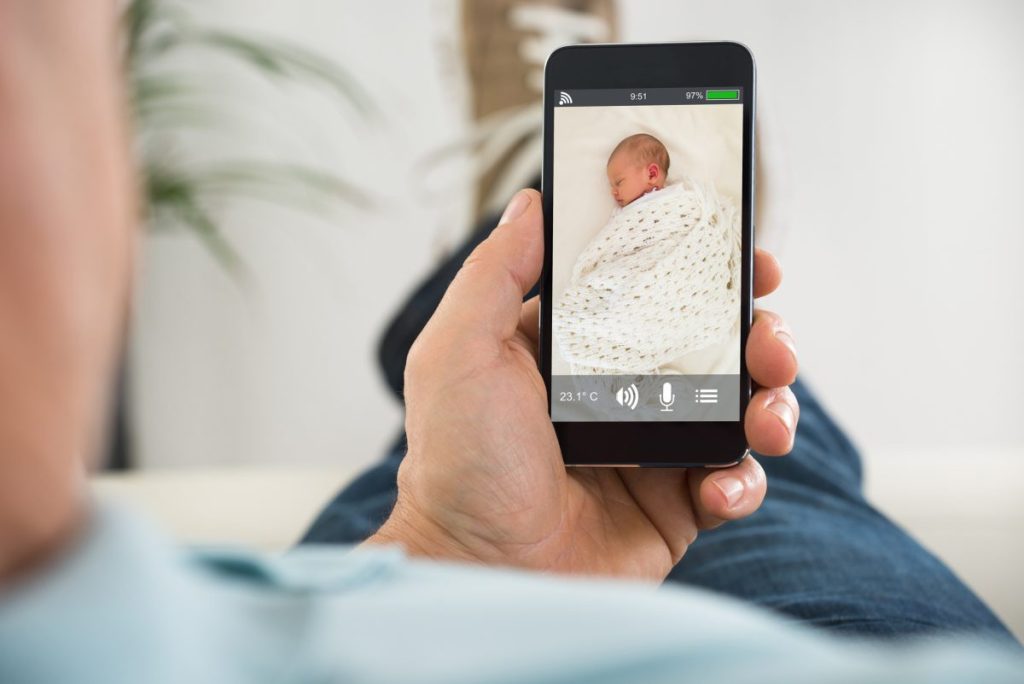 Good: Axvue Video Baby Monitor
The Axvue Video Baby Monitor is ideal for two separate rooms. The monitor is paired with each camera to easily switch between vantage points. There is also a preset option that alternates between the two cameras every few seconds. Other features include temperature display, two-way intercom, light-activated sound bar, and automatic night vision.
You have the option to grow your system and add on four individually sold cameras – in case you plan on having a litter of littles (or just want flexibility in your viewing). The LCD monitor screen is 4.3 inches wide with a crisp and clear image, thanks to its broad-bandwidth capabilities. It boasts seven hours of battery life – so you can plug in or disconnect as needed.
The Axvue monitor gets a 4.1-star rating on Amazon, with most purchasers praising the sound quality, night vision, and image sharpness. At right around $100, it's a great option for those who are eager for a simple system at a lower price point.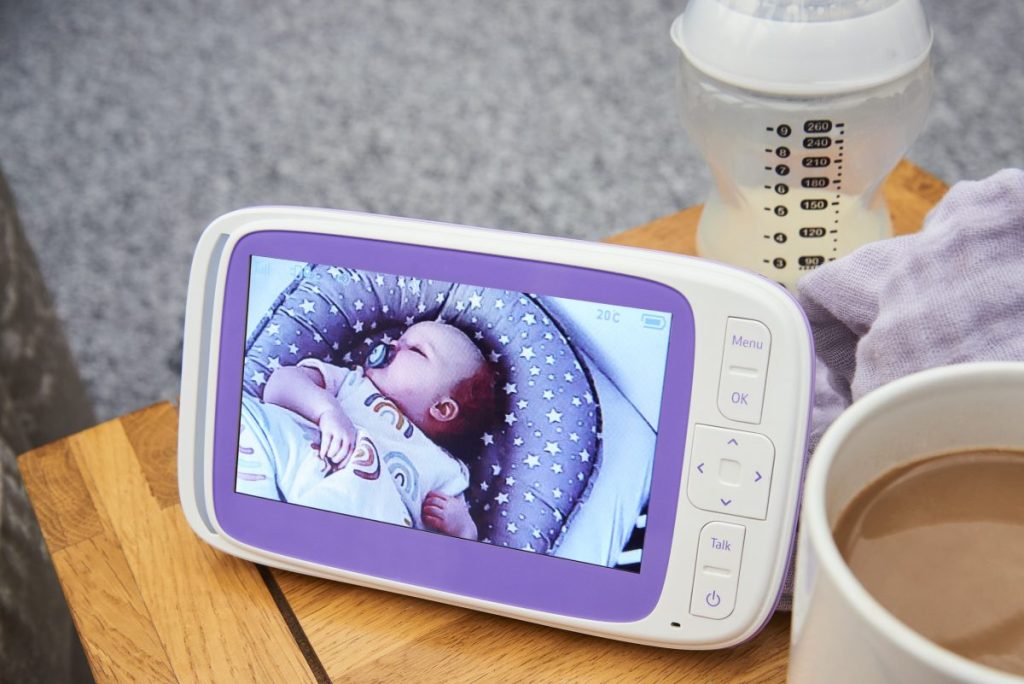 Better:
Babysense Video Baby Monitor
If a secure connection is important to you, then the Babysense Video Baby Monitor might be the dual-monitor system of your dreams. It doesn't use Wi-Fi to connect, so it is "unhackable," nor will it fall victim to spotty internet. Pan, rotate, and tilt each camera to get the perfect vantage point – use them in the same room or across the house. You'll reach a range of up to 960 feet, so you'll have plenty of space to be able to go grab that cup of coffee.
Additional features include night vision, two-way intercom with built-in lullabies, and temperature control. The 5-inch monitor screen's image is high quality with its HD display and magnification options. Power-save mode allows you to stay unplugged for longer.
Priced under $200, the Babysense Video Baby Monitor gets a 4.4-star rating on Amazon. Purchasers like the sleep-mode setting and night-vision image quality. What's more, those who have previously experienced security issues appreciate that this system is impervious to hacking, so your precious little face is safe.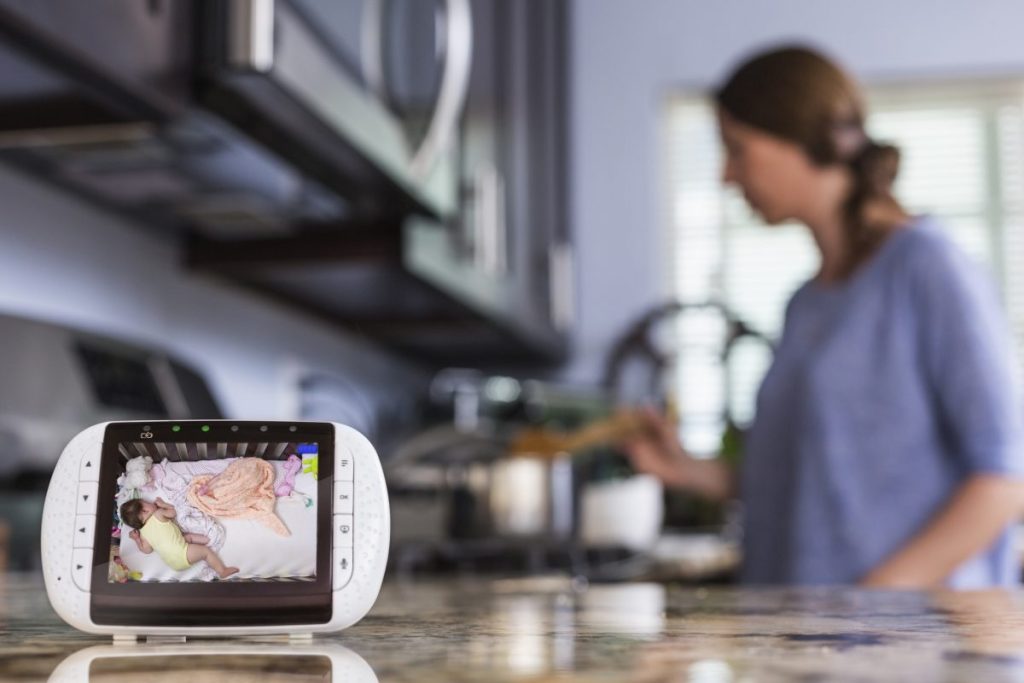 Best: VAVA Baby Monitor Split View
Two little ones in two separate rooms? You don't have to pick which baby to watch — nor do you have to switch back and forth between cameras. With a split-screen option, the VAVA Baby Monitor Split View allows you to view two locations at one time. It also automatically switches the audio between each room every few seconds.
Other features include crisp automatic night vision, rotating and pivoting camera with the ability to scan panoramically, and 2 to 4X zoom-in options. The monitor boasts a 5-inch screen with a 10-hour battery (it lasts almost double that when only audio is used.
The VAVA Baby Monitor gets a 4.8-star rating on Best Buy — making it well worth its higher price point. Previous purchasers are impressed with the practicality of the system's split-screen functionality and its long-lasting battery life. Business Insider reviewed the single-camera version of the VAVA system and praised it as having the best picture quality among popular baby-monitor brands.
Not all video baby monitor two-camera systems are created equal. Price points will vary – and functionality will, too. As long as you can reliably check up on your little one, you'll feel much better at nap time, playtime, and bedtime. Of course, if you're willing to shell out a bit more, you'll enjoy a few extra convenient and nifty bonus features (hello, split screen!).
Whatever your budget, you won't lose with any of these three picks. They'll help you keep an eye on that little snoozing (or mischief-making) cutie pie of yours while hopefully giving you a minute to sit down. Whether you are pregnant or already have that tiny tot at home, it's not too late to grab one of these awesome baby monitor systems.
Editors' Recommendations