Birthday parties are a big deal for school-age children. As they start socializing and going to other kids' birthday parties, it's normal that their expectations for their own party will grow. But this doesn't mean you have to spend a month's salary and half your life planning your 6-year-old's birthday party.
With a little creativity and a lot of love, you can throw a themed bash that your kid and their friends will talk about until next year. Here are some money-saving tips for a celebration on a budget, plus we have some awesome 6-year-old birthday party ideas.
Things to consider
There are a few things you need to consider when planning your 6-year-old's birthday party that will make it not only super fun, but budget-friendly. Follow these easy steps and you'll create a memorable party for your 6-year-old that won't break the bank.
Step 1: The guest list
A kid's party doesn't need to include everyone and their uncle to be an unforgettable event, especially when you're on a budget. By age 6, it's likely that your child has a core group of friends that you know well. Invite your kid's closest friends and let their parents know that it's a drop-off party.
Step 2: Location
Free is always best when it comes to a birthday party on a budget. If you can host the party at home, don't hesitate to turn your backyard or den into a kids' party central. If your home is not an option, consider other inexpensive spaces like beaches, parks, and recreation centers that are budget-friendly and offer plenty of room for kids to run around.
Step 3: Party supplies
These don't have to feature the latest superhero or the most popular character to be a hit. Remember, most of these items are disposable and not worth the extra expense. Solid-colored supplies and decorations are always a safe bet that looks festive and bright. If you're throwing a themed 6th birthday party, just be sure to choose colors that go with your theme.
Step 4: Food
Speaking of cake, a home-baked version is a money saver that goes a long way. The same goes for snacks. And if you host the party in the afternoon — say, from 2 to 5 p.m. — you'll save yourself the trouble and cost of serving a full meal. If you must throw the party during meals, pizza or hot dogs are the way to go.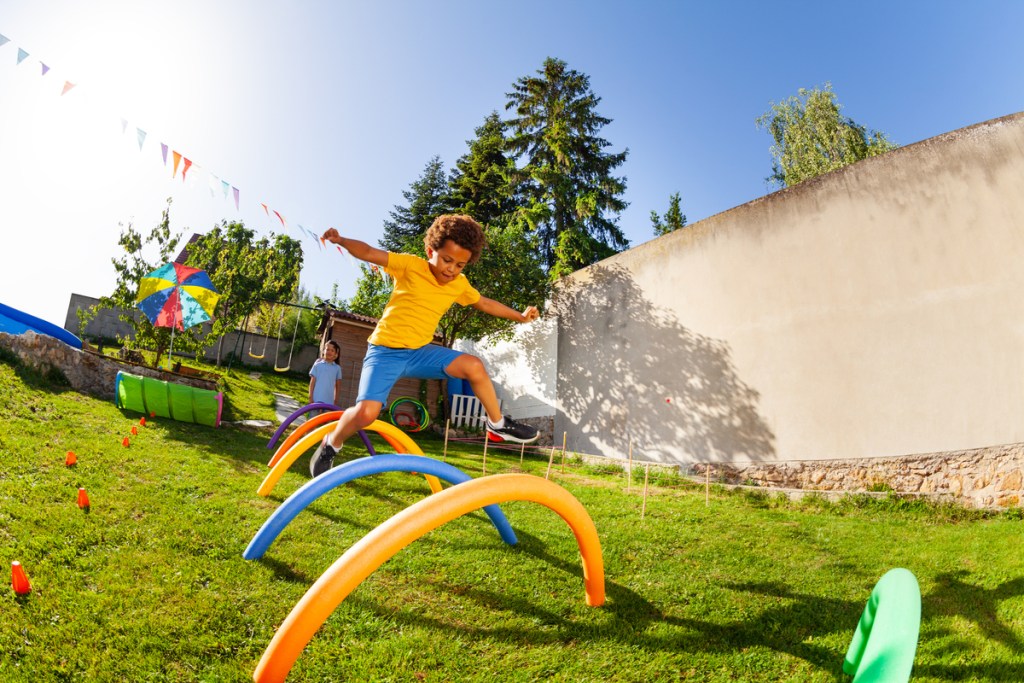 Fantastic 6th birthday party ideas
If you're not an experienced party planner, don't despair. Here are some of the best 6-year-old party ideas that don't cost a fortune:
Sleepover: Around age 6, most children are ready for sleepovers with friends. Nothing beats having your child's besties over for a night of movies, pizza, and popcorn. Plus, it doesn't require much work from you. For bonus points, decorate your living room to look like a campsite and make s'mores in the microwave. The kids will adore this.

Cooking party: If your child loves experimenting in the kitchen, why not invite their closest friends for an afternoon of cooking? It's a win-win when you take into account that they make their own food for much less than the cost of store-bought meals. Aprons make a perfect gift if you decide to include goody bags.

Backyard carnival: It sounds fancy and expensive, but it doesn't have to be. Making your own carnival games with household items is easy if you have the time to plan. Once your guests arrive, these games offer plenty of opportunities to keep the kids entertained. Prizes from the dollar store make the perfect gifts for partygoers to take home. Add face painting and a tattoo station and you're good to go. And if you're feeling elaborate, you can always rent a cotton candy or popcorn machine for a low price.

Scavenger hunt: Clues plus treasures equal outdoor adventure for school-age kids. That's why a scavenger hunt is the ultimate birthday party for children who love action and mystery. Get creative with the items you hide and challenge your guests' intellect with age-appropriate clues to keep them entertained for countless hours.

Arts and crafts party: Kids at this age love to create, so why not give them a day full of fun crafts? Whether it's washable paint, magic markers, crayons, or even stamps, you can keep the kids busy while having them each make a party favor to take home at the same time.

Superhero party: Have guests dress up as their favorite superhero character and challenge them to save the day as a group! They can wear eye masks, capes, and whatever else goes along with their particular character. This will encourage kids to be creative and also showcase their individual tastes.
Your child's birthday is an opportunity to make lifetime memories — but it doesn't mean you have to blow their college fund in one afternoon. At the end of the day, the most important thing for children is the experience, not the fancy food or lavish goody bags. With a little planning and tailoring to your kiddo's favorite things, you can give them a party they'll always remember.
Editors' Recommendations