A great way to cap off a fun Father's Day is with a movie night. Either get Dad's favorite takeout or make him a tasty meal. Since it is Father's Day, he is excused from the cleanup. Pop some popcorn, get a couple of his top snacks, and cuddle up for a fabulous flick. Father's Day is in June, so you can also take advantage of the warm weather and have an outdoor movie night in honor of Dad, too. Now, what movie is on the menu? With an abundance of streaming services, it can be hard to choose a movie everyone in the family agrees on. Thankfully, there are a lot of movies dads will like on Disney+. Here are five marvelous movies to stream with Dad on his day.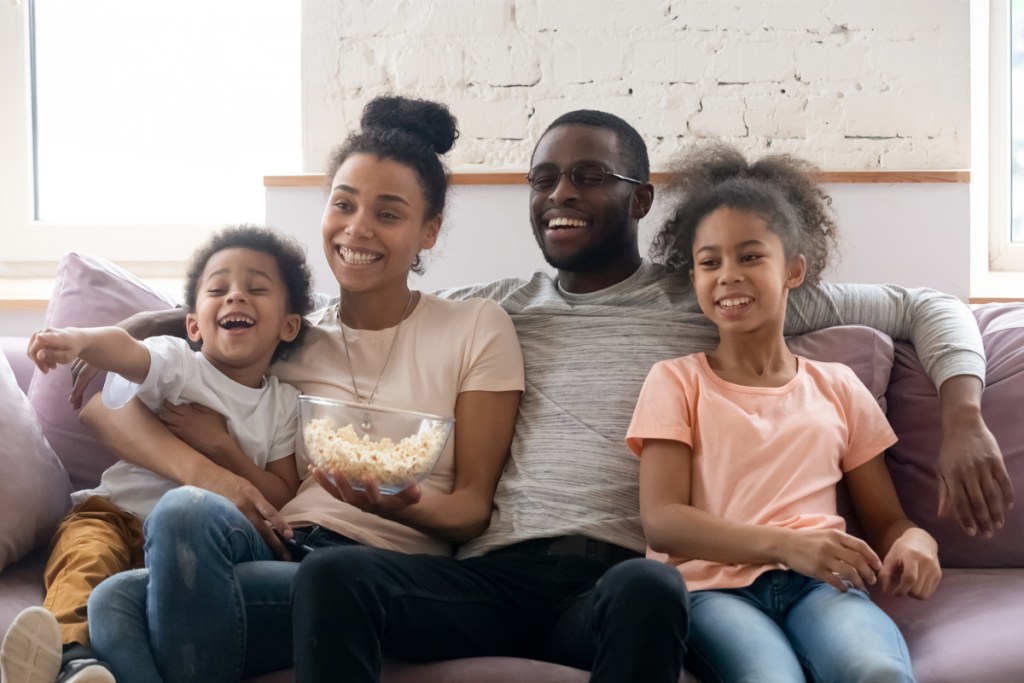 The Rookie
If Dad is a baseball fan, this Dennis Quaid film is a great pick for Father's Day. It's based on the true story of Jim Morris. A shoulder injury derailed Morris' shot at the big leagues. Fast-forward 12 years, and he's a high school chemistry teacher, baseball coach, husband, and dad. When his players realize Coach Morris still has quite the fastball, they make him a deal: If the struggling team wins the district championship, he goes to a major league tryout. Does he make it? You'll just have to watch on Father's Day to find out.
Onward
A perfect family-friendly movie that you just might need a box of tissues for is Onward. This is the story of two elf brothers and their supernatural quest to spend one last day with their late dad. The animated, action-adventure story features a well-known lineup of voice-overs, including Chris Pratt, Octavia Spencer, and Julia Louis-Dreyfus. It's touching and a wonderful movie to watch as a family.
The Incredibles
Another dad-centered movie, Mr. Incredible loves his family, but he isn't happy when he has to trade in his superhero lifestyle to be Mr. Regular. When he gets the chance to dust off his cape, he takes it, but trouble soon follows, and it's up to Mom and the kids to put on their superhero capes to come to the rescue.
Miracle
"Do you believe in miracles? Yes!" Al Michaels' call on the U.S. Olympic hockey team's victory on the ice over the Russians made history — as did the victory, which is considered one of the greatest sports moments of the 20th century. Okay, so Miracle isn't technically a dad movie, but it is a film that fathers and the whole family will enjoy, especially if Pop is a hockey dad and spends a lot of time taking the kiddos to and from the rink.
The Mighty Ducks
A classic family-friendly movie, everyone will enjoy is the 1992 hit that inspired a franchise. Gordon Bombay misses a crucial penalty shot to win a championship as a kid shortly after losing his father. His miss and his coach's reaction haunts him. Bombay grows up to be a hotshot trial attorney with little regard for the human touch or compassion. When he gets arrested for a drunk-driving offense, he's sentenced to coach a hockey team that makes the Bad News Bears look good. The rest is a feel-good film ideal for Father's Day. After you watch it, check out Disney+'s series based on the movie, Mighty Ducks Game Changers.
A family movie night is a super-fun way to end the dad-centered festivities on Father's Day. Choosing a movie is extra difficult these days because of all the streaming services, but Disney+ has an array of family-friendly movies to share on Father's Day. Choose one of these five, and you'll have a winner to enjoy together.
Editors' Recommendations